Books

Featured Books

pcb007 Magazine

Latest Issues

Current Issue

Finding Ultra

New demands on PCB fabrication, namely advanced packaging, ultra high density interconnect (UHDI), and new specialty materials, are converging, changing the landscape of our business. Is it time to start paying close attention to this convergence?

Developing a Strategy

A solid strategy is a critical part of success. This month, we asked some of the top industry leaders and business strategy "gurus" to share their thoughts on developing strategies.

Winning With TQM

In this issue, we explore how TQM has entered the DNA of continuous improvement disciplines, and the role leadership transformation plays in this. If you've ever competed against a TQM company, you understand their winning advantage.

Columns

Latest Columns

||| MENU
Multilayer's Viny Mulani on what it Takes to Survive Offshoring
June 3, 2016 | Barry Matties, I-Connect007
Estimated reading time: 3 minutes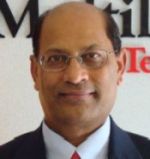 As the leader of one of the surviving PCB shops in the United States, Multilayer Technology's President Viny Mulani has a unique perspective. He sat down with me recently at IPC APEX EXPO 2016 to discuss what kind of machinery he's looking to invest in at the show in order to keep more business from moving offshore.
Barry Matties: Viny, you've been in business for a number of years. How many years has it been?
Viny Mulani: Since '86—so 30 years.
Matties: That's good. In your 30 years of manufacturing circuit boards, what's the most surprising thing that you went through?
Mulani: Well, we started with the low-tech and now we are really in the high-tech. We are getting there. But what's been surprising, and what has hurt the most has been offshore business. It has taken a lot of our work, like quick turn. We're trying to get in as much work as we can to keep business here locally, and to do it here I have to build in the most efficient way to compete with the offshore pricing.
Matties: When the offshoring occurred, it was amazing. What's your secret for surviving?
Mulani: We had to compete with the local market, and we kept putting money back, about 15%, towards updating our technology so we have what we need here and people cannot compete offshore.
Matties: I know you do military and high-reliability. Are you primarily focused on the high-tech boards?
Mulani: There are 10 to 12 different industries we focus on right now, like medical, aerospace, defense, militaries, and high-tech.
Matties: If you were talking to a buyer of a circuit board, what's the most important thing they need to understand about purchasing circuit boards?
Mulani: The most important is reliability, and the other thing is long-term reliability; of course, quality is always there. Those are the three or four points we keep in mind for add-on value. We always support our customer from the start of design through delivering the product.
Matties: How many people do you have in your company?
Mulani: Right now we have about 35.
Matties: You're in Texas, in the Dallas area. It's been hit kind of hard with the oil industry and the price of oil going down. Have you felt that at all?
Mulani: Yes, we have a good customer in the oil business and we have about 10% of our business in it as well, so the effect is really big there. But we have a very diversified customer base, so we are okay right now.
Matties: I know you believe in buying good technology. When you invest, what sort of investments do you have planned for the coming year?
Mulani: We are looking for the three and three mil, which is an item that cannot be done offshore for quick turn; that's what we're looking for, technology wise, is to do the high-tech job.
Matties: Do you have direct imaging already in place at your facility?
Mulani: We are in the process of placing the order. We're looking right now.
Matties: Nice. What did you decide?
Mulani: We have three people in mind, but we are trying to nail down one right now. I can't tell you until we write the PO, though.
Matties: We are here at the APEX show 2016 in Las Vegas. When you come to a show like this, what's your purpose for being here?
Mulani: We want to meet all of the manufacturing people, as well as the vendors, to see what they have for new technology or new materials that we can work with and use to help our customers.
Matties: Have you seen anything at the show that really caught your eye as something that's new and important?
Mulani: We saw a lot of new machines here that would help us cut costs, specifically laser drills, LDI machines, and some of the other drilling and new technology machines.
Matties: Did you make any purchases here?
Mulani: Not right now. We did just purchase a LDI a couple of months ago, which is running right now and does a good job.
Matties: Is there anything that you want to share with the industry that we haven't talked about?
Mulani: Well, we're telling all industries that we have to work together, group together, and make sure we all stay on the same page rather than beating each other up, lowering the price and not building the quality in the product on time for what we need. It helps to do that, and we have to invest back into our economy and new technology.
Matties: Good. Well, it's nice to catch up with you. Thanks so much for stopping in.
Mulani: Thank you, Barry. Nice talking to you.