World Record: 248,000 Industrial Robots Revolutionizing the Global Economy
July 8, 2016 | International Federation of Robotics
Estimated reading time: 2 minutes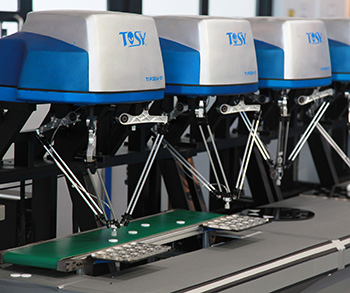 The worldwide sales of industrial robots achieved a new record number of 248,000 units in 2015. This represents a rise of 12% compared to the previous year (2014: 221,000 units). This sees the continuation of the global automation boom, which commenced in the wake of the financial crisis in 2009. The sales figures for industrial robots have increased almost four-fold since that time (2009: 60,000 units). There is no end in sight to this growth trajectory: By 2018, some 2.3 million units will be deployed on factory floors – more than twice as many as in 2009 (1.0 million). So says the 2016 World Robotics Statistics, issued by the International Federation of Robotics (IFR).
Within the global markets, the positive sales figures are being driven by highly automated emerging countries, and by regions that are already highly developed economically. For example, in Europe the total sales figures for industrial robots in 2015 rose by ten% to 50,000 units compared to the previous year. The strongest individual markets here are the three EU countries, Germany (20,000 units), Italy (6,700 units) and Spain (3,800 units).
Growth in America proved even more dynamic, with sales increasing by 15% to a total of 37,000 units. The USA heads the list with 27,000 units sold (+3%). An extraordinarily large leap forward in automation was registered in Mexico. There, sales more than doubled within one year to around 5,500 units. The reason underlying this development is the investments made in the automotive industry, the products of which Mexico exports to the USA and South America.
Asia is still the world's strongest growth market. This region saw a total of 156,000 units sold in 2015 – a rise of 16%. With some 68,000 industrial robots sold, China alone surpassed the total market volume for Europe.
Growth in China (2015: +17%) saw foreign-based robotic manufacturers profit with a 69 percent share of the total market. At the same time, domestic competitors have, by now, significantly expanded their market share to 31% (2013: 25%). The robotics markets in South Korea (2015: 37,000 units) and Japan (2015: 35,000 units) continue to occupy second and third places in global sales behind China – followed by the USA and Germany. This top 5 countries account for three-quarters of the global sales of industrial robots.
Broken down into sectors, with the worldwide largest volume it is the automotive industry that holds the lead in automation using industrial robots. During 2015 some 95,000 units were sold in this segment – a rise of 1%. The sectors that posted the strongest growth in 2015 were the metal industry (+63%), the plastics and rubber industry (+40%), followed by the electronics industry (+16%).
"The wave of digital transformation and automation will continue to drive the robotics boom forward until 2018", says Joe Gemma, President of the International Federation of Robotics. "Revolutionary developments in IT connected with all aspects of the Internet of Things, and new networked services are changing the producing industries fundamentally. Machines, logistics and production plants are merging into integrated cyber-physical systems. The aim is to use smart factories to work more flexibly, more cost-efficiently and more productively."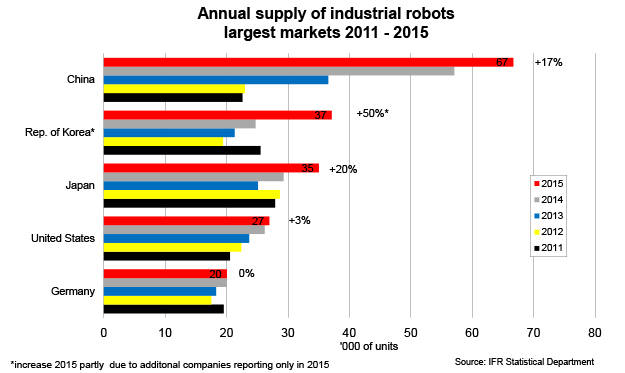 Courtesy of IFR International Federation of Robotics
---
Suggested Items
09/20/2023 | I-Connect007 Editorial Team
Panasonic's Darren Hitchcock spoke with the I-Connect007 Editorial Team on the complexities of moving toward ultra HDI manufacturing. As we learn in this conversation, the number of shifting constraints relative to traditional PCB fabrication is quite large and can sometimes conflict with each other.
09/19/2023 | Anaya Vardya -- Column: Standard of Excellence
In my last column, I discussed cutting-edge innovations in printed circuit board technology, focusing on innovative trends in ultra HDI, embedded passives and components, green PCBs, and advanced substrate materials. This month, I'm following up with the products these new PCB technologies are destined for. Why do we need all these new technologies?
09/18/2023 | ViTrox
ViTrox, which aims to be the world's most trusted technology company, is excited to announce that our trusted Sales Channel Partner (SCP) in Mexico, SMTo Engineering, S.A. de C.V., will be participating in SMTA Guadalajara Expo & Tech Forum. They will be exhibiting in Booth #911 from the 25th  to the 26th of October 2023,  at the Expo Guadalajara in Jalisco, Mexico.
09/18/2023 | Intel
Intel announced one of the industry's first glass substrates for next-generation advanced packaging, planned for the latter part of this decade.
09/18/2023 | Aidan Salvi -- Column: Facing the Future
I have been in and around circuit boards most of my life. I started 20 years ago in my family's PCB shop, leaving after a couple of years to start my own software company. About a year ago, I returned to the family business, and the first thing I noticed was that nothing had really changed. We were doing the same things in the same way as the day I left. After talking to several experts in the industry, I realized it was worse than that: The manufacturing of PCBs had not changed in 70 years.