Books

Featured Books

smt007 Magazine

Latest Issues

Current Issue

Economic Headwinds

This issue takes stock of the current economic outlook and how companies are using current conditions to move themselves through technological evolutions, workforce shifts, and financial changes. Even with these headwinds, there's forward progress to be made.

Attracting New Talent

To get different results in staffing, you must change how you define, promote and recruit your job opportunities. How do you become magnetic to high-quality early-career candidates?

Test and Inspection

Test and inspection methods are undergoing rapid change. In this issue, we consider the influence of AOI, AI, and human eyes. How exactly are these pieces of the puzzle changing the role of test and inspection?

Columns

Latest Columns

||| MENU
Catching up With Fane Friberg: Supply Chain Management Expert
July 3, 2020 | Dan Beaulieu, D.B. Management Group
Estimated reading time: 10 minutes
The services/solutions are dependent on the client but include the following derivatives of these elements: I meet the leadership team, and then I walk the floor with the shop-leader and listen to learn about the current flow. I see what pinch points they identify and look for visual indications of where production flow is backing up; if queued up in the shop, that is most likely the constraint. Second, I walk the floor and office area on my own and make observations. Are there objective and performance measurement in the facility, and are they current? Third, I conduct short interviews with individual department leaders.
Within a week, I submit a proposal back to the owner on scope, timing, and cost. This includes a formal presentation to the leadership team on a plan and solutions based on the "watch one, show one, do one" approach, like in surgery. I help them enhance or develop simple KPIs that can be maintained daily/weekly but no less than weekly.
Although there are initial improvements, sustainable on-time delivery solutions usually take 90 days, and sustainable cost-to-serve solutions take 180 days. Once the desired performance level is attained, we determine the go-forward strategy. This could be a weekly site visit to ensure that the tools are consistently being used and driving the right outcome, or a weekly submission of the KPIs for me to review remotely and provide feedback. Then, I do monthly visits to maintain relationships and accountability. If a new constraint is highlighted, then I make the necessary recommendations to positively quantify/influence that limitation.
Beaulieu: Now, more than ever before, we need your services. Can you tell us why that is?
Friberg: First, we don't know when things will become "normal" again or what the "new normal" is going to be. Second, although we can have desired outcomes relative to business recovery, we don't necessarily know if the recovery for a given business/industry will be a U, V, W, or some logarithmic curve. Third, each SMB will have unique challenges on their customer base, employee base, supplier base, and the expected execution dividend for their customers in the new normal. Having the ability to leverage a qualified external resource to help with the recovery may have the greatest return-on-investment.
Beaulieu: What do you think are the biggest challenges that companies face today?
Friberg: There are so many unknowns at this time. What will the structure of the new economy be? Will there be a quantum change in the way goods and services are sourced? What about new strategies regarding onshoring and insourcing? How will this global pandemic change the way we do business in this country? Will some companies relook at their brick-and-mortar strategies and find a way to balance that fixed expense with a different model? Because of proven success during tough times, where are back-office teams going to be located moving forward? These questions still circle back to the execution dividend on delivery, cost, quality, and responsiveness.
Beaulieu: How can you help these companies overcome these challenges?
Friberg: It's about getting them to accept change and commit to their success without being tied to "the way we always did it." By having a fresh set of eyes, show them how to look at their company differently to identify and break bottlenecks through integrity, analytics, and speed.
Beaulieu: What do you see in the future, and where would you like your company to be in five years?
Friberg: From this global crisis, how we do business will change to a more collaborative/virtual model where that's possible. With the change in the employee base from Baby Boomers to Millennials to Generation Z, the companies that pivot will be positioned for profitable growth. In five years, I would like to see the benefits from the CEPHAS model expand to the point where the demand for this solution enables me to add additional consultants to the team and maybe even build a family business that I can bring my children into.
Beaulieu: Wrapping up, why should companies call you?
Friberg: Thanks for giving me this opportunity. Remember that this is about their short-term recovery and long-term success. This is not about billable hours for me but superior accomplishments for the SMBs (small- to medium-sized businesses). This is about collaboration and coaching for measured and sustainable improvements. It's also about committing to the intensity, focus, and dedication that it takes to help SMBs increase profitability and accelerate growth—always making sure that promises made are promises kept. And finally, play to win while having fun.
Beaulieu: I love that. Any final comments?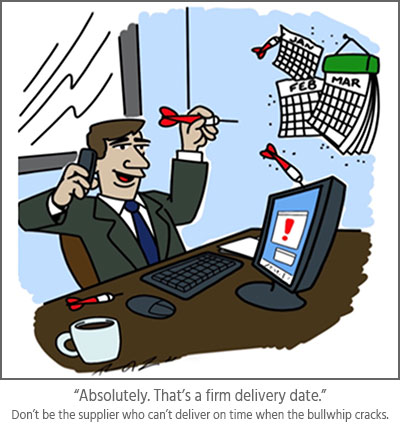 Friberg: Believe that you are not alone. You don't have to be the subject matter expert (SME) on everything, and you do not have to be perfect, but you do have to be ready to pivot. Embrace this responsibility. Stick to your moral compass and the strategic imperatives and values of your organization.
Some SMBs are going to be challenged to recover post-pandemic. But the reality is that many SMBs in certain verticals will potentially be better positioned to react to the "crack of the bullwhip."
A viable solution could be to engage a certified supply chain professional. Leverage that resource to optimally position your enterprise on mission-critical activities to further expedite your recovery plans.
Let me help you be that business that delivers on time, every time. Now is the time to lead and take care of your team. Together, we can.
Beaulieu: Fane, thanks for talking to me today. This has been a fascinating conversation. Good luck, my friend.
Friberg: Thank you.
Page 2 of 2
---
Suggested Items
11/27/2023 | Spirit AeroSystems, Inc.
Skyrora and Spirit AeroSystems have announced a collaboration on orbital launch capability. The companies celebrated the announcement on the conference's opening day in Belfast, home to Spirit's largest UK manufacturing facility.
11/20/2023 | Cadence Design Systems, Inc.
Cadence Design Systems, Inc. announced that Fortune magazine and Great Place To Work® have honored the company as one of the 2023 World's Best Workplaces™ for the eighth time, ranking Cadence #9.
11/20/2023 | Dan Beaulieu -- Column: It's Only Common Sense
No matter how you look at it, everything is about customer service—great customer service. If you think about your own experiences, you'll realize it's about how those you are dealing with or buying from— whether it's a car, your internet service provider, or your landscaper—it's all about how they make you feel. You can have the greatest product in the world, but if you don't deliver a great customer experience, it won't matter.
11/15/2023 | PIT Equipment
PIT – Equipment Services, LLC is pleased to announce Don Dennison, founder and CEO of PIT Equipment Services, has been honored with the prestigious 2023 GLOBAL Technology Award in the category of Best Manufacturers Representative - USA. The award ceremony took place during productronica in Munich on November 14, 2023.
11/13/2023 | Keysight Technologies
Through the project leadership of Keysight Technologies, the Horizon Europe-funded 6G-SANDBOX project signed a memorandum of understanding (MoU) with the Industrial Technology Research Institute (ITRI) to foster collaboration between Europe and Taiwanese companies for 6G research.