Excerpt Chapter 5: 'The Printed Circuit Designer's Guide to... Thermal Management with Insulated Metal Substrates, Vol. 2'
August 9, 2022 | Didier Mauve and Robert Art, Ventec
Estimated reading time: 2 minutes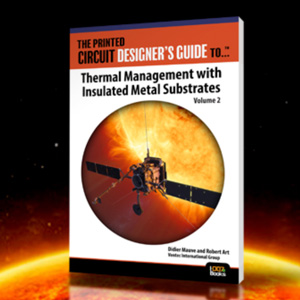 Chapter 5: Boosting Thermal Performance with Multilayer IMS
In The Printed Circuit Designer's Guide to... Thermal Management with Insulated Metal Substrates (Vol. 1), the authors briefly discussed the issues around combining multiple layers of copper foil, dielectric, and substrate materials and the design opportunities given by the latest generation of thermally conductive thin cores and prepregs.
The latest thermally conductive materials, prepregs, and cores allow designers to reconsider the thermal management approach. They can offer a simple and ready-to-use solution to address thermal issues on existing multilayer boards.
Through necessity, the industry has already come up with many solutions over the years, such as thermal vias, thermal coins, and inserts. All these existing solutions require either the use of thick copper foil and/or the use of heavy copper coins, thus leading to an inevitable inflation in cost and weight. We can now analyze alternative designs made possible by the arrival of multilayered IMS. The following application examples illustrate the concept and the main benefits of multilayered IMS.


Figure 5.1: Single-sided single layer.
The PCB design with insulated metal substrates is by no means limited to single-sided and single-layered circuits (Figure 5.1), although these are predominantly the types of circuits used in LED-lighting and power electronics applications.
There are several versatile ways to take advantage of IMS's enhanced thermal properties in situations that demand various other attributes such as physical formability or compliance, an intricate shape or small dimensions, or a complex circuit layout that would be fulfilled with a multilayered PCB if it weren't for the thermal issues.
If a formable grade of laminate (such as, for example, aluminum 5052 with a thin, non-reinforced dielectric) is specified, a single-sided circuit can be post-formed into three-dimensional shapes. This may help to design a circuit board that must fit inside a small or unusually shaped enclosure, or to cram more electronic circuitry within a limited space, or maybe ease assembly of a product if there is only minimal access to install electronic circuit boards. The aluminum layer is machined to reduce its thickness in the bend area.


Figure 5.2: Single-sided double layer.
Also, it is possible to build insulated metal substrates into multilayered IMS structures (Figure 5.2) with thermally conductive laminates and prepregs using plated-through holes for Z-axis interconnection.
In situations where the metal base is not an option, but the component temperature needs to be reduced, an alternative construction may be necessary; the thermal conductive cores and prepreg may be combined to create the entire board or may be used in a hybrid construction combining conventional FR-4 and thermal conductive cores or prepreg.
To continue reading this chapter, download your copy of this book from the I-007eBooks library today!
---
Suggested Items
11/13/2023 | Global Newswire
The "Global Copper Clad Laminates Market (by Type, Application, Reinforcement Material, & Region): Insights and Forecast with Potential Impact of COVID-19 (2023-2028)" report has been added to ResearchAndMarkets.com's offering.
11/07/2023 | SCHMID Group
The SCHMID Group, a global solution provider for the high-tech electronics, photovoltaics, glass and energy systems industries, will be exhibiting at productronica in Munich from November 14 – 17, 2023.
11/01/2023 | Alex Stepinski, Stepinski Group
The topic of intrinsic copper structure has been largely neglected in discussions regarding the PCB fabrication quality control process. At face value, this seems especially strange considering that copper has been the primary conductor in all wiring boards and substrates since they were first invented. IPC and other standards almost exclusively address copper thickness with some mild attention being paid to surface structure for signal loss-mitigation/coarse properties. 
10/26/2023 | Andy Shaughnessy, Design007
At PCB West, I sat down for an interview with John Andresakis, the director of business development for Quantic Ohmega. I asked John to update us on the company's newest materials, trends in advanced materials, and the integration of Ticer Technologies, which Quantic acquired in 2021. As John explains, much of the excitement in materials focuses on laminates with lower and lower dielectric constants.
10/25/2023 | Preeya Kuray -- Column: Material Insight
Printed circuit board (PCB) reliability testing is generally performed by exposing the board to various mechanical, electrical, and/or thermal stimuli delineated by IPC standards, and then evaluating any resulting failure modes. Thermal shock testing is one type of reliability test that involves repeatedly exposing the PCB test board to a 288°C pot of molten solder for a specific time (typically 10 seconds) and measuring the number of cycles it takes for a board's copper layer to separate from the organic dielectric layer. If there is no delamination, fabricators can rest assured that the board will perform within expected temperature tolerances in the real world.