The Most-read I-Connect007 Articles of 2022
December 26, 2022 | I-Connect007 Editorial Team
Estimated reading time: 1 minute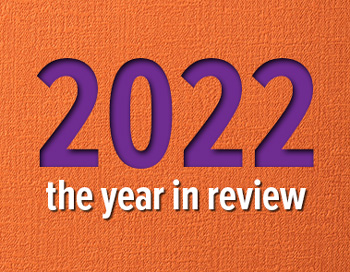 Each December, we like to look back at the most popular articles of the past 12 months. You never know which article is going to blow up like an Avril Lavigne album
So, grab a cup of eggnog and curl up by the fire! For your holiday enjoyment, here's a blast from the past: the top five most-read I-Connect007 articles of 2022.  
Review: Institute of Circuit Technology 2022 Annual Symposium
Once again, European Technical Editor Pete Starkey holds onto the top spot. Pete covers conferences and trade shows around Europe. Everything Pete writes is golden, and he has fans across Europe and around the world. Stop by our booth at IPC APEX EXPO and say hi to Pete. 
Jahr Turchan Discusses Blackfox's Training Scholarships for Veterans
Nolan Johnson's interview with Jahr Turchan of Blackfox Training Institute drew a lot of eyes to the page. There's a shortage of subject matter experts in the industry, and Blackfox's Veteran Advanced Manufacturing Certification program is helping bring transitioning veterans into the workplace. We need more ideas like this. 
Finally! A Book About PCB Stackups
The PCB design industry is hungry for information about stackup design, and Bill Hargin of Z-zero seems to have written the right book at the right time. This I-Connect007 eBook has been flying off the virtual bookshelves all year. It would make a perfect late Christmas present. 
PCB Plating Still Comes Down to Physics
As I said, we never know what articles are going to hit it big each year. This interview with columnist Michael Carano covered the ins and outs of plating technologies and processes, which might seem like a fairly "mature" topic. But this interview drew big numbers. Readers are looking for information, and we seem to have what they're looking for. 
A Definitive Review of New Expert Guide to High-Performance Materials
This year, we published a variety of eBooks on topic from across the spectrum. Happy Holden's review of the I-Connect007 eBook The Printed Circuit Designer's Guide to… High Performance Materials really took off. As Happy explains, this book, written by Michael Gay of Isola, lays out everything you need to know about high performance PCB materials.  
---
Suggested Items
11/29/2023 | TRI
Test Research, Inc. (TRI), the industry's leading provider of Test and Inspection systems for the electronics manufacturing industry, is pleased to announce the expansion of its Malaysian office, which opened in 2010.
11/29/2023 | Dana Korf -- Column: Dana on Data
November's issue of Design007 Magazine had an excellent theme that evolved around design simplification. There were exceptionally good articles about how to reduce over-constrained or needlessly complex designs. One significant time-consuming category is the creation of many design files and drawings which lead to lengthy creation and interpretation time along with the considerable time to resolve conflicting or erroneous information.
11/27/2023 | IPC
IPC welcomes the actions outlined today by the U.S. Government "to strengthen supply chains critical to America's economic and national security."
11/22/2023 | TTM Technologies, Inc.
TTM Technologies, Inc., a leading global manufacturer of technology solutions including mission systems, radio frequency (RF) components and RF microwave/microelectronic assemblies and printed circuit boards (PCBs) was honored with three awards at the IPC China Electronics Manufacturing Annual Conference held in Shanghai on October 27, 2023.
11/21/2023 | Pete Starkey, I-Connect007
Productronica 2023 played host to the IPC World Hand Soldering Competition, bringing talented regional solder champions from all over the globe to compete for the title of World Champion. Each competitor was given sixty minutes to assemble a complex printed circuit board with their performance judged in accordance with IPC-A-610 Class 3 criteria. Each competitor's efforts were rated on the merits of the results achieved, scored on the quality of the assembly process, the electrical functionality of the assembly and the speed at which the assembly was produced.