Planet Announces AI Partnerships at GEOINT 2023
May 23, 2023 | Business Wire
Estimated reading time: 3 minutes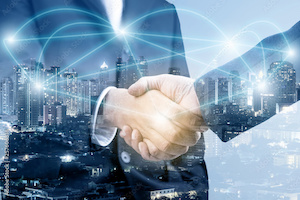 Planet Labs PBC, a leading provider of daily data and insights about Earth, today announced new strategic partnerships with artificial intelligence (AI) analytics providers at the U.S. Geospatial Intelligence Foundation's 2023 GEOINT Symposium. These companies' AI-powered analytics enable object detection and classification services on top of Planet's high-frequency, medium- and high-resolution satellite data. Automated analytics are core to helping our customers better understand change and make critical decisions faster.
Rapid Automatic Image Categorization with Synthetaic
Wisconsin-based AI startup Synthetaic joined the Planet Orbit partnership program in April 2023. Their signature product, RAIC (Rapid Automatic Image Categorization), automates the analysis of large, unstructured datasets like geospatial imagery so even a non-technical user can detect objects in minutes, or train and deploy AI models radically faster than traditional approaches and without labeled data.
Through this partnership, customers are now able to obtain Synthetaic RAIC object detection analytics on top of a defined area of interest (AOI) within Planet data. The companies also plan to develop a combined offering that aims to enable additional alerting capabilities when change occurs or specific objects are detected within focus areas.
"When faced with an issue of commercial or national security importance, there's no time to label and analyze huge swaths of data," said Kevin Weil, Planet's President of Product and Business. "This partnership will enable Synthetaic to RAIC Planet's imagery and archive to deliver broad area search and daily monitoring of activity that can provide necessary information to industry and government analysts and decision-makers quickly."
Synthetaic previously leveraged Planet's daily scan and archive data to identify and trace the flightpath back-to-origin of a massive Chinese balloon that captured national attention when it flew across North America in February. They also used Planet data for disaster response and aid distribution modeling after a 7.8-magnitude earthquake in Turkey and Syria in February 2023.
"Initially finding the Chinese balloon was the ultimate needle in a haystack," said Synthetaic CEO Corey Jaskolski. "It shows what RAIC can do, and we look forward to working with Planet and our collective customers to identify what other needles can be detected and monitored regularly on a global scale."
Two demonstrations of these object detection capabilities – identification of airstrips and launchpads in the Asia-Pacific region, as well as the pair's previous collaboration to identify and track the Chinese balloon – will be on display at Planet's Booth #1201 and Synthetaic's Booth #1810 throughout the Symposium dates.
Image enhancement and GeoAI analytics with SI Analytics
Planet also announced a new partnership with Deajeon, South Korea-based startup SI Analytics, which applies AI-powered Super Resolution and GeoAI Analytics, Object Detection/Segmentation algorithms, to satellite imagery in order to enhance the resolution to analyze changes and abnormalities for the areas of interest (AOI) with its GeoAI Pack.
SI Analytics intends to use Planet and other satellite operator data in its private sector abnormality detection initiative program. Set to launch at the Symposium today, SI Analytics announced its initiative to develop a North Korea Dynamic BMOA (Ballistic Missile Operation Area) Search Project with a goal to enhance global risk management and mitigate tensions in Asia and beyond. Leveraging satellites' high-revisit capabilities, they plan to enable the monitoring of global risks in near real-time, detecting and disclosing abnormalities using their GeoAI Pack.
Value in Using AI with Earth Observation Data
"We believe proprietary data is where the real value is in the AI race," said Weil. "We have 50 petabytes of satellite data to train our own and partners' AI and machine learning models that can be used for cases like building damage assessment, vessel detection, preventative mitigation of deforestation, and more.
Bolstering Planet's own AI and ML Road & Building Detection tool, a number of the company's partners offer solutions focused on AI and ML. A couple of those include:
Building damage assessment - Planet worked with Microsoft AI for Good Lab to deploy an AI-based building damage assessment solution to assist in the response efforts of the United Nations in Ukraine as well as the Turkish government on the heels of the recent earthquake.
Dark vessel detection – Partners like Royce Geo leveraged Planet imagery, paired with their computer vision models, to uncover critical answers to how tanker traffic volumes from Russia are changing, and where they are exporting and importing unsanctioned Russian oil across the globe.
---
Suggested Items
11/28/2023 | Dana Korf -- Column: Dana on Data
November's issue of Design007 Magazine had an excellent theme that evolved around design simplification. There were exceptionally good articles about how to reduce over-constrained or needlessly complex designs. One significant time-consuming category is the creation of many design files and drawings which lead to lengthy creation and interpretation time along with the considerable time to resolve conflicting or erroneous information.
11/27/2023 | Intel
Intel Granulate, Intel's flagship software performance offering, announced a new collaboration with Databricks to merge Intel Granulate's autonomous, continuous optimization solutions with Databricks' robust Data Intelligence Platform under the Databricks Partner Program.
11/27/2023 | Andrew Kelley, XACTPCB LTD
While previous industrial revolutions have introduced factories, mass production, and computer-controlled systems, the advent of Industry 4.0 and the concept of the Smart factory have ushered in a new era in PCB manufacturing. For the PCB industry it is a very ambitious and aspirational objective to evolve from disconnected processes to an integrated system with automated data capture, real-time data analysis, process visualization, autonomous control, and self-correcting processes. 
11/21/2023 | iNEMI
iNEMI Packaging Tech Topic Series Webinar, LSI/PKG/PCB Co-Design to Support 3D-IC/Chiplet Design will be held on November 28, 2023, by guest speaker Kazunari Koga, Zuken Inc.
11/21/2023 | Barry Olney -- Column: Beyond Design
Electromagnetic energy propagates at about half the speed of light within the dielectric of a multilayer PCB. This speed is inversely proportional to the square root of the dielectric constant (Dk) of the material. The lower the Dk, the faster the propagation of the wave. In the past, we ignored the board-level delay as it was relatively instantaneous compared to the slow rise time of the signal waveform. But now that we have entered the realm of Gigabit/s design, an unaccounted 10 ps of delay can mean the difference between success and absolute failure of a high-speed design. Also, the trend is toward lower core voltages, which conserves power. However, reducing the core voltage also reduces the noise margin and impacts the system timing budget.