NASA Funds Small Business to Advance Tech for Space, Earth
May 24, 2023 | NASA
Estimated reading time: 3 minutes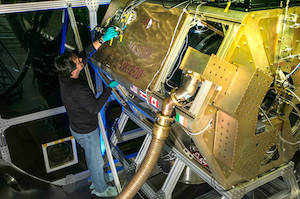 A new slate of funding from NASA will help small businesses develop technologies to advance space exploration, climate research, and more. In mid-April, NASA selected 112 proposals from 92 U.S. small businesses across 28 states to receive Phase II funding from the Small Business Innovation Research (SBIR) program, totaling approximately $98 million.
This program provides early-stage funding and other support to small businesses with ideas to help advance NASA's goals and aerospace technology. In Phase II, awardees build on their success from the program's first phase to bring their technologies closer to real-world use. This year, Phase II awards were raised to $850,000, and awardees will have 24 months to execute.
"These Phase II awards support a breadth of technologies that have the potential to be transformational for so many different projects and missions across NASA," said Jenn Gustetic, director of early stage innovation and partnerships for NASA's Space Technology Mission Directorate (STMD) at the agency's headquarters in Washington. "In addition, it's important that we're including the innovative potential of all of America's small businesses and entrepreneurs, so we're proud that 28% of these awards are to underrepresented small businesses and 31% are to first time SBIR Phase II awardees."
Many of the selected technologies could support NASA's Moon and Mars exploration goals, including the Variable Specific Impulse Magnetoplasma Rocket (VASIMR), an electrothermal thruster under development for possible use in spacecraft propulsion that would allow for faster space travel to places like Mars. Ad Astra Rocket Company, based in Webster, Texas, will spend their Phase II period designing, manufacturing, and testing a full-scale embedded RF Coupler for the plasma "heater" stage of the VX-200SS™ VASIMR rocket core. The RF Coupler is a critical power component of the engine and, specifically, the heater stage RF Coupler delivers the largest fraction of the power to the VASIMR plasma.
NASA also selected technologies that could be used on future space suits, including a material being developed by Reaction Systems, LLC, a small business based in Golden, Colorado. In the Phase II project, Reaction Systems will continue developing new and improved sorbents which remove carbon dioxide and humidity from the crew member's oxygen supply. This technology also has possible applications for curbing carbon dioxide emissions from power plants.
"Our program has the responsibility of supporting ideas and technologies that will have impact on NASA's work and have strong commercial potential," said Jason L. Kessler, program executive for NASA's SBIR and Small Business Technology Transfer (STTR) program at NASA Headquarters. "We're always excited when we can find technologies that help our agency's missions while also having direct benefits for all."
Several of the Phase II awards will go to companies developing technologies designed to improve data on our home planet. For example, SciGlob Instruments & Services, LLC, based in Ellicott City, Maryland, will design and develop a miniature spectrometer that is more accurate, efficient, and cost-effective than the state of the art, with potential use in NASA's Pandora Project. This new spectrometer design could also be used in other Earth science applications, such as improving atmospheric and air quality measurements, as well as in medical diagnostics or environmental monitoring.
Additionally, NASA made investments in electric aircraft technologies, including high-power-density and high-reliability lift motors for Electric Vertical Takeoff and Landing (eVTOL). Electric vertical lift aircraft could enable new air travel options thanks to their unique ability to take off and land from any spot, as well as hover in place. Based in Pickerington, Ohio, CGC Ultramarin, Ltd – one of the 35 first-time Phase II awardees that were selected for awards in this round – will use their Phase II period to create a more cost effective and reliable electric propulsion system for vertical lift. Specifically, they will create two full-size motors with different electromagnetic solutions to allow for testing and comparative analysis.
The NASA SBIR program is open to U.S. small businesses to develop an innovation or technology. The program is part of NASA's Space Technology Mission Directorate and is managed by NASA's Ames Research Center in California's Silicon Valley.
---
Suggested Items
11/27/2023 | HyRel
HyRel Technologies, a global provider of quick turn semiconductor modification solutions, announces the achievement of International Traffic in Arms Regulations (ITAR) registration.
11/20/2023 | MIT
MIT's Department of Aeronautics and Astronautics (AeroAstro) recently hosted the 2023 Future Leaders in Aerospace Symposium, inviting women and underrepresented minorities in aerospace fields to campus for a two-day program.
11/14/2023 | NEO Tech
NEOTech, a leading provider of electronic manufacturing services (EMS), design engineering, and supply chain solutions in the high-tech industrial, medical device, and aerospace/defense markets, is thrilled to welcome James Doyle to the team as Chief Executive Officer of NEOTech's Aerospace & Defense division, effective immediately.
11/06/2023 | PRNewswire
Vuzix Corporation, a leading supplier of smart glasses and Augmented Reality (AR) technology and products, announced it has completed delivery against a follow-on order from a Tier-1 aerospace and defense contractors with which it has been working with.
11/03/2023 | Collins Aerospace
Collins Aerospace recently expanded its services for airport operator AIRPLAN S.A.S. for a host of airport solutions that streamline passenger processing, enable self-service options and manage operations for six airports in Colombia's northern central region.