The July 2023 Issue of Design007 Magazine Available Now
July 10, 2023 | I-Connect007 Editorial Team
Estimated reading time: Less than a minute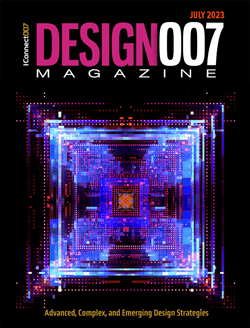 Advanced, Complex, and Emerging Design Strategies
PCB designers tend to be unconventional folks, to put it mildly. But some designers are really "out there." They like to push the limits of their design abilities. They don't like the status quo; they enjoy the challenges inherent in this job. They don't shy away from new ideas, new materials, and new techniques. These designers look for ways to bend the laws of physics to meet their needs. If you match that description, you're in luck.
In this month's issue of Design007 Magazine, our contributors focus on designing PCBs with advanced, complex and emerging technologies. We investigate design strategies for boards that are on the cutting edge of technology, or crazily complex, or so new that designers are still writing the rules as they go, like Wyatt Earp and his brothers taming a lawless cow town.
---
Suggested Items
11/29/2023 | Siemens
Siemens Digital Industries Software set the benchmark for innovation in the field of engineering simulation with the launch of two groundbreaking solutions - HEEDS™ AI Simulation Predictor software and Simcenter™ Reduced Order Modeling software.
11/30/2023 | Tim Haag -- Column: Tim's Takeaways
I am, at heart, a die-hard "Star Trek" fan. When I was a kid, I was all about phasers, warp drive, and cool stuff like that. However, these days, I tend to put a higher value on production and storytelling. But like any fan (I'm avoiding "Trekkie" because, frankly, it's kind of embarrassing), I have certain moments from the hundreds (if not thousands) of hours filmed for the various TV shows and movies that are among my favorites. One of those moments is in "Star Trek III, The Search for Spock," when our heroes steal the Starship Enterprise from space dock.
11/29/2023 | Anaya Vardya -- Column: Standard of Excellence
To sustain a standard of excellence, it's equally important to look at both what we're doing today as well as what we'll do in the future. In other words, plan ahead. In that spirit, I thought it would be prudent to peek into the future and talk about what a printed circuit board fabrication facility with a "standard of excellence" will look like five years from now.
11/21/2023 | iNEMI
iNEMI Packaging Tech Topic Series Webinar, LSI/PKG/PCB Co-Design to Support 3D-IC/Chiplet Design will be held on November 28, 2023, by guest speaker Kazunari Koga, Zuken Inc.
11/16/2023 | Keysight Technologies, Inc.
Keysight Technologies, Inc. expanded the simulation capabilities in its Electronic Design Automation (EDA) software suite to include electro-thermal simulation for the Tower Semiconductor SiGe Power Amplifier (PA) process.