ITW EAE Wins Best Paper of TC1 Technology Conference Presented at Nepcon China 2023
July 24, 2023 | ITW EAE
Estimated reading time: Less than a minute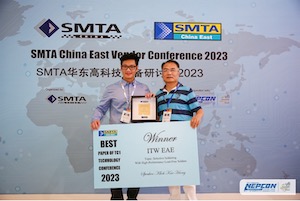 ITW EAE was selected as the winner of the best paper of TC1 Technology Conference by SMTA China East. The paper, "Selective Soldering with High-Performance Lead-Free Solders" was presented at Nepcon China 2023 by Khoh Kar Heong, ITW EAE Sales Engineering Manager.
The paper investigates three commercially available high-performance lead-free solders designed for circuit assemblies that are located under the hood of automobiles or other harsh environments. These solders were compared to the standard lead-free alloy, Sn3.0Ag0.5Cu, for four different through-hole assemblies.
The paper concludes that the major parameters in selective soldering that contribute to good hole filling are all related to wetting. Once the solder temperature and drag speed are optimized, all other factors: flux type, nozzle type, and solder alloy are less critical for hole filling. Solder composition is an issue in selective soldering. This experiment concluded that the Ni and Cu content can be a critical factor for formation of (Cu, Ni)6Sn5 and or Cu6Sn5 needles.
---
Suggested Items
11/30/2023 | AIM
AIM Solder, a leading global manufacturer of solder assembly materials for the electronics industry, is pleased to announce its new NC259FPA Ultrafine No Clean Solder Paste, which it revealed recently during the Productronica Germany trade show.
11/27/2023 | Real Time with...productronica
Koh Young's Harald Eppinger talks about the company's technology for the semiconductor and advanced packaging market and how they address the challenges introduced by reflective components and micro solder deposits.
11/27/2023 | HyRel
HyRel Technologies, a global provider of quick turn semiconductor modification solutions, announces the achievement of International Traffic in Arms Regulations (ITAR) registration.
11/24/2023 | Mek (Marantz Electronics)
Mek (Marantz Electronics), a leader in Automated Optical Inspection (AOI) solutions, used last weeks' Productronica show in Munich to proudly introduce the SpectorBOX X series, a modular full 3D AOI system for THT solder joints and THT components.
11/21/2023 | Pete Starkey, I-Connect007
Productronica 2023 played host to the IPC World Hand Soldering Competition, bringing talented regional solder champions from all over the globe to compete for the title of World Champion. Each competitor was given sixty minutes to assemble a complex printed circuit board with their performance judged in accordance with IPC-A-610 Class 3 criteria. Each competitor's efforts were rated on the merits of the results achieved, scored on the quality of the assembly process, the electrical functionality of the assembly and the speed at which the assembly was produced.