North American PCB Industry Sales Up 23% in July
August 31, 2023 | IPC
Estimated reading time: 1 minute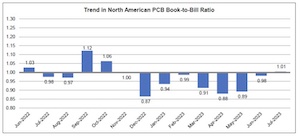 IPC announced the July 2023 findings from its North American Printed Circuit Board (PCB) Statistical Program. The book-to-bill ratio stands at 1.01.
Total North American PCB shipments in July 2023 were up 23 percent compared to the same month last year. Compared to the preceding month, July shipments were up 10.2 percent.
PCB bookings in July were up 24.6 percent compared to the same month last year. July bookings were up 7.8 percent compared to the preceding month. 
"July was a good month for the PCB sector. Orders were the strongest in 10 months and shipments were the strongest in four months," said Shawn DuBravac, IPC's chief economist. "The year-to-date trend for orders has steadily been improving, but the trend of lower orders in 2023 remains in place."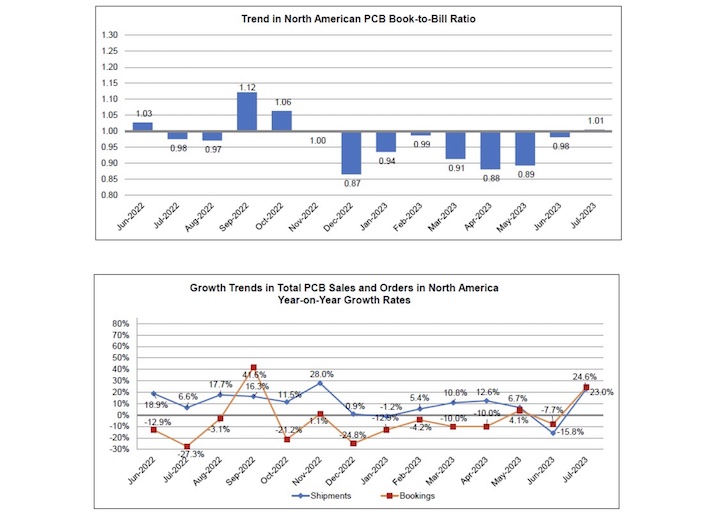 Detailed Data Available
Companies that participate in IPC's North American PCB Statistical Program have access to detailed findings on rigid PCB and flexible circuit sales and orders, including separate rigid and flex book-to-bill ratios, growth trends by product types and company size tiers, demand for prototypes, sales growth to military and medical markets, and other timely data.
Interpreting the Data
The book-to-bill ratios are calculated by dividing the value of orders booked over the past three months by the value of sales billed during the same period from companies in IPC's survey sample. A ratio of more than 1.00 suggests that current demand is ahead of supply, which is a positive indicator for sales growth over the next three to twelve months. A ratio of less than 1.00 indicates the reverse. 
Year-on-year and year-to-date growth rates provide the most meaningful view of industry growth. Month-to-month comparisons should be made with caution as they reflect seasonal effects and short-term volatility. Because bookings tend to be more volatile than shipments, changes in the book-to-bill ratios from month to month might not be significant unless a trend of more than three consecutive months is apparent. It is also important to consider changes in both bookings and shipments to understand what is driving changes in the book-to-bill ratio.
IPC's monthly PCB industry statistics are based on data provided by a representative sample of both rigid PCB and flexible circuit manufacturers selling in the USA and Canada. IPC publishes the PCB book-to-bill ratio by the end of each month.
---
Suggested Items
11/28/2023 | Dana Korf -- Column: Dana on Data
November's issue of Design007 Magazine had an excellent theme that evolved around design simplification. There were exceptionally good articles about how to reduce over-constrained or needlessly complex designs. One significant time-consuming category is the creation of many design files and drawings which lead to lengthy creation and interpretation time along with the considerable time to resolve conflicting or erroneous information.
11/27/2023 | IPC
IPC welcomes the actions outlined today by the U.S. Government "to strengthen supply chains critical to America's economic and national security."
11/22/2023 | TTM Technologies, Inc.
TTM Technologies, Inc., a leading global manufacturer of technology solutions including mission systems, radio frequency (RF) components and RF microwave/microelectronic assemblies and printed circuit boards (PCBs) was honored with three awards at the IPC China Electronics Manufacturing Annual Conference held in Shanghai on October 27, 2023.
11/21/2023 | Pete Starkey, I-Connect007
Productronica 2023 played host to the IPC World Hand Soldering Competition, bringing talented regional solder champions from all over the globe to compete for the title of World Champion. Each competitor was given sixty minutes to assemble a complex printed circuit board with their performance judged in accordance with IPC-A-610 Class 3 criteria. Each competitor's efforts were rated on the merits of the results achieved, scored on the quality of the assembly process, the electrical functionality of the assembly and the speed at which the assembly was produced.
11/23/2023 | Manvi Kapoor, IPC India
The second annual Electronics Manufacturing & Interconnection (IEMI) trade show, held in Chennai and Pune, India, welcomed more than 1,000 participants, including 30 international delegates from more than 10 countries, for two days of skills challenges, business-to-business meetings, panel discussions, special addresses from subject matter experts, and a keynote speech from IPC President and CEO John W. Mitchell. Awards ceremonies were held, and two Memorandums of Understanding (MOUs) were signed.