Labor Shortage: How to Automate Small, Midsized Enterprises
August 31, 2023 | IFR
Estimated reading time: 1 minute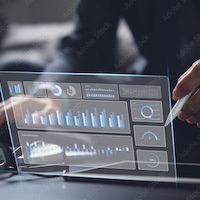 Labor shortage has become one of the most pressing challenges for small and midsized enterprises (SME) in OECD countries. The manufacturing sector is hit especially hard by high job vacancy rates. Since robots are becoming easier to install, implement and operate, SMEs have greater access to automation. The new Go4Robotics online platform by IFR provides independent guidance for their automation journey.
"The lack of skilled labor is a strong driver for automation in many countries," says Dr Susanne Bieller, IFR´s General Secretary. "In fact, statistics from the EU say that three quarters of all companies across the EU have a problem attracting workers with the required skills."
Robots increase attractiveness of employers
Given a choice, many young people prefer to work in a company that uses future technology. If there is a robot operating on the shopfloor, the employer can advertise a job to prospective employees as work that involves controlling a robot. This is oftentimes a game-changer. Since the robot takes on the 4 "Ds" of dull, dirty, dangerous and difficult work, their use is even more attractive. Employees have more time to skill-up for more interesting jobs.
SMEs learn to use robots 
The new online platform Go4Robotics by the IFR raises awareness of the many advantages robotics provide. Small and midsized enterprises find educational content that comes with a checklist. Experts are dispelling myths about segments that are relatively new to automation. Managers learn how to benefit from new trends like easy-to-program robots for non-experts. 
---
Suggested Items
09/20/2023 | I-Connect007 Editorial Team
Panasonic's Darren Hitchcock spoke with the I-Connect007 Editorial Team on the complexities of moving toward ultra HDI manufacturing. As we learn in this conversation, the number of shifting constraints relative to traditional PCB fabrication is quite large and can sometimes conflict with each other.
09/19/2023 | Anaya Vardya -- Column: Standard of Excellence
In my last column, I discussed cutting-edge innovations in printed circuit board technology, focusing on innovative trends in ultra HDI, embedded passives and components, green PCBs, and advanced substrate materials. This month, I'm following up with the products these new PCB technologies are destined for. Why do we need all these new technologies?
09/18/2023 | ViTrox
ViTrox, which aims to be the world's most trusted technology company, is excited to announce that our trusted Sales Channel Partner (SCP) in Mexico, SMTo Engineering, S.A. de C.V., will be participating in SMTA Guadalajara Expo & Tech Forum. They will be exhibiting in Booth #911 from the 25th  to the 26th of October 2023,  at the Expo Guadalajara in Jalisco, Mexico.
09/18/2023 | Intel
Intel announced one of the industry's first glass substrates for next-generation advanced packaging, planned for the latter part of this decade.
09/18/2023 | Aidan Salvi -- Column: Facing the Future
I have been in and around circuit boards most of my life. I started 20 years ago in my family's PCB shop, leaving after a couple of years to start my own software company. About a year ago, I returned to the family business, and the first thing I noticed was that nothing had really changed. We were doing the same things in the same way as the day I left. After talking to several experts in the industry, I realized it was worse than that: The manufacturing of PCBs had not changed in 70 years.