RTX Receives DoD Funding for GhostEye MR Radar Development and Experimentation
September 1, 2023 | RTX
Estimated reading time: 1 minute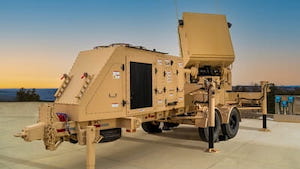 Raytheon, an RTX business, has been awarded $7 million to advance development and assessment of the company's GhostEye® MR radar, an advanced medium-range sensor for the National Advanced Surface-to-Air Missile System, or NASAMS.
These are the first government contracts for GhostEye MR, a multi-mission radar designed and developed by Raytheon via internal research and development investments. Funding will support continued radar development and then an operational assessment at White Sands Missile Range later this year.
"This government support confirms the growing relevance and demand for the capabilities of GhostEye MR, as nations around the globe look to bolster their air defense," said Tom Laliberty, president of Land & Air Defense Systems at Raytheon. "Partnering with DoD, Air Force, and Kongsberg, we will showcase the sensor's range of capabilities against a multitude of emerging threats."  
The experiment at White Sands will assess the operational performance of GhostEye MR, with the radar providing effective surveillance cues and integrating with the combat-proven NASAMS air defense system. This follows the Strategic Developmental Planning & Experimentation (SDPE) office's successful air base air defense experiment in Andøya, Norway, last September, which showcased NASAMS' ability to engage and intercept various advanced aerial threats using multiple Raytheon missile types and Kongsberg Defence & Aerospace's Fire Distribution Center, or FDC. The operational assessment in September will build upon the capabilities demonstrated in Andøya by utilizing the U.S. Air Force's relevant command and control to link GhostEye MR with NASAMS' FDC.
Funding consists of a contract from the U.S. Air Force Research Lab's SDPE office and the Office of the Secretary of Defense's Rapid Prototyping Program (RPP).
A member of Raytheon's GhostEye family of sensors, GhostEye MR is an advanced medium-range multi-mission radar for NASAMS. The radar, introduced in 2021, provides increased range and altitude coverage to expand the defended-area capabilities of NASAMS. Additionally, GhostEye MR leverages commonality with the Lower Tier Air and Missile Defense Sensor (LTAMDS) that Raytheon is building for the U.S. Army.
---
Suggested Items
11/29/2023 | TT Electronics
TT Electronics, a global provider of custom power solutions and engineered technologies, has announced that its Power and Control business has officially opened its new state-of-the-art research, development and manufacturing facility.
11/27/2023 | HyRel
HyRel Technologies, a global provider of quick turn semiconductor modification solutions, announces the achievement of International Traffic in Arms Regulations (ITAR) registration.
11/20/2023 | MIT
MIT's Department of Aeronautics and Astronautics (AeroAstro) recently hosted the 2023 Future Leaders in Aerospace Symposium, inviting women and underrepresented minorities in aerospace fields to campus for a two-day program.
11/14/2023 | NEO Tech
NEOTech, a leading provider of electronic manufacturing services (EMS), design engineering, and supply chain solutions in the high-tech industrial, medical device, and aerospace/defense markets, is thrilled to welcome James Doyle to the team as Chief Executive Officer of NEOTech's Aerospace & Defense division, effective immediately.
11/06/2023 | PRNewswire
Vuzix Corporation, a leading supplier of smart glasses and Augmented Reality (AR) technology and products, announced it has completed delivery against a follow-on order from a Tier-1 aerospace and defense contractors with which it has been working with.