I-Connect007 Editor's Choice: Five Must-Reads for the Week
September 1, 2023 | Andy Shaughnessy, I-Connect007
Estimated reading time: 2 minutes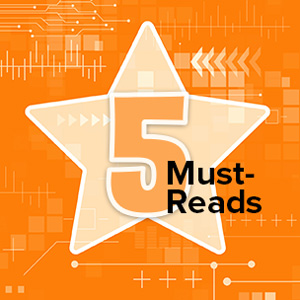 It must be almost fall; my air conditioning hasn't switched on all day. I love living in Atlanta, but August was so hot that I thought I was going to melt.
As we head into the Labor Day weekend, we have a variety of articles for this week's editor's picks. Hannah Nelson discusses the onboarding process she went through when she started a new job. Gaurab Majumdar explains why tech companies should consider hiring workers from India. Happy Holden details the importance of great sensor technology and why sensors are a critical ingredient in Smart manufacturing processes. Mike Brask discusses the new IPS ENIG line installed at the SEL facility in Idaho, and Chris DeMartino explains how Modelithics works to provide simulation models, primarily for the RF/microwave community.
See you next time.
The New Chapter: Smoothing the Rocky Road of Onboarding
Published August 31
If you've ever moved to a new city to start a new job, Hannah Nelson's newest column will ring true. She discusses what it was like to move from Indiana to Arizona for a job, how her new company welcomed her in and helped her onboard successfully, and what lessons she learned from the whole experience.
An Industry-ready Workforce in India
Published August 28
For about a decade, I've been reading news articles about India being at a crossroads. But according to IPC India Executive Director Gaurab Majumdar, the country may now be heading out on the highway with the accelerator floored. In this article, Gaurab explains why companies seeking technical staff should consider India, which has a large population of skilled technologists and college students ready to join the workforce.
It All Starts With Sensors
Published August 30
In this article, Happy Holden points out that manufacturing data collection begins with sensors. But the implementation of Smart processes requires much more than just great sensor technology, and you may have to upskill your staff or hire experts to take you to the finish line. As Happy says, "Time does not favor the procrastinator."
Innovations in Final Finishing
Published August 31
One centerpiece of the new SEL facility in Idaho is the fully automated IPS ENIG line, which measures 81 feet in length. In this interview, IPS President Mike Brask explains how this line was custom-built for SEL to include a variety of features not usually seen in North America.
Model Citizens: Modelithics
Published August 28
We recently spoke with Chris DeMartino, an applications engineer at Modelithics, about the company's business "model" of providing simulation models for the RF and microwave industries. Creating models is a tedious job for PCB designers and design engineers, so this could wind up being a real time-saver.
---
Suggested Items
12/04/2023 | USPAE
Seven microelectronics firms received nearly $10 million in combined funding to commercialize technologies of interest to the U.S. military services as winners of the Defense Business Accelerator (DBX) Microelectronics Challenge.
12/04/2023 | Horizon Sales
Horizon Sales is pleased to announce the newest addition to its team, Mr. Andre Kundert. Joining the company in November 2023, Andre brings with him two years of invaluable experience in surface mount technology (SMT) and a robust background in the electronics manufacturing industry.
11/30/2023 |
The goal of the collaboration is to promote the standardization of post-quantum cryptography.
11/30/2023 | PRNewswire
Hyundai Mobis is poised to secure new orders for premium vehicle displays, characterized by large screens, high definition, and slim design, using a fusion of innovative technologies targeting global automakers.
11/30/2023 | Aoshikang
On November 28, Aoshikang Technology Co., Ltd., a prominent player among the world's top 100 PCB companies, held a grand topping-out ceremony for its Thailand-based production base, SUNDELL Technology Co., Ltd.