Limited Impact of New iPhones on Global Smartphone CIS Market, Forecast of 3.2% Yearly Decline in Shipments for 2023
September 7, 2023 | TrendForce
Estimated reading time: 3 minutes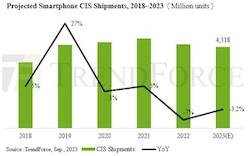 According to TrendForce Research, Apple is gearing up for the highly anticipated launch of its iPhone 15 series, featuring a lavish array of upgrades to its camera module—the quintessential lure for consumer upgrades—it faces a marketplace teetering on uncertain ground. From the chilling headwinds of global inflation to China's murky economic prospects, the terrain is fraught with challenges. Adding to the complexity is the maturation of smartphone technology, which has led consumers to extend their device-replacement timelines, dialing down this once-sizzling market dynamism.
In this ambiance of restrained consumer enthusiasm, shipments of CMOS Image Sensors (CIS) are poised to take a correlated dip. TrendForce projects that we're looking at a global shrinkage in smartphone CIS shipments from 4.46 billion units in 2022 to a more subdued 4.318 billion units in 2023. That translates to a YoY contraction of 3.2%.
TrendForce reports that the upcoming iPhone 15 series is poised to make several key upgrades that are sure to make tech aficionados sit up and take notice. First of all, say goodbye to the familiar Lightning Port; Apple is heralding a new era with the universal USB-Type C interface across the board. And that's not all—the Dynamic Island is going to be available for the iPhone 15 and iPhone 15 Plus in addition to the iPhone 15 Pro and Pro Max, giving users an uninterrupted, immersive experience.
But the star of the show will be the camera upgrades—a pivotal factor that could tip the scales for potential buyers. Both the iPhone 15 and iPhone 15 Plus will boast Sony's 2-Layer (Photodiode + Pixel) Transistor Pixel, designed to extend the dynamic range of imaging. Meanwhile, the iPhone 15 Pro Max will be equipped with a Periscope Lens Module that can increase the device's optical zoom capabilities.
In the past, the size of smartphone image sensors often hovered around a modest optical size of 1/2.5 inches. Fast forward to today, and we're witnessing a seismic shift: an ever-increasing array of smartphones are embracing image sensors that flirt with a dazzling 1-inch optical size. The upshot? With these enlarged sensors, individual pixel units can bulk up, becoming capacious light magnets. This not only absorbs more light but also amplifies signal strength, dramatically elevating your photos from great to breathtaking.
While the allure of larger CISs is unmistakable, integrating them into the smartphone is a challenge in and of itself. To accommodate these more robust camera modules, designers often have to play a zero-sum game with the phone's anatomy—shaving down on other critical components like the battery. Misjudge the balance, and you'll end up with a lens module that juts out awkwardly, potentially turning your sleek smartphone into a bulky paperweight. So, it's not just about supersizing the pixels; suppliers must navigate a tightrope, meticulously calibrating the trade-offs between pixel size and count to ensure a harmonious, high-performance device.
However, TrendForce asserts that the smartphone CIS landscape isn't likely to become a never-ending pixel-size arms race. Why? The average user simply can't tell the difference between a 108 MP and a 200 MP camera. Adding more pixels also requires a larger sensor that results in a heftier device, flying in the face of the consumer's relentless quest for lighter, sleeker phones.
Consequently, TrendForce anticipates that the future's next big leap will pivot toward fine-tuning CIS structural designs—like the cutting-edge dual-layer transistor pixel architecture soon to be showcased in the iPhone 15 and 15 Plus. By ingeniously re-engineering the structure and materials of the photodetectors, the industry can push sensor performance to new heights. But the innovation doesn't stop there: next-gen image processing algorithms, supercharged by AI, are poised to smash through hardware barriers. This transformative tech is geared to amplify image clarity, expand dynamic range, and minimize noise, thereby elevating photographic brilliance to a whole new level.
---
Suggested Items
09/20/2023 | I-Connect007 Editorial Team
Panasonic's Darren Hitchcock spoke with the I-Connect007 Editorial Team on the complexities of moving toward ultra HDI manufacturing. As we learn in this conversation, the number of shifting constraints relative to traditional PCB fabrication is quite large and can sometimes conflict with each other.
09/19/2023 | Anaya Vardya -- Column: Standard of Excellence
In my last column, I discussed cutting-edge innovations in printed circuit board technology, focusing on innovative trends in ultra HDI, embedded passives and components, green PCBs, and advanced substrate materials. This month, I'm following up with the products these new PCB technologies are destined for. Why do we need all these new technologies?
09/18/2023 | ViTrox
ViTrox, which aims to be the world's most trusted technology company, is excited to announce that our trusted Sales Channel Partner (SCP) in Mexico, SMTo Engineering, S.A. de C.V., will be participating in SMTA Guadalajara Expo & Tech Forum. They will be exhibiting in Booth #911 from the 25th  to the 26th of October 2023,  at the Expo Guadalajara in Jalisco, Mexico.
09/18/2023 | Intel
Intel announced one of the industry's first glass substrates for next-generation advanced packaging, planned for the latter part of this decade.
09/18/2023 | Aidan Salvi -- Column: Facing the Future
I have been in and around circuit boards most of my life. I started 20 years ago in my family's PCB shop, leaving after a couple of years to start my own software company. About a year ago, I returned to the family business, and the first thing I noticed was that nothing had really changed. We were doing the same things in the same way as the day I left. After talking to several experts in the industry, I realized it was worse than that: The manufacturing of PCBs had not changed in 70 years.