Terran Orbital Launches Responsive Space Initiative
September 7, 2023 | Business Wire
Estimated reading time: 1 minute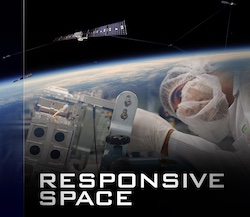 Terran Orbital announced the launch of our Responsive Space Initiative. Under this initiative, we are committed to providing our customers with satellite buses within just 30 days and complete satellite systems with integrated payloads within 60 days. There are seven new satellite buses that will be participating in this program.
Our advanced production capabilities through the implementation of automation and robotics are a game changer for the industry. We are standardizing common components which can be stocked and are interchangeable depending on the bus configuration. We proudly design and manufacture 85% of all modules and components that go into a bus today.
The world is changing rapidly, and we need to change along with it. With our Responsive Space Initiative, Terran Orbital will be able to deliver small satellites that are flexible, high-quality, and reliable to military, civil, and commercial customers at a faster and more cost-effective rate. Satellites for critical missions will be delivered in days instead of taking years. We recently introduced a new product line comprising seven buses that are ready for quick delivery and can be immediately added to our inventory.
We will be partnering with best-of-breed payload suppliers to stock a wide range of payloads. This will allow us to fulfill any customer requirements, whether it's Electro-Optical Imaging, Synthetic Aperture Radar, Communications, Hyperspectral, or any other payload with global demand.
There are currently more than 30 conflict zones worldwide, and the demand for Intelligence, Surveillance, and Reconnaissance (ISR) capabilities to monitor these zones is increasing much faster than satellite manufacturers can currently meet. Our goal is to address this demand and improve the availability of ISR capabilities in critical regions.
"We recently announced our seven new stocking buses; today we are announcing how fast we can build them. These are exciting times not only for Terran Orbital but the industry as a whole," said Marc Bell, Co-founder, Chairman, and CEO of Terran Orbital.
Terran Orbital is building a new facility in Irvine, CA, dedicated to our Responsive Space Initiative. The facility is scheduled to be operational in the summer of 2024, and we plan to launch the program in the fourth quarter of the same year.
---
Suggested Items
12/04/2023 | USPAE
Seven microelectronics firms received nearly $10 million in combined funding to commercialize technologies of interest to the U.S. military services as winners of the Defense Business Accelerator (DBX) Microelectronics Challenge. This groundbreaking initiative is funded by the Department of Defense (DoD) and led by the U.S. Partnership for Assured Electronics (USPAE).
11/20/2023 | PRNewswire
Raytheon, an RTX business, has been awarded a four-year, $15 million contract from DARPA to increase the electronic capability of radio frequency sensors with high-power-density Gallium Nitride transistors. Raytheon is the world's leading manufacturer of military-grade Gallium Nitride, a cutting-edge semiconductor technology that, when used in radar systems, improves range and radar resource management handling. This new prototyping work is being performed under DARPA's Technologies for Heat Removal in Electronics at the Device Scale program, known as THREADS.
11/17/2023 | Raytheon Company
Raytheon, an RTX business, has been awarded a four-year, $15 million contract from DARPA to increase the electronic capability of radio frequency sensors with high-power-density Gallium Nitride transistors which will have 16 times higher output than traditional GaN with no increase in operating temperature. Raytheon is partnering with the Naval Research Laboratory, Stanford University and Diamond Foundry to grow diamond, the world's best thermal conductor, for integration with military-grade GaN transistors and circuits. Cornell University, Michigan State University, the University of Maryland and Penn State University are also providing technology and performance analysis.
11/03/2023 | U.S. Circuit
U.S. Circuit, a premier supplier of commercial and mil/aero PCBs, has recently obtained their AS9100 certification. This certification will allow U.S. Circuit to further expand their military and aerospace offerings to further serve sectors requiring stricter regulation including the Department of Defense (DoD), National Aeronautics and Space Administration (NASA), and the Federal Aviation Administration (FAA).
10/17/2023 | BUSINESS WIRE
New research has found that 95% of military and defence industry decision-makers recognise that ongoing digitalisation has led to a more dynamic and complex 'information battlespace' and a further 93% agree defence will require increased integration across domains.