Lockheed Martin Opens Futuristic Satellite Operations Center Test Bed
September 11, 2023 | Lockheed Martin
Estimated reading time: 1 minute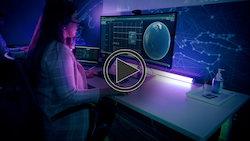 Lockheed Martin announced the opening of its Operations Center of the Future, a technology test bed showcasing how tomorrow's satellite operators will be able to manage multiple space missions simultaneously ­using a web-based, secure cloud infrastructure.
The Lockheed Martin self-funded, futuristic operations center, located on the company's campus near Denver, Colo., utilizes its proven Compass™ Mission Planning and Horizon™ Command and Control (C2) software. This software has already flown more than 50 spacecraft, performing government, research and commercial space missions. The powerful ground system allows for the management of single satellites – or entire constellations of similar or entirely different satellite types – by a single operator at the same time, from almost anywhere.
"The Operations Center of the Future's next-generation AI, automation and cloud capabilities enable operators to remain closer to the mission than ever before, regardless of their physical location," said Maria Demaree, vice president and general manager of Lockheed Martin Space's National Security Space business. "Remote operators can instantly receive timely mission alerts about satellite operations, and then securely log-in to make smart, fast decisions from virtually anywhere."
The innovative test bed first proved its concept of operations earlier this year by successfully flying the company's In-space Upgrade Satellite System (LM LINUSS™) demonstrator, which proved how small satellites can help upgrade and sustain space architectures with new capabilities.
The center's automation and artificial intelligence/machine learning capabilities allow it to manage satellite constellations of almost any size. The center's flexibility allows for minimal staff requirements as operators can use the same baseline software regardless of mission, and enables "lights out" operations by providing remote operation agility and resiliency.
The Operations Center of the Future is also expected to command and control the company's upcoming Pony Express 2, TacSat, and future LM 400 on-orbit tech demonstration missions.
---
Suggested Items
12/05/2023 | Arch Systems
Arch Systems, the leading provider of data, analytics, and insightful actions for manufacturing operations, announced this week its collaboration with Plexus Corp., a global leader in complex product design, supply chain, manufacturing, and sustaining services.
12/04/2023 | RTX
Collins Aerospace, an RTX business, is working with easyJet to activate GlobalConnectSM connected aircraft services on more than 330 Airbus aircraft in its fleet. easyJet will become the largest A320 operator in the world to deploy GlobalConnect. This new capability enhances safety oversight, pilot training and operational efficiencies.
11/29/2023 | Spirit AeroSystems, Inc.
Spirit AeroSystems, Inc. announced the departure of Sam Marnick, Executive Vice President and Chief Operating Officer, President, Commercial from the Company. As part of this transition, Spirit is making organizational changes to strengthen its focus on quality and operational performance.
11/17/2023 | Jabil
Jabil Inc. will hold the grand opening of the third production facility at its site in the city of Chihuahua, Mexico, marking a milestone in the company's continued growth and commitment to the region.
11/03/2023 | Val Kaplan, CIMS
In the rapidly evolving landscape of PCB manufacturing, the integration of machine learning (ML) in the context of smart factories is ushering in a new era of efficiency, adaptability, and competitiveness within the industry. This article explores how ML is revolutionizing various facets of smart factories, including predictive maintenance, quality control, production, and inventory optimization.