Books

Featured Books

smt007 Magazine

Latest Issues

Current Issue

Chips Don't Float

In Europe and the U.S., legislation is under way to revitalize PCB fabrication and packaging. What is the status of this work, and how specifically does this change the industry landscape for EMS companies? What will help keep us afloat?

Flying High With Digital Twin

The opportunity to use manufacturing simulation as a test bed for job planning and process optimization brings continuous improvement into the modern age. This may be an all-or-nothing type of project, but it's worth the investment.

Artificial Intelligence

In this issue, we (and AI) explored how and when artificial intelligence plays a role in manufacturing today. Whether on the factory floor, or in the front office, AI applications are emerging and changing how we approach planning, processes and problem solving.

Columns

Latest Columns

||| MENU
Heraeus Electronics Honored as Best Material Supplier 2022 by STMicroelectronics Bouskoura Site
September 13, 2023 | Heraeus Electronics
Estimated reading time: 1 minute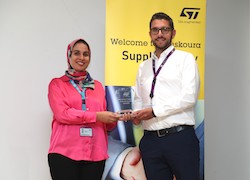 Heraeus Electronics has been awarded Best Material Supplier of 2022 by STMicroelectronics' Bouskoura test and assembly site. The award was presented during the annual Supplier Day held on July 20, 2023 at the site in Morocco.
STMicroelectronics, one of the world's leading Integrated Device Manufacturers, is renowned for its cutting-edge semiconductor technologies and state-of-the-art manufacturing facilities, catering to over 200,000 customers and thousands of partners worldwide. Their solutions empower smarter mobility, efficient power and energy management, and widespread deployment of the Internet of Things and connectivity. The company achieves all of this while maintaining a strong commitment to sustainability, aiming to achieve carbon neutrality by 2027. ST's Bouskoura test and assembly facility is one of the company's 14 manufacturing sites globally.
As one of ST's main suppliers with a long-standing history of a trustful and reliable cooperation, Heraeus Electronics was invited to participate in the Supplier's Day at the Bouskoura facility
The highlight of the event was the recognition and celebration of the contributions made by their valued suppliers during the previous year. Heraeus Electronics was honored to receive the Best Material Supplier of 2022 Award for its exceptional performance in supporting ST's Bouskoura site with high-quality products and a robust global supply chain.
"We are deeply honored and humbled to receive the Best Material Supplier of 2022 Award, "said Sander van Lisdonk, Executive Vice President Sales EMEA and Americas at Heraeus Electronics. "This recognition is a testament to the dedication and hard work of our teams, as well as the seamless collaboration between our two companies. We are committed to continuing our support and providing innovative solutions to ST to foster future growth and success."
Heraeus Electronics extends its heartfelt gratitude to ST for this prestigious award. The recognition reflects the relentless efforts put forth by the entire team to deliver unmatched support and top-notch products, ensuring a strong collaboration between the two companies.
---
Suggested Items
09/28/2023 | KYZEN'
KYZEN, the global leader in innovative environmentally friendly cleaning chemistries, is proud to announce that it is sponsoring the Women's Leadership Program Connection Reception to be held at SMTA International.
09/28/2023 | Nolan Johnson, I-Connect007
The practical question around CHIPS Act development and electronics assembly is, "Will this change how we do business?" Indium Corporation's Dr. Andy Mackie sat down with Nolan Johnson to share what he sees as emerging answers to that question from his perspective as an expert in electronics assembly and packaging, and as a participant in standards development through IPC, JEDEC, and SEMI.
09/28/2023 | ZESTRON
ZESTRON is happy to announce that Senior Application Engineer, Ravi Parthasarathy, will be presenting "Revolutionizing PCB Assembly Cleaning:
09/28/2023 | IPC
IPC continues to collaborate with the electronics manufacturing industry to meet their current and future workforce training needs.
09/28/2023 | IPC
Though product demand weakened this month with Orders and Backlog Indexes slipping, overall electronics industry operations remain healthy per IPC's September 2023 Global Sentiment of the Electronics Supply Chain Report.