Intelsat Adds European Capacity with Telespazio's Fucino Space Centre in Italy
September 14, 2023 | Business Wire
Estimated reading time: 1 minute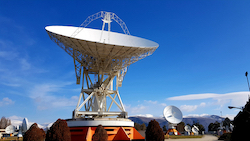 Intelsat, operator of one of the world's largest integrated satellite and terrestrial networks and leading provider of inflight connectivity (IFC), has added Telespazio's Fucino Space Centre in Italy into its partner teleport network, expanding to accommodate the growth of its global FlexEnterprise offering and to enable other managed satellite services.
The partnership is now up and running and operates seamlessly with the existing global IntelsatOne IP/Multiprotocol Label Switching (MPLS) terrestrial network and Intelsat Epic satellite fleet. The agreement expands Intelsat's points of presence in Europe and enables connectivity between Intelsat's existing data center in Fuchsstadt, Germany and Telespazio's Fucino facility.
"Through this agreement with Telespazio, Intelsat is expanding its FlexEnterprise solution for its global customer base. The Fucino gateway will deliver in-country ground facilities for customers such as Italian energy and government organizations that may have regulatory and security requirements to land satellite traffic locally as well as Media businesses looking for European or global distribution," said Rhys Morgan, VP and General Manager, EMEA Media and Networks Sales at Intelsat.
Today, Intelsat operates a global network of over 60 teleports and points of presence (POP) comprising the integrated IntelsatOne Network. For mission-critical communications, Intelsat often deploys and operates services co-located at customer premises and third-party teleports to adhere to physical and logical security requirements.
"We are delighted to have reached this agreement with Intelsat, allowing us to expand the set of services available from our Fucino teleport in the energy and government market segments which are of great interest to Telespazio," said Alessandro Caranci, SVP, Satellite Communications at Telespazio. 
Telespazio, a joint venture between Leonardo (80%) and Thales (33%), is one of the world's biggest suppliers of satellite solutions and services and will also provide a range of system integration services. The partnership with Intelsat is designed to enhance the digital infrastructure, broadband and broadcast capabilities of the region.
---
Suggested Items
11/17/2023 | Flex
Flex announced it received Cisco's 2023 Electronic Manufacturing Services (EMS) Partner of the Year award. Cisco presented the distinguished award at its annual Supplier Appreciation Event (SAE), which celebrates the accomplishments and contributions of its supply chain partners.
11/15/2023 | ZDI
Zero Defects International [ZDI] has announced their participation as an exhibitor at the SMTA Silicon Valley Expo and Tech Forum. It will be held at Building 3 on the FLEX campus located at 727 Gibralter Drive, Milpitas, CA.  Expo time and date:  8:30 a.m., Thursday, December 7, 2023.
11/15/2023 | PIT Equipment
PIT – Equipment Services, LLC is pleased to announce Don Dennison, founder and CEO of PIT Equipment Services, has been honored with the prestigious 2023 GLOBAL Technology Award in the category of Best Manufacturers Representative - USA. The award ceremony took place during productronica in Munich on November 14, 2023.
11/14/2023 | Gartner, Inc.
IT spending in Europe is projected to total $1.1 trillion in 2024, an increase of 9.3% from 2023, according to the latest forecast by Gartner, Inc. IT spending in Europe is on pace to surpass $1 trillion by the end of 2023.
11/13/2023 | NASA
NASA has named Denton Gibson launch director for the Launch Services Program at NASA's Kennedy Space Center in Florida. Gibson fills a position made available with the recent retirement of former senior Launch Director Omar Baez. Denton will join senior Launch Director Tim Dunn in leading launch activities for NASA's science and robotic missions. This team is responsible for planning, implementing, and directing launch campaigns for NASA-managed launch vehicle services.