Comtech Launches Network Agnostic Dynamic Cloud Platform for Satellite Providers
September 14, 2023 |
Estimated reading time: 1 minute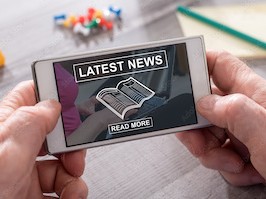 Comtech announced today its Dynamic Cloud Platform (DCP) is now available for commercial and government satellite service providers in U.S. and international markets.
Comtech's DCP will enable traditionally disparate satellite systems and ground station infrastructures to be easily integrated, creating a new path to introduce cloud-based applications, waveforms, and services. The company's DCP is designed to be infrastructure, cloud, and application agnostic—allowing satellite customers to easily orchestrate, integrate, and manage a wide variety of applications, waveforms, and services across private, public, and hybrid cloud-based networks.
"We have proven and extensive experience integrating a variety of 5G technologies levering Comtech's DCP for a number of terrestrial and wireless customers, including tier-1 mobile network operators," said Ken Peterman, President and CEO, Comtech. "Now, our DCP is expanding into the satellite and space market—opening the door for commercial and government customers to integrate new network agnostic waveforms and applications that will help usher in a new era of ubiquitous, smart-enabled connectivity."
Comtech is conducting trials and initial testing that will enable multiple satellite-based waveforms to be deployed using DCP across different cloud-based infrastructures. As part of the launch, Comtech's DCP now offers a unique satellite-based software development kit to allow for the integration of virtualized ground stations and other applications across cloud networks. Comtech is also offering professional services to assist satellite customers with the integration of new applications on its DCP.
---
Suggested Items
11/27/2023 | Jaltek
Jaltek Systems, a prominent UK contract electronics manufacturer with AS9100 and ISO 13485 accreditations and over 30 years of experience, joined hands with SG Automotive, a Slovenian Electronic Manufacturing Service (EMS) provider known for manufacturing printed circuit board assemblies (PCBA).
11/23/2023 | BUSINESS WIRE
Venturi Astrolab, Inc. (Astrolab) announced it has reached an agreement with eight enterprise customers to use its Flexible Logistics and Exploration (FLEX) rover to deploy the customers' payloads on Astrolab's upcoming mission to the Moon which is known as Mission 1.
11/23/2023 | Wurth Electronics
Wurth Electronics New Zealand Ltd., the 37th subsidiary of Würth Elektronik, officially celebrated with an opening ceremony.
11/21/2023 | SCHMID Group
The SCHMID Group, a global solution provider for the high-tech electronics, photovoltaics, glass and energy systems industries, is very pleased with the course of productronica in Munich.
11/20/2023 | Dan Beaulieu -- Column: It's Only Common Sense
No matter how you look at it, everything is about customer service—great customer service. If you think about your own experiences, you'll realize it's about how those you are dealing with or buying from— whether it's a car, your internet service provider, or your landscaper—it's all about how they make you feel. You can have the greatest product in the world, but if you don't deliver a great customer experience, it won't matter.