Sweden Awards BAE Systems $500 Million Contract for Additional 48 ARCHER Artillery Systems
September 14, 2023 |
Estimated reading time: 1 minute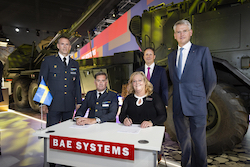 BAE Systems signed a contract with the Swedish Defence Materiel Administration (FMV) worth approximately $500 million for 48 new ARCHER artillery systems for the Swedish Army.
The ARCHER mobile artillery system, designed and produced by BAE Systems Bofors in Sweden, is already in service in the Swedish Army and has achieved the highest technical and manufacturing readiness levels. The 48 new systems covered by this contract will be built on a Rheinmetall MAN military vehicle, RMMV HX2 8x8, and first delivery to the Swedish Army will be in 2025.
"This important milestone establishes ARCHER as the basis of the Swedish Army's new divisional artillery forces," said Lena Gillström, president of BAE Systems Bofors. "It is also critical to BAE Systems Bofors' work in jointly developing the ARCHER with Sweden, to confirm it as the most advanced wheeled 155mm howitzer in operation today."
ARCHER can fire the BONUS anti-armor munition up to 35km, conventional munitions up to 40km, and the precision-guided munition Excalibur in excess of 50km. The automated magazines can hold a mix of different ammunition types and modular charges needed to support any mission.
In addition to the Swedish Army, the United Kingdom has selected the ARCHER for its interim artillery requirement. Sweden has also donated ARCHER to Ukraine, and the system has been down-selected in Switzerland's procurement of new artillery.
---
Suggested Items
09/22/2023 | Boeing
Boeing has announced a $10 million investment in the George W. Bush Presidential Center to support its museum and Veterans and Military Families programs. 
09/15/2023 | Northrop Grumman
Northrop Grumman Corporation's multi-intelligence MQ-4C Triton uncrewed aircraft achieved a declaration of initial operating capability (IOC) by the U.S. Navy.
09/14/2023 | John Watson -- Column: Elementary, Mr. Watson
Electronics are continually evolving, driven by innovations in printed circuit board technology. Flexible PCBs have emerged as a revolutionary force, reshaping the PCB industry and influencing the design and functionality of countless electronic devices. Some believe that flexible PCBs are a relatively newer technology, but as we will see, that is not true. Since I'm an instructor, here's a short history lesson on how we got here and what we can expect.
09/13/2023 | Hentec Industries/RPS Automation
Hentec Industries/RPS Automation, a leading manufacturer of selective soldering, lead tinning and solderability test equipment, is pleased to announce that Sinclair Manufacturing has purchased Pulsar solderability testing and Photon steam aging systems for installation in their Chartley, Massachusetts facility.
09/12/2023 | Business Wire
Comtech launched its new blended, resilient, integrated, digital, global, end-to-end (BRIDGE) connectivity solutions. Comtech's BRIDGE solutions provide portable, adaptable, full-service communications networks that can be established in a matter of hours and help "bridge the gap" for traditional satellite and terrestrial infrastructures.