Skyloom, Satellogic Sign Agreement for Multipath Optical Comms Data Transmission
September 18, 2023 | BUSINESS WIRE
Estimated reading time: 1 minute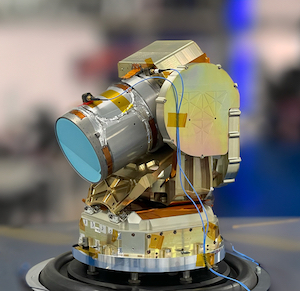 Skyloom Global Corp., a leader in space-based telecommunications, announced today that it has signed an agreement with Satellogic Inc., a leader in submeter Earth Observation (EO) data and satellite technology. The agreement details plans to integrate Skyloom's Optical Communications Terminal (OCT) onto Satellogic satellites.
Utilizing Skyloom's OCT, Satellogic will test new methods of high-resolution EO data delivery through both SkyCompass-1, the geostationary-based (GEO) lasercom network infrastructure Skyloom developed with its partner, Space Compass, and direct downlink to a gateway within view of the low altitude image area, significantly decreasing latency. As a first step in its commissioning, the Satellogic spacecraft will conduct a low earth orbit (LEO)-to-ground link by handshaking with Skyloom's optical ground station in Broomfield, Colorado ("BOGS"). The Satellogic-Skyloom agreement follows a feasibility study on the ability of Satellogic's Mark-V platform to establish lasercom links.
Together with Space Compass, Skyloom recently conducted the Critical Design Review for the SkyCompass-1 optical communications network infrastructure, including space, ground, user, and network segments, which will begin providing network services in 2025.
Satellogic designs, manufactures, and operates its own constellation of submeter EO satellites. With more than a decade of experience in space, Satellogic has proven technology and a strong track record of delivering satellites to orbit and high-resolution data to customers at the right price point. It has successfully completed 15 missions to date and aims to reach 200+ satellites in orbit for daily global remaps. Satellogic's preferred rideshare launch partner is SpaceX.
---
Suggested Items
09/26/2023 | GlobalFoundries
GlobalFoundries (GF) announced it has applied for U.S. CHIPS and Science Act Funding, with two full applications submitted to the CHIPS Program Office of the U.S. Department of Commerce.
09/25/2023 | HyRel
HyRel Technologies, a global provider of quick turn semiconductor modification solutions, proudly announces that it earned the prestigious AS9100 certification.
09/25/2023 | NASA
The same facility that provided valuable testing for NASA missions to low-Earth orbit and the Moon is now helping the agency prepare to launch the first rocket from Mars.
09/25/2023 | CACI International Inc.
CACI International Inc announced that it successfully completed Optical Communication Terminal (OCT) Interoperability Testing (OIT) of its CrossBeam® OCT for the Space Development Agency's (SDA) Tranche 1 data relay and tracking network
09/25/2023 | Don Ball -- Column: The Chemical Connection
If your HDI or UHDI production process is quality challenged, don't assume your etcher is to blame. Many factors impact the quality of the final product, so assess broadly, and you may find that the "the devil is in the details." Generally, the first place most people can get good product specification measurement is at the end of the etching process, It's natural and easy to blame quality shortcomings on the etcher. By all means, look at your etcher and invest some time trying to improve its performance but don't stop there. Other factors may be affecting the etch uniformity.