Books

Featured Books

smt007 Magazine

Latest Issues

Current Issue

Economic Headwinds

This issue takes stock of the current economic outlook and how companies are using current conditions to move themselves through technological evolutions, workforce shifts, and financial changes. Even with these headwinds, there's forward progress to be made.

Attracting New Talent

To get different results in staffing, you must change how you define, promote and recruit your job opportunities. How do you become magnetic to high-quality early-career candidates?

Test and Inspection

Test and inspection methods are undergoing rapid change. In this issue, we consider the influence of AOI, AI, and human eyes. How exactly are these pieces of the puzzle changing the role of test and inspection?

Columns

Latest Columns

||| MENU
Estimated reading time: 4 minutes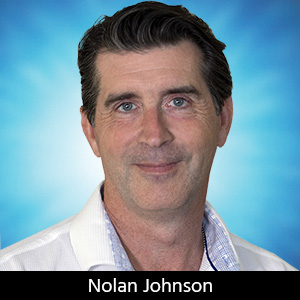 September 19, 2023
Nolan's Notes: Convergence
When I stop to consider the dynamics in our industry at this moment, I keep coming back to the idea of "convergence." Aspects of our industry historically thought of as distinct and separate are blurring the lines and overlapping.
As I look back on our coverage in the past five years, I see convergence taking place, moving like a glacier—slow and steady but with formidable force. In this month's issue of PCB007 Magazine, the three areas of convergence we consider are materials, advanced packaging, and UHDI.
First, a look at materials. At the outset, materials seem to be fracturing every which way. Virtually all manufacturers of materials have added to their lineup. There are special products optimizing high-speed, low-loss, temperature extremes, and the list goes on. Performance specification, pricing, and availability are all factors in selection, making the market seem fractured. But just as Newtonian physics works at the on-planet level of the universe (but not so well in the cosmic scope), all those specialized materials lead to the ability to make the right product for the right environment. Advanced packaging will change the landscape of assembly and soldering. In the end, the choices allow us to be better at what we do.
Now, what about advanced packaging? That's a semiconductor concern, isn't it? Yes, sort of. The convergence is with PCB-like substrates and interposers. Currently, almost all the advanced packaging fabrication capabilities are in Asia, so building out a globally resilient supply chain will require sufficient fab capability in Europe and the Americas.
Who will make the investment? Some folks think that whatever goes inside the package is the semiconductor fab's responsibility. But there are some on the semiconductor side who see these intra-package connectors as more PCB than IC, with the commensurate opinion that PCB fabs are better suited to manufacture them. There's some truth to that opinion, but it overlooks a few uncomfortable facts, like the feature sizes that interposers and substrates require. After all, we're talking about fabricating PCBs at semiconductor IC pad size dimensions or thereabouts. Can your fab do that today? Over in IC land, they see the dimensions needed for substrates as 20 years behind what they're capable of in their fabs; retro-tooling new facilities will be necessary to support the advanced packaging capabilities.
All this leaves the interposers and substrates in a bit of a lurch. Everybody will need them, yet they're all hesitant to invest. Some companies are dipping their toe in the proverbial water. Skywater, for example, is building out the capability, as are a few boutique shops who see a market opportunity. This kind of manufacturing will require cleanrooms and reliable processes for fabricating at feature sizes moving toward the single-digits in microns for trace and space—with via sizes to match, of course.
By now, I'm sure you can start to see how ultra high density interconnect (UHDI) converges with the other two trends. To reach the dimensions we're heading toward, we reach a threshold of capability with the number of steps in fabrication: subtractive processes, copper smoothness,
copper-to-substrate adhesion, management of CTE (coefficient of thermal expansion), and more. Of course, UHDI has found its early foothold in high-end, high-volume, cost-sensitive consumer products like cellphones, but it will be required for lower-volume, high-complexity work as we move forward. We can expect increased demand for this kind of ultra-small work from OEMs and designers—especially as the semiconductor companies force the issue with even smaller pad tolerances and larger package sizes to accommodate all the I/Os for these very complex chips.
Which brings me full circle to materials: The specialization and the larger inventory of products with specific characteristics is necessary to support this convergence. On the "innovation" side of the technology adoption bell curve, there is so much more convergence underway; this will only move steadily down the bell curve into mainstream adoption. This is why we're covering these three topics all at once.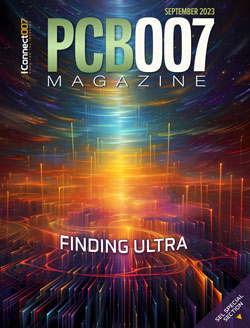 In the September 2023 issue of PCB007 Magazine, we talk about materials with Darren Hitchcock, and UHDI fundamentals with Happy Holden and Anaya Vardya. PCB Technologies' Oved Shapira launches the convergence conversation in his interview. Brent Fischthal of Koh Young discusses how inspection is tackling the additional challenges further down the chain in assembly. Finally, we bring you a video presentation by IPC's Matt Kelly to the U.S. Commerce Department, on behalf of the industry, regarding key parts of this convergence and how it should fit into the decision-making process for CHIPS Act funding. This presentation is not only educational but provides an eyewitness view of how industry organizations such as IPC, PCBAA, and USPAE are raising government awareness.
Another trend on the rise in the U.S. is captive facilities. This month, our special coverage of Schweitzer Engineering Laboratories (SEL) includes six equipment suppliers who participated in SEL's $100 million captive facility build-out. Whether you're upgrading a department or building out a new facility yourself, these conversations provide insight into the process of standing up your facility too.
This column originally appears in the September 2023 issue of PCB007 Magazine.