Intraratio to Feature Industry-Leading Smart Manufacturing Solutions at SMTA Guadalajara Expo and Tech Forum 2023
September 21, 2023 | Intraratio
Estimated reading time: 1 minute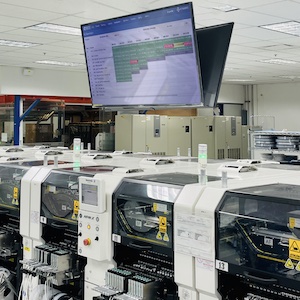 Intraratio, a provider of enterprise software solutions, is pleased to announce its participation in the SMTA Guadalajara Expo and Tech Forum 2023. The premier event is scheduled to be held on Oct. 25-26, 2023 at the Expo Guadalajara in Guadalajara, Jalisco, Mexico. Intraratio invites all attendees to explore their transformative solutions.
Intraratio has established itself as a global leader in providing advanced manufacturing software solutions that offer real-time visibility and control for semiconductor and Surface Mount Technology (SMT) electronics manufacturing operations. Their comprehensive suite of smart manufacturing and Industry 4.0 solutions encompasses:
Seamless Factory and Equipment Integration (Data Automation/IoT): Intraratio ensures that your factory and equipment are interconnected, with no 3rd party software or middleware required, providing a cost effective and robust foundation for data-driven decision-making.
Full-Featured Manufacturing Execution System (MES / RunCard): Intraratio's MES solution, RunCard, optimizes manufacturing processes, streamlining operations, and enhancing efficiency.
Serialized Product Traceability: Intraratio empowers manufacturers with end-to-end product traceability, ensuring quality and compliance throughout the production lifecycle.
Real-Time Yield and Quality (DataCard): With DataCard, Intraratio offers real-time visibility into yield and quality, enabling proactive measures to enhance product quality and reduce waste.
Global Supplier Data Management (ServiceCard): ServiceCard simplifies global supplier data management, fostering collaboration and efficiency in the supply chain.
These solutions are enriched by cutting-edge Artificial Intelligence (AI) and Machine Learning (ML) based analytics, which facilitate outlier detection and predictive maintenance. INTRARATIO's offerings are designed to accelerate the digital transformation journey of customers in the electronics manufacturing industry.
"We are excited to be a part of the SMTA Guadalajara Expo and Tech Forum 2023, and we look forward to showcasing our innovative smart manufacturing solutions," stated Ryan Gamble, CEO & Founder at Intraratio. "Mexico is an important hub for electronics manufacturing, where we have significant customers that we work closely with in partnership, to drive innovation, growth, and continued industry success. We invite all attendees to visit our booth and discover how Intraratio can empower their manufacturing operations."
Join Intraratio at the SMTA Guadalajara Expo and Tech Forum 2023 to experience the future of smart manufacturing and Industry 4.0.
---
Suggested Items
12/07/2023 | Matt Stevenson -- Column: Connect the Dots
It makes sense to optimize your board using design for manufacturability (DFM) techniques. But applying DFM best practices can be confusing without formal training. The results are designs that are often incomplete, poorly designed, or too complex. When these issues arise, your PCB manufacturing partner rejecting the design can be considered a best-case scenario because it means they have your back. If your design is simply dropped into an automated queue without concern for manufacturability, the output can be a batch of unusable boards.
12/05/2023 | Travis Kelly -- Column: American Made Advocacy
For this month's PCBAA Member Profile, the focus is on Hari Pillai, president, Technology Components, Sanmina. Hari says, "I think I've had a good dose of luck throughout my career. But beyond luck, I had a vision to become a general manager as far back as my undergraduate years. I made all my career decisions based on that. My evaluation criteria was always, "How does this opportunity get me closer to my goal?" Sometimes opportunities come from unexpected places."
12/05/2023 | Amkor Technology
Amkor Technology, Inc., a leading provider of semiconductor packaging and test services, has announced its plan to build an advanced packaging and test facility in Peoria, Arizona.
12/05/2023 | HANZA
HANZA AB has signed an agreement to acquire all shares in Orbit One AB, a Swedish company that offers contract manufacturing of electronics and electromechanics. Orbit One has annual sales of approximately SEK 1.1 billion with an operating profit (EBITA) of approximately SEK 70 million.
12/05/2023 | Arch Systems
Arch Systems, the leading provider of data, analytics, and insightful actions for manufacturing operations, announced this week its collaboration with Plexus Corp., a global leader in complex product design, supply chain, manufacturing, and sustaining services.