Anda Technologies to Feature Automated Dispensing and Coating at SMTA Guadalajara
September 21, 2023 | Anda Technologies
Estimated reading time: 2 minutes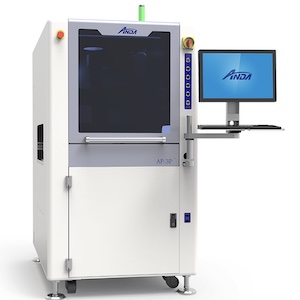 Anda Technologies, a leading provider of fluid application and custom automated manufacturing equipment, is excited to announce its participation in SMTA Guadalajara, a premier event in the electronics manufacturing industry. The company will highlight its innovative AP-3P, iJet-7L and iCoat-6 machines, designed to revolutionize surface treatment and fluid dispensing processes in Booth 1317. The event is scheduled to take place on Wednesday, Oct. 25, 2023 at Expo Guadalajara in Guadalajara, Jalisco.
At the forefront of surface treatment technology, the AP-3 Series by Anda presents advanced inline surface atmospheric pressure plasma treatment machines. Equipped with servo motors and a high-speed ball screw linear actuator system, the AP-3 machines ensure unparalleled accuracy in their operations. The AP-3P model comes standard with a single plasma nozzle positioned above the substrate, effectively treating, cleaning away contaminants, and activating surfaces by increasing surface energy. Surface energy plays a crucial role in the adhesion of coatings and adhesives to surfaces. Additionally, the AP-3DP model offers dual plasma nozzles, one above and one below the substrate, enabling simultaneous plasma treatment with independent motion paths or programs.
The iJet-7L and iJet-7H fluid dispensing systems from Anda combine precision and flexibility with their electronic dispensing head and control software. The user-friendly Anda interface software ensures rapid dispensing speeds and short cycle times. These machines are capable of accurately dispensing adhesives and sealants, streamlining the fluid dispensing process for various applications.
Addressing thin-film coating applications, Anda's iCoat-6 XYZ gantry system stands out for its exceptional edge definition results, achieved without the overspray typically associated with atomized spray valves. The machine's automatic recirculating closed-loop fluid heating system guarantees stable fluid pressure and constant temperature control, ensuring consistent fluid viscosity and maintaining the coating process at optimal conditions.
"We look forward to participating in SMTA Guadalajara, where we can showcase our latest innovations in surface treatment and fluid dispensing technology," said Mr. Abby Tsoi, CEO at Anda Technologies. "Our AP-3P, iJet-7L and iCoat-6 machines represent the pinnacle of precision and efficiency, catering to the specific needs of the electronics manufacturing industry. At Anda, we are committed to delivering solutions that enhance productivity, quality and reliability for our valued customers."
As an industry leader in surface treatment and fluid dispensing solutions, Anda Technologies continues to set new standards of excellence, helping manufacturers achieve higher levels of efficiency and performance in their production processes.
To experience the AP-3P, iJet-7L, and iCoat-6 machines firsthand and learn more about Anda Technologies' cutting-edge solutions, visit their booth at SMTA Guadalajara 2023.
---
Suggested Items
06/28/2023 | Nordson Electronics Solutions
Nordson Electronics Solutions, a global leader in electronics manufacturing technologies, will demonstrate their latest solutions for semiconductor packaging and electronics manufacturing, with partner AMT at the SEMICON China tradeshow, booth E4617.
04/20/2023 | Intel
Extending Moore's Law means putting more transistors on an integrated circuit and, increasingly, adding more cores. Doing so improves performance but requires more energy.
03/28/2023 | MicroCare, LLC
MicroCare is proud to offer a wide range of excellent replacements for the 3M Novec specialty cleaning fluids. This comes in response to 3M's recent announcement that it will discontinue manufacturing all fluoropolymers, fluorinated fluids, and PFAS-based additive products by the end of 2025, including Novec 7100, 71DE, 7200, 72DE, 72DA, 73DE and others.
02/23/2023 | Siemens
Siemens Digital Industries Software has announced that it has signed an agreement to sponsor a multi-year Academic Chair for funding research activities with Centrale Nantes University (Centrale Nantes) to continue its research into Smoothed-Particle Hydrodynamics (SPH).
12/16/2022 | Anda Technologies USA, Inc.
Anda Technologies, a leading provider of fluid application and custom automated manufacturing equipment, announced plans to exhibit at the 2023 IPC APEX EXPO, scheduled to take place Jan. 24-26, 2023 at the San Diego Convention Center in California.