Lockheed Martin Conducts First Flight In U-2 Avionics Tech Refresh
September 26, 2023 | Lockheed Martin
Estimated reading time: 1 minute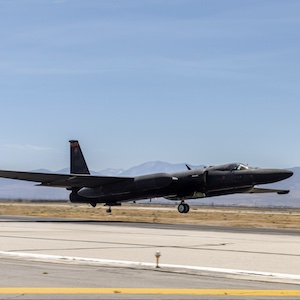 Lockheed Martin Skunk Works, in partnership with the U.S. Air Force, completed the first flight of the U-2 Dragon Lady's Avionics Tech Refresh (ATR) program.
The successful first flight tested the new advanced capabilities aboard the U-2 as part of the ATR contract, including:
An updated avionics suite (communications, navigation, display, etc.) that modernizes the U-2's onboard systems to readily accept and use new technology.
A new mission computer designed to the U.S. Air Force's open mission systems (OMS) standard that enables the U-2 to integrate with systems across air, space, sea, land and cyber domains at disparate security levels.
New modern cockpit displays to make pilot tasks easier, while enhancing presentation of the data the aircraft collects to enable faster, better-informed decisions.
During this mission the aircraft successfully performed a low-altitude functional check flight to integrate new avionics, cabling and software.
"The successful first flight of the U-2 Avionics Tech Refresh is a significant moment in our journey to rapidly and affordably field new capabilities," said Sean Thatcher, U-2 Avionics Tech Refresh program manager at Lockheed Martin Skunk Works. "Leveraging the platform's open architecture, we're expediting these capabilities needed for the future Joint All-Domain Operations battlespace."
The ATR first flight marks a milestone in the U-2's modernization efforts and its path to be the first fully OMS-compliant fleet. Further testing will solidify a mature software baseline before mission systems are introduced to ensure both functionality and interoperability to meet operational needs.
The U-2 ATR contract was awarded by the U.S. Air Force in 2020 and valued at $50 million.
---
Suggested Items
11/07/2023 | Viasat
Viasat Inc., a leader in global communications, and Deutsche Telekom today announced a new, long-term agreement that cements the companies' commitment to providing in-flight connectivity (IFC) solutions to airline partners across the European Aviation Network (EAN).
11/03/2023 | Collins Aerospace
Collins Aerospace recently expanded its services for airport operator AIRPLAN S.A.S. for a host of airport solutions that streamline passenger processing, enable self-service options and manage operations for six airports in Colombia's northern central region.
10/30/2023 | CACI International Inc.
CACI International Inc announced that it has been awarded a four-year single-award, indefinite delivery indefinite quantity expertise contract worth up to $150 million to continue its support of spaceflight systems, simulation, and software for NASA Johnson Space Center (JSC).
10/13/2023 | Lockheed Martin
For the first time, a Lockheed Martin missile communication prototype successfully demonstrated a proof-of-concept for providing in-flight target updates to a surrogate Guided Multiple Launch Rocket System (GMLRS). 
10/11/2023 | Airbus
Airbus Helicopters' demonstrator FlightLab  has  successfully tested an electric flight control system in preparation of a new human machine interface (HMI) that will equip CityAirbus NextGen, Airbus' eVTOL prototype.