KBR, QinetiQ Team to Deliver Sovereign Test and Evaluation Capability
September 26, 2023 | QinetiQ
Estimated reading time: 1 minute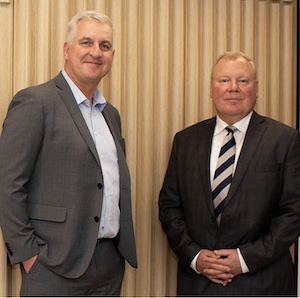 KBR and QinetiQ signed a teaming agreement to work collaboratively to deliver test and evaluation services for the Australian Defence Force.
Under the agreement KBR and QinetiQ will share skills and experiences to build on both companies' respective test and evaluation solutions, drawing on both global and local capabilities.
Nic Maan Vice President Government Solutions APAC Nic Maan said: "The Defence Strategic Review has made it clear that industry needs to step up, collaborate and deliver solutions aligned with national Defence ambitions.
"Together we can bring world leading knowledge and capabilities from the UK and the US and invest in the continued development of these to strengthen Australia's defence and security and grow our industrial resilience.
"We see enormous potential for the Commonwealth with our two companies working together. QinetiQ is a trusted Test and Evaluation (T&E) partner to the UK Ministry of Defence and Australian Government. KBR is a specialist test, trial and training agent for the US Department of Defence.
"Together we can provide a deep and focused pool of test and trial specialists assembled to support the nation's future defence and security requirements."
Paul Angelatos, QinetiQ MD, Advisory Services, said: "We are a trusted domestic industry partner to the ADF and our T&E services support ADF decision makers with objective, end-to-end assurance across the capability lifecycle.
"We see the value in collaborating with industry partners to bring the best capability, people and solutions to support the Australian warfighter.
"Through strong industry networks and long-term investment in initiatives such as our sovereign T&E skills program, we are growing capability in Australia to support the increasingly complex T&E projects of our defence and security customers."
---
Suggested Items
11/29/2023 | TT Electronics
TT Electronics, a global provider of custom power solutions and engineered technologies, has announced that its Power and Control business has officially opened its new state-of-the-art research, development and manufacturing facility.
11/29/2023 | Airbus
Airbus has signed a contract with the Spanish Ministry of Defence for the development and acquisition of SIRTAP, a High Performance Tactical UAS that will reinforce the tactical capabilities of the Spanish Army and the Air and Space Force.
11/13/2023 | ACN Newswire
General Atomics Aeronautical Systems, Inc. (GA-ASI), a leading designer and manufacturer of proven, reliable Remotely Piloted Aircraft (RPA) systems, radars, electro-optics, and related mission systems, and EDGE, a world-leading advanced technology group for defence and beyond, announced an agreement to integrate EDGE smart weapons onto GA-ASI's MQ-9B SkyGuardian® RPA.
11/08/2023 | MBDA
MBDA has finalised an agreement with Polska Grupa Zbrojeniowa S.A. (PGZ) for MBDA's support for PGZ's delivery of the NAREW air defence programme for the Polish Armed Forces.
11/07/2023 | L3Harris Technologies
Aerojet Rocketdyne, an L3Harris Technologies company, and Australian-owned defence prime NIOA have announced a strategic agreement to explore the manufacturing of critical guided weapons components in Australia.