Medtronic CEO Geoff Martha to be Keynote Presenter at 2023 SIA Awards Dinner
September 28, 2023 | SIA
Estimated reading time: 1 minute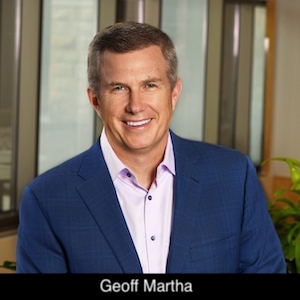 The Semiconductor Industry Association (SIA) announced Geoff Martha, chairman and CEO of healthcare technology leader Medtronic, will be the keynote presenter at the 2023 SIA Awards Dinner on Thursday, Nov. 16 in San Jose, Calif. Martha will offer perspectives on the role of semiconductors in enabling the future of medical technology. SIA represents 99% of the U.S. semiconductor industry by revenue and nearly two-thirds of non-U.S. chip firms.
"Geoff Martha is a leading expert on medical technology, a field that is rapidly advancing thanks in large part to semiconductor innovation," said John Neuffer, SIA president and CEO. "We are pleased to welcome Geoff as the keynote presenter at the 2023 SIA Awards Dinner and look forward to hearing his views on the trends that will shape healthcare technology in the years ahead."
Geoff joined Medtronic in 2011 and assumed his role as CEO as the COVID-19 pandemic rocked communities around the world. As part of his commitment to lead with purpose, Geoff quickly mobilized the company and took action to help global healthcare professionals and partners continue to treat patients and protect themselves. In addition to accelerating the development of remote solutions, he made the unprecedented move to open source the company's intellectual property, making proprietary ventilator designs available to manufacturers around the world. The move helped address growing global demand for ventilators, resulted in new partnerships, and broke down barriers across industries to enhance care.
Prior to becoming CEO of Medtronic, Geoff held various leadership roles on the company's executive committee, including SVP, Strategy and Business Development; Chief Integration Officer; and Executive Vice President, Restorative Therapies Group. Before joining Medtronic, Geoff spent 19 years in a variety of business development, strategic marketing, and sales management roles at GE Healthcare and GE Capital.
The 2023 SIA Awards Dinner also will feature the presentation of the semiconductor industry's highest honor, the Robert N. Noyce Award, to Sanjay Mehrotra, president and CEO of Micron Technology. The Noyce Award is named in honor of semiconductor industry pioneer Robert N. Noyce, co-founder of Fairchild Semiconductor and Intel.
---
Suggested Items
11/29/2023 | ICAPE Group
ICAPE Group, a global technology distributor of printed circuit boards (PCB), announced the acquisition of 100% of the assets of Bordan Electronic Consult, a German company specializing in the design of "custom-made" technical parts.
11/29/2023 | Real Time with...productronica
Mycronic's Kevin Clue discusses the new MyPro A40, a pick and place machine that is 48% faster than its predecessor. The A40 maintains the flexibility desired by high-mix, low-volume manufacturers while offering a wider component range, better accuracy and repeatability.
11/29/2023 | Dana Korf -- Column: Dana on Data
November's issue of Design007 Magazine had an excellent theme that evolved around design simplification. There were exceptionally good articles about how to reduce over-constrained or needlessly complex designs. One significant time-consuming category is the creation of many design files and drawings which lead to lengthy creation and interpretation time along with the considerable time to resolve conflicting or erroneous information.
11/28/2023 | Real Time with...productronica
Pete Starkey speaks with Frederic Soulier and Damien Boureau from Altix and MGI Digital Technology. The combined expertise of two innovative companies lead to a radically simplified digital solution for solder mask and additive processes in one machine.
11/28/2023 | Yamaha Robotics
Yamaha Robotics has revealed the YRM20DL dual-lane mounter for the first time in Europe at Productronica 2023, and also introduced new features of its powerful smart-factory software tools.