Shipments of Smartphone Panels Are Forecasted to Drop by 9% YoY for 2024
September 28, 2023 | TrendForce
Estimated reading time: 2 minutes
TrendForce projects that shipments of smartphone display panels (smartphone panels) will reach approximately 1.85 billion pieces in 2023, reflecting a YoY increase of 8.7%. This growth is primarily driven by the demand from the smartphone repair market, the market for second-hand smartphones, and the release of new smartphone models. Looking ahead to 2024, TrendForce anticipates that the supply-demand dynamics of the smartphone market will return to a normal cycle. Consequently, there could be a drop in demand for second-hand devices and device repair. TrendForce forecasts that shipments of smartphone panels will amount to around 1.82 billion pieces in 2024, reflecting a YoY decline of 9%.
Regarding shipments of smartphone panels from individual panel makers, the decline in demand for LCD panels is a shared issue for some of them. Currently, BOE firmly holds the top position in global smartphone panel shipments, with an estimated shipment of around 560 million pieces for 2023. However, in 2024, BOE is expected to be impacted by the weakening demand for LCD panels, resulting in a projected YoY drop of 7.2% to around 520 million pieces. Following BOE is SDC in second place. Due to the decline in demand for rigid AMOLED panels, SDC's shipments for 2023 are forecasted around 350 million pierces. As for 2024, SDC's shipment figures are expected to remain relatively on par with the figure 2023 as its performance is expected to be sustained by the demand related to Samsung's and Apple's devices. Tianma is estimated to ship around 175 million pieces of smartphone panels in 2023, securing the company's third-place position. As Tianma expands collaborations with various brands, there is a chance that its shipments could see a marginal YoY increase of 5.2% for 2024, totaling about 190 million pieces.
Innolux is ranked in fourth place in shipments at about 140 million pieces for 2023 and is projected at about 125 million pieces for 2024 under a YoY reduction of 11.2% due to the shrinking demand from the LCD market. HKC, ranked at fifth place, is estimated at a shipment volume of 170 million pieces for 2023 attributed to its cost advantage from the G8.6 production lines, and is projected to grow to 180 million units in shipments for 2024 at a YoY growth of 4.2%. TrendForce commented that SDC is the sole maker among the top five players that is deteriorating in shipments during 2023 due to the declining demand for rigid AMOLED panels, meaning that rigid AMOLED panels made by South Korean makers are gradually subsiding in market shares, after the initiation of mass production on flexible AMOLED panels by Chinese makers, on account of insufficient cost competitiveness.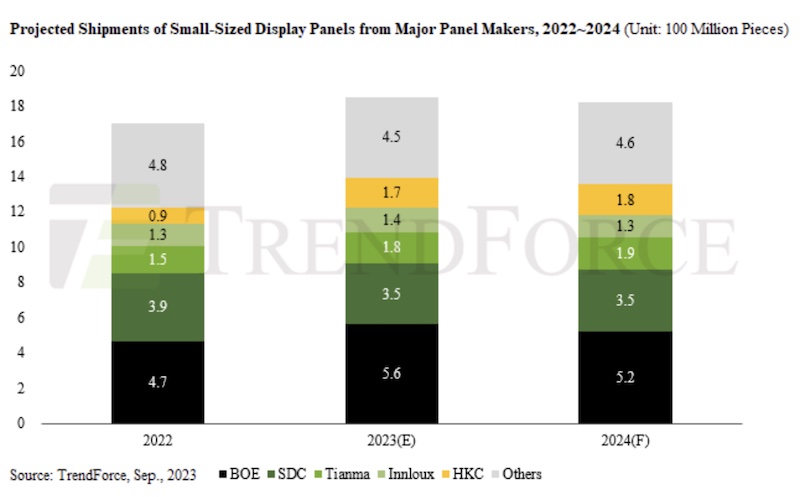 As for the shipment ratio among panel makers by region, Taiwanese makers are able to hold onto their proportion thanks to the support from a-Si LCD, while Japanese makers are dropping in shipments due to their expeditious exit from the smartphone market. South Korean makers are maintained at 23-25% of shipments attributable to their technology of flexible AMOLED panels and the corresponding adoption by high-end smartphones. Chinese makers have ascended from 54.8% (2022) to 63.7% (2023) in overall shipments of smartphone panels, which showcases their continued significance in the overall smartphone supply chain.
---
Suggested Items
11/29/2023 | TrendForce
TrendForce's latest research indicates that despite a decrease in the CPI in Europe and the US this year, consumer budgets are still constrained due to the current high-interest-rate environment, and the real estate bubble in China has suppressed TV demand. Moreover, a significant increase in TV panel prices this year has led brands to scale down promotional events.
11/29/2023 | ICAPE Group
ICAPE Group, a global technology distributor of printed circuit boards (PCB), announced the acquisition of 100% of the assets of Bordan Electronic Consult, a German company specializing in the design of "custom-made" technical parts.
11/29/2023 | Real Time with...productronica
Mycronic's Kevin Clue discusses the new MyPro A40, a pick and place machine that is 48% faster than its predecessor. The A40 maintains the flexibility desired by high-mix, low-volume manufacturers while offering a wider component range, better accuracy and repeatability.
11/29/2023 | Dana Korf -- Column: Dana on Data
November's issue of Design007 Magazine had an excellent theme that evolved around design simplification. There were exceptionally good articles about how to reduce over-constrained or needlessly complex designs. One significant time-consuming category is the creation of many design files and drawings which lead to lengthy creation and interpretation time along with the considerable time to resolve conflicting or erroneous information.
11/28/2023 | Real Time with...productronica
Pete Starkey speaks with Frederic Soulier and Damien Boureau from Altix and MGI Digital Technology. The combined expertise of two innovative companies lead to a radically simplified digital solution for solder mask and additive processes in one machine.