Books

Featured Books

pcb007 Magazine

Latest Issues

Current Issue

The Registration Sweet Spot

Registration is underrated and underappreciated. The key is to ensure proper registration from layer to layer across the entire printed circuit board. It's a holistic process requiring anticipation, prediction, precise attention at each step, and detailed data tracking and monitoring.

High-reliability Fabrication

In this month's issue, our expert contributors discuss the latest in technologies, trends, complexities and resources regarding high-reliability fabrication.

Finding Ultra

New demands on PCB fabrication, namely advanced packaging, ultra high density interconnect (UHDI), and new specialty materials, are converging, changing the landscape of our business. Is it time to start paying close attention to this convergence?

Columns

Latest Columns

||| MENU
TTM Technologies CFO Dan Boehle Wins CFO of the Year Award from the Los Angeles Business Journal
September 28, 2023 | TTM Technologies
Estimated reading time: 1 minute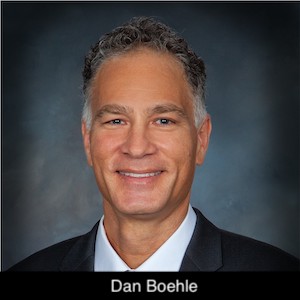 TTM Technologies, Inc., a leading global manufacturer of technology solutions including mission systems, radio frequency (RF) components and RF microwave/microelectronic assemblies, and printed circuit boards (PCB), announced that its Chief Financial Officer, Dan Boehle, was honored at the 2023 Los Angeles Business Journal (LABJ) CFO of the Year Awards ceremony. The ceremony was held on Thursday, September 21, 2023 at the Biltmore Hotel.
Boehle was presented with the Turnaround Achievement Award in recognition of his role as CFO of Aerojet Rocketdyne. In that role, he led his team, and the company, through major organizational and governance changes. Boehle's finance and business acumen, and his consistent focus on providing the best and most valuable outcome for the company's employees, shareholders, and customers made him a critical part of the senior management team that led the company through these changes and ultimately increased the market value and future sustainability of the company. Following the closure of the sale of Aerojet Rocketdyne to L3Harris, Dan joined TTM on August 21st, 2023 becoming the CFO on September 11th, 2023.
"We are excited to have Dan as part of the leadership team at TTM," said Tom Edman, CEO of TTM. "He successfully led and navigated Aerojet Rocketdyne through complex challenges eventually leading to a sale that increased shareholder value and this recognition is well deserved."
---
Suggested Items
11/29/2023 | TrendForce
TrendForce's latest research indicates that despite a decrease in the CPI in Europe and the US this year, consumer budgets are still constrained due to the current high-interest-rate environment, and the real estate bubble in China has suppressed TV demand. Moreover, a significant increase in TV panel prices this year has led brands to scale down promotional events.
11/29/2023 | ICAPE Group
ICAPE Group, a global technology distributor of printed circuit boards (PCB), announced the acquisition of 100% of the assets of Bordan Electronic Consult, a German company specializing in the design of "custom-made" technical parts.
11/29/2023 | Real Time with...productronica
Mycronic's Kevin Clue discusses the new MyPro A40, a pick and place machine that is 48% faster than its predecessor. The A40 maintains the flexibility desired by high-mix, low-volume manufacturers while offering a wider component range, better accuracy and repeatability.
11/29/2023 | Dana Korf -- Column: Dana on Data
November's issue of Design007 Magazine had an excellent theme that evolved around design simplification. There were exceptionally good articles about how to reduce over-constrained or needlessly complex designs. One significant time-consuming category is the creation of many design files and drawings which lead to lengthy creation and interpretation time along with the considerable time to resolve conflicting or erroneous information.
11/28/2023 | Real Time with...productronica
Pete Starkey speaks with Frederic Soulier and Damien Boureau from Altix and MGI Digital Technology. The combined expertise of two innovative companies lead to a radically simplified digital solution for solder mask and additive processes in one machine.