MEDC Incentivizes Calumet Electronics $7.5M to Help Build DoD Technology, Upskill Workers
October 25, 2023 | Calumet Electronics
Estimated reading time: 2 minutes
Calumet Electronics, a 55-year-old printed circuit board (PCB) manufacturer, located in Calumet, MI, has been called upon by defense OEMs to pioneer packaged substrates critical to the semiconductor sector for aerospace and defense.
MEDC announced today that they will support the project with $7.5 million in incentives to enable the company's plans to stand up a package substrate manufacturing facility important to the semiconductor ecosystem. The project, which will create job growth, upskill existing employees, build a new facility, and purchase capital equipment, is expected to generate a total capital investment of up to $51 million. As Calumet leadership works toward scaling its substrate production with training and technology, the company will continue to maintain its current lineup of products.
"While the incredible beauty of the Upper Peninsula's fall season is coming to an end, the U.P. remains incredibly hot with significant investment and development being made to transform business at Calumet Electronics", says Marty Fittante CEO of InvestUP. "That transformation is only possible because of the continued leadership and commitment of Governor Whitmer, MEDC CEO Quentin Messer, his team, and the Michigan Strategic Fund, all of whom continue to express through their determined efforts an appreciation that the U.P. is a catalyst in helping the State prosper."
Calumet's emerging capability will enable next-generation DoD technology in multifunction applications, including advanced radar, communications, high speed computing, and artificial intelligence. Calumet seeks to stand up a first-of-its-kind package substrate factory in the United States, starting with a new 60,000 sq. ft. manufacturing facility within its existing 160,000 sq. ft. campus. Calumet, with a current workforce of approximately 350 employees, plans to continue increasing payroll value and jobs in the community.
As one of the industry's leading manufacturers, Calumet is committed to closing the U.S. technology gap with Asia while supporting and growing its local economy and advancing people into great careers in Michigan's Upper Peninsula.
"We extend our gratitude to Governor Whitmer, MEDC CEO Quentin L. Messer, his dedicated team for their tireless effort and unwavering support, and the Michigan Strategic Fund. Additionally, we thank InvestUP, Warner, Norcross & Judd and Marketing Department, Inc. for helping bring this project over the finish line," said Calumet Electronics President Stephen Vairo. "The funding will allow Calumet Electronics to advance our technology with a primary focus on bringing semiconductor and microelectronics manufacturing back to the United States. We are thrilled about the prospect of expanding our operations and facilities right here in Calumet, MI, creating increased opportunities for career retention, upskilling, and job growth in the Copper Country."
This project aligns with Calumet's long-term strategic plan to become a global leader in producing next-generation technologies. Calumet's series of successes in producing substrates for advanced packaging, which have passed rigorous customer field testing, underscores the need for the company to prioritize capacity expansion. As a small business and an All-American manufacturer, Calumet is committed to making a substantial impact in the domestic semiconductor industry, contributing to national defense and bolstering U.S. economic competitiveness. All from the Upper Peninsula of Michigan.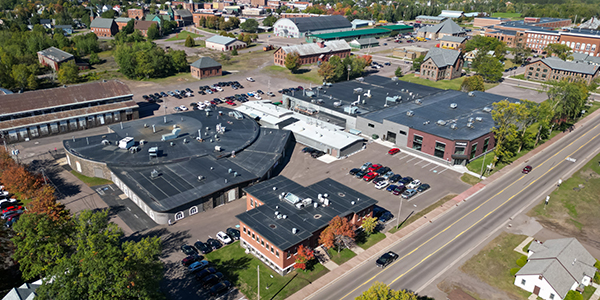 ---
Suggested Items
11/21/2023 | Calumet Electronics
Calumet Electronics is proud to announce the appointment of Trey Adams to their team as Vice President, General Manager. Adams, a veteran professional, brings a wealth of experience in PCB manufacturing to Calumet Electronics during a transitional period of growth and advancements. 
11/16/2023 | U.S. DoD
The Department of Defense announced an award of $39.9 million via the Defense Production Act Investment (DPAI) Program to Calumet Electronics Corporation to enhance capabilities to produce High-Density Build-Up (HDBU) substrates, which include High-Density Interconnect Printed Circuit Board (PrCB) cores and HDBU build-up layers.
11/03/2023 | Nolan Johnson, I-Connect007
When I use our analytics to see what's of most interest to our readers, what comes to the top of list are topics such as sustainability, materials, reshoring, upskilling, and high reliability. It makes sense, doesn't it? In today's business climate, we must be ever aware of the impact we're having on the environment while maintaining a high-quality product that supports our national economic and security interests.
10/27/2023 | Andy Shaughnessy, Design007 Magazine
I don't know everything, but I know one thing: This job is never boring. Here's just a sample of what we've published online in the last week: an article on zero liquid discharge technology, an interview with a flex fabricator about avoiding DFM issues, a feature on the use of AI in smart assembly processes, a news item about investment in advanced substrate development in the U.S., and a story about one woman's journey in electronics, starting when she learned to solder at 11 years old.
10/25/2023 | Calumet Electronics
Calumet Electronics, a 55-year-old printed circuit board (PCB) manufacturer, located in Calumet, MI, has been called upon by defense OEMs to pioneer packaged substrates critical to the semiconductor sector for aerospace and defense.