Insulectro: Education Begins with the Designer
November 2, 2023 | Andy Shaughnessy, PCBDesign007
Estimated reading time: 7 minutes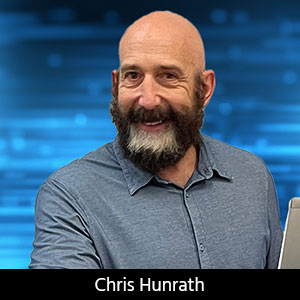 During PCB West, Insulectro held an educational showcase at its office in San Jose that focused on flexible, printed electronics, and advanced materials. After the courses concluded, I spoke with Chris Hunrath, VP of technology, about the company's efforts to educate PCB designers, and the variety of material options available for customers who want to push the envelope of innovation.
Andy Shaughnessy: Chris, Insulectro has been holding these seminars for years, and you had a pretty solid event here today. How long have you been doing these?
Hunrath: We held our first one back when lead-free assembly was coming online, around 2006. A lot of our customers and their customers were not familiar with the requirements for the thermal survivability of the materials. The lead-free-compatible FR-4s were coming out, but baking requirements, alternative oxide, and other processes needed to be adjusted. We created this series of seminars that we typically hosted in our branches, and customers and OEMs from the area would come to our local branch. That began to evolve in 2005-2007.
Then in 2010, we did a seminar on flex technology. We went around the country and presented flexible materials in in conjunction with DuPont and some of our other suppliers. We did another group of courses in 2012. So, every couple of years, we would host these seminars. Later, we did seminars on high-speed circuitry and high-speed, low loss. So, you can see how that fits with the evolution of the industry.
Today's seminar focused on flexible circuits and printed electronics; they go hand in hand because even though one's an additive technology and one's a subtractive additive technology, some of the applications and form factors are similar. The materials can be quite different sometimes, with Kapton being the foundation of flexible circuits. But these materials can also be the substrate material for printed electronics in high-temperature applications.
Shaughnessy: The presentation on PTC materials was really interesting; the resistance increases with the temperature so that you won't get burned if you touch the application.
Hunrath: Sure, the positive temperature coefficient materials can be somewhat self-regulating in temperature. As the temperature goes up, the conductor resistance increases, and then you have less current flow. They don't run away like a conventional heater might, and it's not too hot to the touch. Think about a seat heater or a heated article of clothing.
We now have a brand of liquid polyimide that cures or coalesces, for lack of a better word, at a much lower temperature than prior traditional liquid polyimides, which usually cure in the 650°F range. These new liquids dry at 300°F, so they're very different, much more usable and easier to manage. But some of the polymer building blocks used in these systems came with what I'm going to call "chemical artifacts" that they really didn't need. Celanese had a technology to get the fluoro systems out of that final product, and they've been able to do that successfully.
Shaughnessy: It was pretty interesting seeing all of you interact with each other during the classes, like when you showed the DuPont people some things that you'd learned while working with their materials.
Hunrath: We've been partners with DuPont now for about 20 years. We just had a distributor recognition event at the DuPont Silicon Valley Tech Center. But DuPont has been a great partner. We work together. The information flows both ways, and I think we're closer to the customer, so we're able to report back to DuPont what we see happening in the field. DuPont has the material science background, and it's been a great partnership for us over the years.
Shaughnessy: I think there's definitely a need for classes like this, especially with so many PCB designers retiring or planning to retire, and taking their knowledge with them.
Hunrath: Sure. We want to keep this knowledge base alive. We are trying to recruit younger people within our company, and we're also trying to bring this information to our customers, who also have new employees. It is a challenge as people move on to other things or retire. We touch so many parts of the industry: manufacturing of the materials, fabrication, and sometimes even the OEMs and users. We think we're in a good position because we participate in three markets in a pretty big way—printed electronics, flexible electronics, and rigid PCBs.
Actually, printed electronics goes back to the early 1900s where people were printing conductive inks. Rear window foggers are printed electronics and they've been around for years. Believe it or not, some of that fired-on technology goes into the O2 sensors on your car, and in the airbag delivery systems. If you have a microwave oven or a dishwasher, very often they have membrane touch switches and printed electronics.
A printed electronics manufacturer's In-Mold product line was projected to take over a lot of the membrane touch market. But, as you heard today, there are some downsides to that. There's no tactile feedback with In-Mold; it's just capacitive, like the touchscreen on your phone. It's just not what people are used to. The upside is that it can be cheaper to manufacture, and everything is sealed so it should have a very long life. There are some definite reasons to pursue that technology, but people still want to connect—they want to feel that "click" when you push a button.
Shaughnessy: When you have a new customer come in, what kind of problems are they typically bringing to you? Do they know what they want, or do you have to walk them through it?
Hunrath: We get a variety of questions from new customers. Maybe the customer needs flexibility, so they might need some of those things on the PCB and flexible electronics side. Another example would be questions about a difficult construction. Let's say the customer needs multiple two-ounce copper layers. They want to make sure that they avoid lamination voids, which are very bad for the reliability of the structure, but they don't want the overall thickness to be too high, so, what's the best solution?
Well, using a certain kind of prepreg for fill is better for donating resin to the resin-hungry spaces on that two months later, but not add to the overall thickness. Those are sometimes challenges that are hard to overcome. High speed is another area; they might want to minimize the amount of topography they put on the copper, and they want low-loss materials, or they want high-density interconnect. These are a few things that we get asked about on a routine basis.
Shaughnessy: You have a pretty interesting job, Chris. It must be nice having your own lab right next to your office.
Hunrath: Yes, I spend a lot of time in the lab, right next to my office. I'm never bored. That's what I tell young people coming into the businesses. You'll never be bored doing this. There's a lot of opportunity because there are so many of us nearing retirement. I'm in my 60s now.
Shaughnessy: Me too. Where did the time go? So, is there anything else you want to mention?
Hunrath: Yes, we've now has partnered with EMC and Arlon and that's really exciting for me. They have a wide range of products. Arlon comes to us with some unique low-flow, building blocks for our rigid-flex business. Plus, they have the aramid fabric materials that are really neat. EMC has a range of low Z-expansion and low-loss materials that are fully commercialized that will give our customers a ton of capability. Arlon has a lot of products, so we're trying to focus on a range. Our customers can do everything from FR-4 to high-reliability FR-4 to mid-loss, mid-Dk, all the way up to the extremely low-loss and ultra-low-loss products, but we won't have 100 products. Maybe we have five in that space and then maybe another five in the aero and defense space. We like to have enough building blocks on the shelf that our customers don't have to go to the factory, and we can service them from our branch. We're trying to do a good job of offering a nice blend of options, but also good access to the materials.
Shaughnessy: It's been great talking with you, Chris.
Hunrath: Thank you for covering the showcase, Andy.
---
Suggested Items
11/29/2023 | Anaya Vardya -- Column: Standard of Excellence
To sustain a standard of excellence, it's equally important to look at both what we're doing today as well as what we'll do in the future. In other words, plan ahead. In that spirit, I thought it would be prudent to peek into the future and talk about what a printed circuit board fabrication facility with a "standard of excellence" will look like five years from now.
11/27/2023 | PRNewswire
Since its isolation in 2004, graphene has received widespread attention as a 'wonder' material, with the reported potential to enable a whole host of next-generation technologies, some of which would not be out of place in the latest sci-fi blockbuster.
11/24/2023 | PRNewswire
Superconductors are materials that offer no resistance to electrical current flowing through them. Combining their study with spintronics, which deals with the intrinsic spin of electrons and their use in electronics, has paved the way for the new field of superconducting spintronics.
11/21/2023 | ACN Newswire
Researchers of RIKEN at Japan's state-of-the-art synchrotron radiation facility, SPring-8, and their collaborators, have developed a faster and simpler way to carry out segmentation analysis, a vital process in materials science.
11/17/2023 | SHENMAO
SHENMAO Technology is proud to commemorate its 50th anniversary. Founded in 1973, SHENMAO has witnessed the evolution of Taiwan's electronics industry, playing a pivotal role in shaping the landscape of solder materials and setting new industry stanards.