Books

Featured Books

pcb007 Magazine

Latest Issues

Current Issue

The Registration Sweet Spot

Registration is underrated and underappreciated. The key is to ensure proper registration from layer to layer across the entire printed circuit board. It's a holistic process requiring anticipation, prediction, precise attention at each step, and detailed data tracking and monitoring.

High-reliability Fabrication

In this month's issue, our expert contributors discuss the latest in technologies, trends, complexities and resources regarding high-reliability fabrication.

Finding Ultra

New demands on PCB fabrication, namely advanced packaging, ultra high density interconnect (UHDI), and new specialty materials, are converging, changing the landscape of our business. Is it time to start paying close attention to this convergence?

Columns

Latest Columns

||| MENU
Estimated reading time: 4 minutes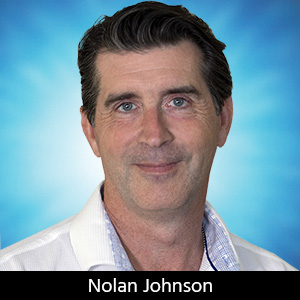 November 17, 2023
Nolan's Notes: The Registration Sweet Spot
Registration is underrated and underappreciated. You can try to argue with me about this, but after diving into the current state of registration, I'm convinced. For example:
30 years ago, the state-of-the-art for integrated circuit geometries was in the low-double and high-single digits of microns, single-sided, on a consistently planar and highly polished crystalline substrate. Almost without exception, the entire integrated circuit was built on top of the substrate.
Today, the bleeding edge of traditional PCB fabrication can reach into the 20-micron range, possibly multilayer, often still on epoxy-and-fiber substrate into which holes are drilled and metal plated; and it's expected that features across multiple layers will match up across the entire stackup.
That's asking a lot.
I am reminded of a scene in "From the Earth to The Moon" (Kinda want to get the boxed set, but is that still a thing?), an HBO series about the NASA space program of the 1960s. One particular episode opens with an aerospace engineer giving a presentation, standing next to an overhead projector. It went something like this:
"How hard is it to get a spaceship to the moon? Pretty hard. The ballistics are very complex; everything is moving. It's like trying to throw a rock over a house, and hitting another rock you can't see while it's flying through the air. Oh, one more thing: You're riding a bicycle."
This engineer's example certainly was evocative of that challenge. Every little detail needs to be right down the middle of its own "sweet spot" to accomplish the task; there is very little tolerance. Every single piece of that very complex process—launch, orbit, escaping orbit to go translunar, course corrections along the way, and braking exactly right to enter lunar orbit—needs very precise actions with an individual sweet spot. An error in the middle will only compound its way through the rest of the process.
In IC fabrication, in crystalline silicon, the IC engineers have the luxury of a remarkably stable foundation upon which to build in a highly regulated environment. Study the challenges in obtaining consistent, high-quality printed circuit registrations at today's geometries, and it does start to feel like a moonshot. When the coefficient of thermal expansion in your substrate can be larger than the features you are fabricating, getting all of them to line up across multiple layers is an exercise in multiple moving targets. In the flex world, there may be fewer layers, but that doesn't make it easier; some of the flex substrates are like plating on a sandwich bag. I digress (but only a little).
What's key here is ensuring proper registration from layer to layer across the entire printed circuit board. It's a holistic process requiring anticipation, prediction, precise attention at each step, and detailed data tracking and monitoring, because a slight error up front will only snowball as the process continues.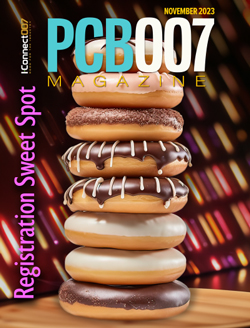 In this issue of PCB007 Magazine, we talk with some industry experts on getting it right with registration, with an overarching theme on how to keep all your steps in their respective sweet spots. Alex Stepinski shares his from-the-field lessons on how to design fabrication processes for improved registration, and some of his signature "hacks." Happy Holden returns to the value of coupons, and XACTPCB's Andrew Kelley discusses the use of planning software tools to anticipate misregistration and compensate. We also visit with Aidan Salvi at Amitron, a PCB fabricator committed to improving registration—to the tune of 60+ pieces of new equipment and development of a Factory 5.0 model.
Also in this issue, we bring you columns from Preeya Kuray, who interviews U.S. Rep. Blake Moore; Paige Fiet discussing technical terminology for newcomers; Henry Crandall continuing his look at wearable medical devices; Mike Konrad showcasing the innovative engineering programs at Dartmouth; and a PCBAA member profile on Hari Pillai.
By the time you finish this issue, you will likely notice that registration and process data are interrelated. Registration can only be as precise as your processes and the data you use to monitor those processes. Sensors, data warehousing, data analysis, and data-driven process control are central to improving registration. Just like the moonshot, precision is required at each step, even while all the components might be in motion.
I'd also like to welcome Marcy LaRont, who joins I-Connect007 as Managing Editor for PCB007 Magazine. If you've worked with Marcy in the past, you'll be just as excited as we are to bring her expertise and professional experience to our editorial team.
This column originally appears in the November 2023 of PCB007 Magazine.