EIPC Summer Conference: Day 2
July 2, 2015 | Pete Starkey, I-Connect007
Estimated reading time: 11 minutes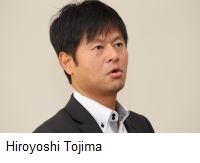 Hiroyoshi Tojima, having demonstrated what could be achieved by state-of-the-art subtractive processing, Multiline International Europe MD and former EIPC chairman Paul Waldner came from the opposite direction to talk additive! Many had tried and failed in the quest for a process that would open up opportunities in full-additive circuit fabrication, and adhesion of metal to substrate had been a problem that had not been satisfactorily overcome. With the rapid emergence of PCB technologies based on ultra-thin bendable and stretchable substrates, how could copper be made to stick reliably?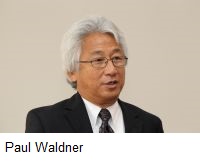 Waldner presented a paper written by Alex Richardson, VP of Global Strategic Operations for eSurface, entitled: "A novel approach for applying metallization to ultra-thin substrates," introducing an innovative photosensitive catalyst with the proprietary name of Covaler which, besides PCB manufacture, had a wide range of applications including decorative metallisation, wearable technology, semiconductor packaging, medical, military, automotive, solar, and other industrial uses. In PCB fabrication, eSurface's Covaler had been specifically formulated for inner and outer circuit board layer constructions, flexible circuits and interposers. Claimed to be a breakthrough enabler, it was compatible with the majority of industry-standard base materials and opened up opportunities for many non-traditional materials. Applied as a surface treatment using a conventional wet process line, the Covaler bonded to the substrate surface and became autocatalytic to electroless copper upon exposure to UV light, so could be used directly to fabricate full-additive circuitry. Alternatively, it could be used as the base for all-over electroless copper plating in a semi-additive process capable of very fine-line resolution.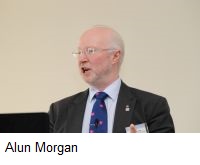 Alun Morgan returned to moderate the final conference session, this time in his role as project facilitator and European representative for the High Density Packaging User Group, HDPUG. He introduced HDPUG as a non-profit trade organisation whose member companies were involved in the supply chain of producing products utilising high-density electronic packages. HDPUG was entirely member-driven, its members deciding what technical areas to pursue and what topics to investigate, in order to stay focused on the most important issues affecting the electronics manufacturing industry. Its stated mission was to reduce the costs and risks for the electronics industry by improving cooperation between system integrators, contract assembly manufacturers and suppliers in the high-density packaging development and design process, using member resources, supplemented by a small staff. HDPUG's activities revolved around the spirit of cooperative R&D, where members could gain much more by sharing resources and expertise to address issues of common interest than by duplicating work in each member company. This enabled major problems and global technical issues to be resolved in a fraction of the time and at a fraction of the cost it would take for companies to do it individually. The group was focused on the characterisation and reliability of electronic assemblies and sub-assemblies.  As technology progressed, new materials and new processes were being developed, and new requirements, for example environmental regulations, were influencing how electronic assemblies were built. It was in the interest of all parties that products built with these new materials and processes were reliable and cost effective, and HDPUG ran projects to evaluate and understand the effects of material and process change. Twenty-eight R&D projects had been completed in the last three years, and 27 were currently in progress.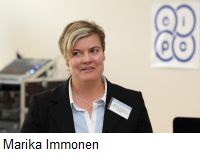 Morgan described the process by which projects were conceived, defined, approved and executed, using the Harsh Use Environment Alloy Evaluation project as an example, and then welcomed Marika Immonen from TTM Technologies to give an update on the second phase of the Optoelectronic project: "Optoelectronic Interconnect—preferred solution for short-range interconnect?" This project, which involved a total of 31 contributing companies, had begun five years previously with the objective of evaluating the feasibility of optical waveguide based technologies on PCBs, determining performance benefits and limitations using polymer waveguides and fibres for 1–2 metre links. The focus was on optical fibre and waveguide link characteristics, practical connectivity options and end-to-end link implementations. The first phase, in which test vehicles with multiple waveguide components had been used to verify the practicality of using optical fibres for short-range interconnect, had been completed. The second phase was at the definition stage, and proposed to use the viable building blocks from Phase 1 to build a more complex system-level demonstrator with end-to-end optical links. Ms. Immonen gave a comprehensive overview of the design rules and interconnection models for the OE2 demonstrator, which would have a combination of free-standing flexible waveguides, embedded glass wave guides and embedded polymer waveguides.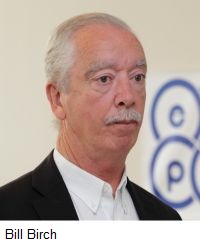 Final speaker of the day was Bill Birch from PWB Interconnect Solutions, and if there had been a prize for the longest title of the conference, he would have been a sure winner with "Quantifying and benchmarking new PWB materials reliability, electrical performance and thermal properties following exposure to today's lead free assembly environment." A long-term corporate member of HDPUG, Birch had been engaged in an ongoing programme to evaluate material reliability. "Designers can get carried away and let electrical properties take precedence over reliability. We need a balance of electrical performance with reliability and manufacturability." Working with HDPUG to build up a database of PCB material properties, he had characterised 98 materials to date and there were 22 new materials currently being evaluated. Birch reviewed the results of Phase 3 of the HDPUG Materials Reliability study, in which twelve materials—two high-Tg FR4, six halogen-free and four high-speed—were each constructed in two resin contents as a 20-layer test vehicle, 2.5 mm thick, with 0.25 mm drilled holes. For consistency, all had been fabricated simultaneously by the same manufacturer. The test vehicles were all subjected to six reflow cycles at 260°C, then tested using IST and DELAM procedures. All of the materials claimed to be lead-free compatible, but not all were! Fifteen of 24 delaminated in the 0.8 mm grid area and eight of 24 in the 1.0 mm grid area, whereas all had passed the old IPC solder-float test—dating from 1961 and clearly not representative of current assembly conditions. The delamination failures observed raised questions which needed to be answered by laminate manufacturers. They tended to be cohesive failures across the central zone of the construction, and compromised the critical glass-resin interface. The question of "what's good enough?" to satisfy the customer's needs would always be the determining factor, and quantifying the overall PTH via reliability performance in terms of a materials ranking proved difficult, because of the complicating effect of cohesive material damage.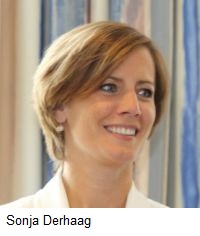 Alun Morgan brought the proceedings to a close. Another in a long series of highly successful and informative EIPC conferences, drawing the industry together with a well-selected programme of technical presentations of current relevance and interest, interwoven with an abundance of networking opportunities and a very positive community spirit. Thanking all presenters for their contribution and delegates for their attention and support, he especially acknowledged EIPC Executive Director Kirsten Smit-Westenberg and Event Manager Sonja Derhaag for their superbly professional organisation of the occasion.
I am once again grateful to Alun Morgan for allowing me to use his photographs.
To read EIPC Summer Conference review, Day 1, click here.
Based in the UK, Pete Starkey is technical editor for I-Connect007. He has more than 30 years experience in the PCB industry, with a background in process development, technical service and technical sales.
Page 2 of 2
---
Suggested Items
11/27/2023 | Real Time with...productronica
Koh Young's Harald Eppinger talks about the company's technology for the semiconductor and advanced packaging market and how they address the challenges introduced by reflective components and micro solder deposits.
11/27/2023 | HyRel
HyRel Technologies, a global provider of quick turn semiconductor modification solutions, announces the achievement of International Traffic in Arms Regulations (ITAR) registration.
11/24/2023 | Mek (Marantz Electronics)
Mek (Marantz Electronics), a leader in Automated Optical Inspection (AOI) solutions, used last weeks' Productronica show in Munich to proudly introduce the SpectorBOX X series, a modular full 3D AOI system for THT solder joints and THT components.
11/21/2023 | Pete Starkey, I-Connect007
Productronica 2023 played host to the IPC World Hand Soldering Competition, bringing talented regional solder champions from all over the globe to compete for the title of World Champion. Each competitor was given sixty minutes to assemble a complex printed circuit board with their performance judged in accordance with IPC-A-610 Class 3 criteria. Each competitor's efforts were rated on the merits of the results achieved, scored on the quality of the assembly process, the electrical functionality of the assembly and the speed at which the assembly was produced.
11/21/2023 | MacDermid Alpha
MacDermid Alpha Electronics Solutions, a leader in integrated materials and technologies for the electronics industry, introduces ALPHA® SF828-MBB.