Suprema Launches Outdoor Fingerprint Access Control Device
November 24, 2016 | ACN Newswire
Estimated reading time: 2 minutes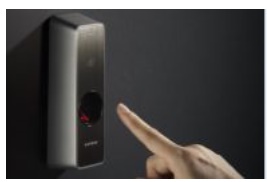 Suprema has announced the global launching of BioEntry W2, an outdoor fingerprint access control device that offers highest matching performance, outdoor durability and multi-card reading in a package to provide comprehensive access control features.

BioEntry W2 well blends loads of industry-leading technologies and innovations. BioEntry W2 is loaded with class-leading 1.2GHz quad core CPU which achieves incredible matching speed up to 150,000 match/second. With its large 2GB memory, BioEntry W2 can store and manage up to 500,000 users and provides instant matching results with minimal lag time.

BioEntry W2 is also the most secure device in its class. The device combines enhanced fingerprint algorithm, new fingerprint sensor, and live finger detection technology. The new Suprema fingerprint algorithm is more accurate than its predecessor and significantly reduces false rejection rate to improve security level. It compensates for unsatisfactory fingerprint captures such as direct sunlight conditions or distorted finger images. BioEntry W2 also features Suprema's patented live fingerprint detection technology that effectively eliminates possible fraud using various fake fingerprint materials including clay, rubber, silicon, paper and film.

Unique to the industry, BioEntry W2 features dual-frequency, multi-card reading technology. Supporting all HID multiCLASS compatible RFID standards, the device features both LF(125Khz) and HF(13.56MHz) RFID and reads most types of RFID card standards with a single device including MIFARE, HID iCLASS, DESFire, FeliCa, HID Prox, EM and NFC.

"BioEntry W2 clearly reflects Suprema's commitment to innovation and market focus. From the designing stage of BioEntry W2, we aimed to bring the most versatile biometric access control solution regardless of environment, RFID standards and size of the projects it covers," said Young S. Moon, Vice President at Suprema. "Our target markets for BioEntry W2 are UK and EU countries where there is significant demand for biometric solution with outdoor-ready structure and future-proof technology to cope with fast evolving authentication methods. The new BioEntry W provides IP67 rated dust & water protection and IK08 rated vandal-proof structure for outdoor installation. Its innovative multi-RFID reading covers almost every RFID standards in the market and will benefits users with effective integration with legacy systems as well as will provide users with capability of adopting new authentication methods into their existing system including RFID, mobile and biometrics. With the new device, Suprema will remain as a major biometric provider in the market while outpace competitions in premium fingerprint access control segment," Moon added.

Suprema will showcase BioEntry W2 at IFSEC 2016 in London on June 21 at Stand E1400.

About Suprema Inc.

Suprema is a leading global provider of biometrics and ID solutions. By combining world renowned biometric algorithms with superior engineering, Suprema continually designs and develops industry-leading products and solutions. Suprema's extensive range of portfolio includes biometric access control systems, time & attendance solutions, fingerprint live scanners, mobile authentication solutions and embedded fingerprint modules. Suprema has worldwide sales network in over 130 countries and is one of the world's Top 50 security company in its turnover (ranked in A&S's Security 50, 2010-2015).
---
Suggested Items
11/30/2023 |
The goal of the collaboration is to promote the standardization of post-quantum cryptography.
11/30/2023 | PRNewswire
Hyundai Mobis is poised to secure new orders for premium vehicle displays, characterized by large screens, high definition, and slim design, using a fusion of innovative technologies targeting global automakers.
11/30/2023 | Aoshikang
On November 28, Aoshikang Technology Co., Ltd., a prominent player among the world's top 100 PCB companies, held a grand topping-out ceremony for its Thailand-based production base, SUNDELL Technology Co., Ltd.
11/29/2023 | Intel
Ahead of Enlit Europe, Intel announced that its technology is helping power the Edge for Smart Secondary Substations (E4S) Alliance's new solution to modernize the energy grid.
11/29/2023 | HyRel
HyRel Technologies, a global provider of quick turn semiconductor modification solutions, is pleased to announce a strategic partnership with EQC Southeast as its manufacturers' representative.