Books

Featured Books

pcb007 Magazine

Latest Issues

Current Issue

The Registration Sweet Spot

Registration is underrated and underappreciated. The key is to ensure proper registration from layer to layer across the entire printed circuit board. It's a holistic process requiring anticipation, prediction, precise attention at each step, and detailed data tracking and monitoring.

High-reliability Fabrication

In this month's issue, our expert contributors discuss the latest in technologies, trends, complexities and resources regarding high-reliability fabrication.

Finding Ultra

New demands on PCB fabrication, namely advanced packaging, ultra high density interconnect (UHDI), and new specialty materials, are converging, changing the landscape of our business. Is it time to start paying close attention to this convergence?

Columns

Latest Columns

||| MENU
On Location at HKPCA: IPC's Mitchell and Carmichael on Asia, the Global Industry Outlook, and Trump
January 4, 2017 | Barry Matties, I-Connect007
Estimated reading time: 16 minutes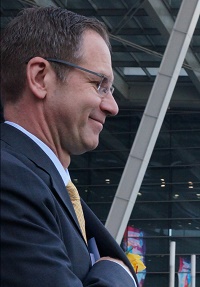 While in Shenzhen, China recently, with the PCB industry's biggest trade show as a backdrop, Publisher Barry Matties sat down once again to interview IPC President John Mitchell and IPC Asia President Phil Carmichael. This time they discussed trends they're seeing in the Asia-Pacific region and what a Trump presidency means to the industry.
Barry Matties: With the International Printed Circuit and APEX South China fair as our setting, please give our readers a little context about this show, its purposes, and its successes.
John Mitchell: To begin with the scope, there's approximately 500 exhibitors and about 2500 booths.
Phil Carmichael: Overall, it looks like it will be 4–5% bigger than last year, so it will maintain its position as the largest show in our industry, worldwide.
Matties: Oh really? Worldwide?
Mitchell: That's what they say, around 50,000 square meters.
Matties: I guess I'm comparing that to electronica or productronica, but that's a diverse show.
Carmichael: That's a diverse show. In our space, we compare it to the IPC APEX EXPO, and it's much bigger. So if you're talking about the printed circuit board industry, the supply chain people, equipment manufacturers, the chemical folks and so forth, it's the biggest in that space.
Matties: Phil, why don't you begin by telling us what's going on here with the Chinese market.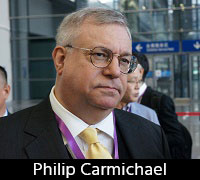 Carmichael: We're continuing to see growth. We'll have another record year this year. We will end the year in the Asia Pacific with over 900 members, a net increase of over 100 members for the year. We're continuing to see growth opportunities. China is starting to suffer some of the same pressures that other companies have as far as the cost of producing things.  
So we're seeing a number of manufacturers looking at alternative spots to manufacture, like Vietnam and Thailand. I think that trend will continue. The wage delta for operators is a factor of five to six between Vietnam and China, so that starts to allow you to consider moving somewhere else. If it was a few percent or 25%, you probably wouldn't move, but when it's a factor of five then it starts to be compelling.
Matties: So the economy in China has been what most people would call flat, 6 or 7%. Is there a recovery so to speak in place now, do you think?
Carmichael: You know, our industry has always done a little bit better than the general economy. I'd say that's still the case. It's been a pretty healthy year. I've talked to a number of exhibitors today, both Chinese domestic and a couple of foreign exhibitors. They're pretty pleased with this year from an economic standpoint. Is it a robust recovery? No, but it's a solid year of business so I think that's why we kind of characterize it that way.
Matties: This market, it seems like 10 or 15 years ago, it was more of the Wild West. It's a maturing market and the dynamics seem to be different in a maturing market. How would you describe the comparisons of then and now?
Carmichael: You're right, China is much more of an integrated player within the worldwide supply chain than it was 10 years ago. So things that happen on a worldwide basis have an effect on China and vice versa. And you've got this really extended supply chain. You've got people making materials in one place, equipment somewhere else, doing final assembly maybe here in Shenzhen to ship into a product to be final assembled in Chongqing and shipped out as an iPad. That's the type of supply chain; it's gotten very sophisticated and quite complicated. But I'd say certainly China and the rest of Asia, Taiwan, Japan and Korea, are now all fully integrated into this worldwide supply chain now.
Matties: How's the attitude in China towards the election and the new direction in America? In particular, when there's conversation of Apple pulling some of the manufacturing out of Foxconn, or is it just that Foxconn will set up a facility in America?
Carmichael: Maybe I should defer the U.S. election question to John.
Mitchell: If Foxconn were to create a factory in the U.S. in response to President-elect Trump's promises to put a 45% tariff on China goods, that would likely not result in as many jobs in the U.S. as one might think. Much of that factory would likely be automated, and whatever new jobs were created would likely be focused on highly skilled advanced manufacturing. Of course, that is all conjecture at this point as no one really knows for sure what will happen under the Trump administration.
Things will be different, but that can be a good thing. I tend to take more of a positive outlook on things. If President-elect Trump, once he becomes President Trump, actually does things that are very strongly aligned with business, he'll be able to move them through quickly because he's got a full Republican Congress now. That is a positive thing.
And that seems to be his tendency. So I think we'll see things like tax reform, which has been years in battle and unable to move, begin to. I think we'll see some things happen there. One of the challenges globally that the U.S. faces is its tax structure. It's  the second worst in the entire world for corporations in terms of trying to do business in the U.S. During our IMPACT Washington, D.C. event, we bring in many of our members who are U.S.-based, who also have facilities over here in Asia. They tell the Administration and they tell their Congressmen all the same thing: "Look, I'd love to build a factory here, but you're going to hit me with a 20% penalty just for starting here? How do I explain that to my Board?" You can't. If they fix that situation, it could be interesting.
On the other hand, this idea of building a wall and throwing up tariffs and harming the import-export peace is going to counteract that. Let's say they address the tax issue, and they build a factory in the U.S.; if you can't buy goods from wherever you need to buy them, the prices still go up. And if you only have a market to sell to that's limited to local, there's nowhere to sell the goods. So that's not going to help manufacturing. It has to be a total solution. But Trump has been, and maybe you've heard this once or twice, inconsistent in what he's said versus what he does. The hope is that he will be very business friendly and that he will help the U.S. economy. That will help the global economy. If the U.S. can start growing jobs to make even stronger purchases, then the entire global economy, if trade is maintained there, will pick up. That will help Asia, that will help Europe, that will help everywhere.
Page 1 of 3
---
Suggested Items
12/06/2023 | Indium Corporation
Indium Corporation is proud to announce the addition of Sales Engineer Meik Fratzel to its European team.
12/06/2023 | SEMI
SEMI announced the SEMI Leadership Accelerator to foster industry growth by assisting organizations in cultivating the next generation of leaders.
12/05/2023 | Travis Kelly -- Column: American Made Advocacy
For this month's PCBAA Member Profile, the focus is on Hari Pillai, president, Technology Components, Sanmina. Hari says, "I think I've had a good dose of luck throughout my career. But beyond luck, I had a vision to become a general manager as far back as my undergraduate years. I made all my career decisions based on that. My evaluation criteria was always, "How does this opportunity get me closer to my goal?" Sometimes opportunities come from unexpected places."
12/05/2023 | American Standard Circuits
West Chicago, Illinois-based PCB fabricator American Standard Circuits will be exhibiting at this year's Annual Association of Old Crows International Symposium to be held from December 11 through the 13th in National Harbor, Maryland.
12/05/2023 | Mycronic
Mycronic AB has received an order for an SLX mask writer from a new customer in Asia. The order value is in the range of USD 5-7 million. Delivery of the system is planned for the first quarter of 2025.