Books

Featured Books

pcb007 Magazine

Latest Issues

Current Issue

Finding Ultra

New demands on PCB fabrication, namely advanced packaging, ultra high density interconnect (UHDI), and new specialty materials, are converging, changing the landscape of our business. Is it time to start paying close attention to this convergence?

Developing a Strategy

A solid strategy is a critical part of success. This month, we asked some of the top industry leaders and business strategy "gurus" to share their thoughts on developing strategies.

Winning With TQM

In this issue, we explore how TQM has entered the DNA of continuous improvement disciplines, and the role leadership transformation plays in this. If you've ever competed against a TQM company, you understand their winning advantage.

Columns

Latest Columns

||| MENU
Patty's Perspective: New Technology Heading our Way— Faster than Ever!
February 21, 2017 | Patty Goldman, I-Connect007
Estimated reading time: 5 minutes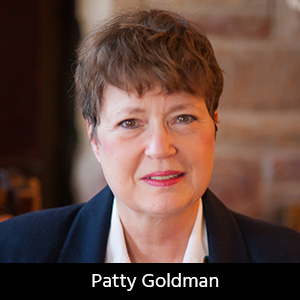 Way back when, in the early 1980s, I worked for a small PCB manufacturer in Danbury, Connecticut. We all loved new stuff, as in nobody wanted to make normal PCBs—just crazy impossible stuff. We did full panel soft gold (for wire bonding); we made about 90% of the first circuits (all gold-plated) that went in the early digital watches (for TI and Timex); we worked with Ohmega material and embedded resistors; we were making 5-mil line/space innerlayers in volume for IBM and even prototyped a 2-mil line/space multilayer (this was more than 30 years ago, mind you); we made the first (or darn close to the first) polyimide gold-plated chip-on-board multilayers to which something like 42 chips were gold wire-bonded (HP). Talk about new technology—we were deep into it!
And now, have we seen or done it all? Not even close! As technology moves faster and faster, so do our equipment, materials and chemistry suppliers to help us to enable that next greatest invention. We are all at the forefront of IoT, the fifth industrial revolution, autonomous and connected—everything, all those things that were unimaginable even 10 years ago. It's hard work, there is no sitting back or relaxing, and those looking for an easy 9-to-5 job, forget about it. Are you ready for the next thing, to keep pushing forward?
As an excellent introduction to this issue, IPC's John Mitchell gives us a wonderful overview of what emerging technology is and what we need to do to keep up. One thing he emphasizes is a trained and competitive workforce. Indeed, in our recent hiring survey we learned that an overwhelming percentage of you are concerned about a shortage of skilled and qualified people. John's column is a great call to action.
Next, we have a very intriguing interview with Joan Tourné of NextGIn Technology BV, conducted by I-Connect007's Pete Starkey. Joan talks about a new interconnect technology he calls "vertical conductive structures" or VeCS.
With VeCS one can achieve much higher interconnect density using existing equipment and processes. He talks of cost reductions associated with reduced material usage and provides an interesting illustration of this novel technique.
Apparently one of the most significant new technologies these days is jet printing solder mask. You may say, "Inkjet? Not new. Soldermask? Not new." But put them together and the challenges are huge and the technology is right on the cutting edge. As such, we bring you several articles and interviews on this very subject.
Henk Goossens of Meyer Burger BV in The Netherlands provides a wonderful introduction to the thorny subject of direct digital inkjetting of soldermask. Removing steps like artwork generation, developing, and waste treatment, and reducing materials and process time, all equals to cost savings…of course we want to inkjet. Henk gives us a great view of the subject from the equipment perspective.
We have two interviews conducted by Publisher Barry Matties that explore the material/equipment partnership between Taiyo and Schmoll to develop an inkjet soldermask that is compatible with the inkjet machine. Dick Crowe of Burkle (U.S. distributor for Schmoll) contributed an excellent introduction. The first interview is with Taiyo's John Fix, with Walt Custer of Custer Consulting, contributing. The second is an interview with Schmoll's Thomas Kunz, who discusses not just the partnership but the technology, working with OEMs, and more.
Barry Matties and Pete Starkey bring us an interview with Agfa's Frank Louwet, who explains Agfa's partnerhsip with Electro Polymers to develop a nanoparticle ink. One can learn a great deal about the soldermask inks and the inkjet process from these interviews.
EIPC's Alun Morgan gives us a great report on their recent workshop on PCB BioMEMS—aka PCB-on-a-chip. With a CAGR of greater than 25%, BioMEMS devices are a definite market of interest. This detailed article provides a wealth of information on the subject and certainly should be required reading for anyone involved in PCB fabrication.
Steve Williams of Right Approach Consulting takes us far away from soldermask to a look at the new Trump administration and what its promises may mean to our industry and business in general. He even includes a "Top Ten" on deregulation. Read on!
Back to some technical content with Michael Carano, of RBP Chemical Technology, as he delves into the metallizing difficult-to-plate substrates, in this case with electroless copper. Mike always includes some troubleshooting info as well as much practical advice in his columns.
Next, NTI's Keith Sellers discusses various test methods to ensure that your incoming (or outgoing) PCBs perform as intended and that you "get what you pay for." He proceeds from the basic incoming inspection through more in-depth analysis involving cross-sections, thermal stress testing and more, including some additional ones to determine basic laminate properties and suitability for the job at hand.
And finally, in his usual inimitable fashion is Barry Lee Cohen of Launch Communications. Each month Barry provides another piece to the marketing communications puzzle. This time his subject is e-newsletters and always worth a read, not to mention a commitment to followthrough.
And so you have it—our line-up for February. Lots of good new tech stuff to keep the wheels turning upstairs, plus some immediate things you can put into practice today or tomorrow at the latest. Next month our subject is "The Wide World of Flex." Do tune in and read about all things flex—from the various types to the materials to the processing of same. We promise another issue of cover-to-cover value. If you haven't yet subscribed, do so right now and be one of the first to get it in your e-mailbox.
Patricia Goldman is a 30+ year veteran of the PCB industry, with experience in a variety of areas, including R&D of imaging technologies, wet process engineering, and sales and marketing of PWB chemistry. Active with IPC since 1981, Goldman has chaired numerous committees and served as TAEC chairman, and is also the co-author of numerous technical papers. To contact Goldman, click here.
This article originally appeared in the February 2017 issue of The PCB Magazine.
---
Suggested Items
09/27/2023 | Nihon Superior Co. Ltd.
Nihon Superior Co. Ltd. is pleased to announce that Keith Sweatman, the company's Senior Technical Advisor, will deliver a presentation titled "A Path to Ductile Low-Temperature Solders for Mass Production of Electronic Assemblies" at the upcoming SMTA International conference and exposition.
09/27/2023 | Hentec Industries/RPS Automation
Hentec Industries/RPS Automation, a leading manufacturer of selective soldering, lead tinning and solderability test equipment, is pleased to announce that Kyocera International has finalized the purchase of a Hentec/RPS Odyssey 1325 robotic hot solder dip component lead tinning machine. 
09/26/2023 | Conecsus Metals México
Conecsus Metals México, an innovative environmental technology and recycling company, will exhibit at the SMTA Foro Tecnico & Expo, Guadalajara, Jalisco, México, on Wednesday, October 25, 2023, beginning at 11:00 a.m.
09/21/2023 | Thermaltronics USA, Inc.
Thermaltronics USA, Inc., a globally acclaimed manufacturer of Precision Soldering Robots and innovative Curie point soldering systems, is excited to announce its participation in the highly anticipated SMTA Guadalajara Expo & Tech Forum, scheduled to take place from October 25-26, 2023.
09/20/2023 | ULT AG
At this year's productronica, the world's leading trade show for electronics manufacturing, ULT will present a brand new extraction solution for solder fumes and vapor.