Spotlight on Industry 4.0
April 3, 2017 | RMIT University
Estimated reading time: 2 minutes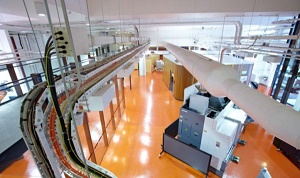 The way we approach employee training in the workplace must change as we see traditional industrial sites transformed into smart factories and technology taking over, according to RMIT Europe Innovation and Engagement Manager Boaz Kogon. 
Kogon, who recently took part in the first Digitising European Industry Stakeholder Forum in Germany, says there's a growing dialogue across Industry 4.0's major players that's calling for educational institutions to change the way education and training is delivered. 
"Across Europe we're seeing factories rapidly undergoing change as digital technologies continue to transform the workplace. And this is forecast to continue," Kogon says. 
"The days when an employee could learn how to use a machine and then do the same work for the next 20 to 30 years are gone. 
"With such significant shifts in technology and at such a rapid pace, we'll see workers needing to re-train every few years." 
RMIT Europe's Innovation & Engagement Manager Boaz Kogon. 
And in addition, Kogon says there'll be a complete overhaul of traditional business models – even for those outside of the manufacturing industry.  
"We're already seeing a flow-on effect of the digital revolution to many other professions," he says. "Take truck driving as an example, which is the single largest blue collar trade in the United States. 
"Automated driving and drones are expected to significantly impact this very traditional industry and result in a large number of people who know nothing else but driving trucks facing unemployment within 10 to 20 years." 
And Kogon says we may also see a shift of goods providers to service providers. "We could see light bulb manufacturers changing from selling lightbulbs to selling hours of light," he says. 
"Sales and customer support staff will therefore need to change from selling boxes of lightbulbs to selling lighting services to end customers and offering ongoing contract support." 
Forecasts of such change and its impact on workforce training are of concern to both industry and unions. 
They are calling for the development of new models of education, ranging from industry having mandatory contributions to workers' lifelong learning funds through to completely reconfiguring the way people are educated and trained, according to Kogon. 
"One scenario given would see some professions bypassing the conventional four-year degree for an option that would see employees gain practical experience earlier and then training in short bursts every few years," he says. 
But one certainty is that Industry 4.0 will result in a shortage of technically, digitally-skilled people. 
Kogon highlighted recent reports by global consultancy PwC showing the gap between the number of jobs offered and the supply of digitally-skilled people in Europe had grown to 500,000.
---
Suggested Items
11/28/2023 | IPC
Neil Shah, senior technical director at alliantgroup, a tax and business consultancy, will present a technical education workshop,
11/27/2023 | Dan Beaulieu -- Column: It's Only Common Sense
Being the best is never easy. When you study the life of elite athletes, for example, you will find a list of characteristics that typically puts plain old hard work at the top. These athletes work harder than anyone else. They're the first ones there in the morning and the last to leave at the end of the day. They literally live and breathe what they are doing. They don't allow themselves any breaks, excuses, or cop outs. They are, as we say, all in.
11/27/2023 | GOEPEL Electronics
The US branch of GÖPEL electronic is proud to announce the addition of David Kalaidjian as the new National Sales Development Manager.
11/27/2023 | Linköping University
Linköping university has been granted six million SEK from the Swedish Innovation Agency (Vinnova) for the research project Catena-D (Circular and resource-efficient value chain systemically enabled with AI and digital thread).
11/24/2023 | Messe München
Messe München's electronics network with the world's leading trade fairs electronica and productronica is expanding its partnership with SEMI, the global semiconductor industry association, in India.