Books

Featured Books

pcb007 Magazine

Latest Issues

Current Issue

The Registration Sweet Spot

Registration is underrated and underappreciated. The key is to ensure proper registration from layer to layer across the entire printed circuit board. It's a holistic process requiring anticipation, prediction, precise attention at each step, and detailed data tracking and monitoring.

High-reliability Fabrication

In this month's issue, our expert contributors discuss the latest in technologies, trends, complexities and resources regarding high-reliability fabrication.

Finding Ultra

New demands on PCB fabrication, namely advanced packaging, ultra high density interconnect (UHDI), and new specialty materials, are converging, changing the landscape of our business. Is it time to start paying close attention to this convergence?

Columns

Latest Columns

||| MENU
Eagle Electronics Invests in Quality and Reliability with ATG A7a Flying Probe Tester
April 18, 2017 | Eagle Electronics
Estimated reading time: 1 minute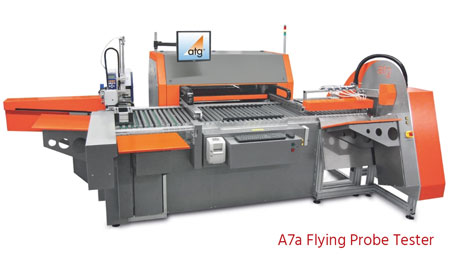 Eagle Electronics has recently placed an order for a new ATG A7a automatic flying probe tester. The new tester will allow Eagle to test 100% of their boards via flying probe. The strategy is to utilize the new machine as the testing workhorse while their existing three Microcraft flying probe machines will primarily be used for retest and verification. The intent is to continue to test in panel form for most products. In automatic mode, the new machine will segregate good and bad boards automatically.
Some key features of the A7A include:
fully automated test system for production and customized panel
for lights out operation
different type of products can be loaded in parallel
biggest panel size 650 mm x 535 mm
tension tools for automatic handling of flex boards down to 0.3 mm
The A7a machine also has the capability to test in Kalvin mode which can catch micro cracks and micro voids in small via structures through low ohm testing. This would not be the standard test, as it is considerably slower. However, on certain high layer count, HDI and high reliability boards it will be a beneficial capability. Delivery is expected late May.
President and CEO, Mike Kalaria stated, "As Eagle Electronics continues to grow at a rapid pace, it is important that we invest in our equipment and processes in order to meet the needs of our growing customer base. By implementing the A7a into our operations, we will not only increase the speed at which we are able to turn product, but it will also assure that everything we produce is top quality and free from any defects that could affect the customer's final products."
Delivery of the A7a is expected in late May in conjunction with the installation of two new Lenz drilling machines.
About Eagle Electronics
Since 1979, Eagle Electronics Inc. has provided our customers with the highest quality printed circuit boards at fair and competitive prices. From our modern 50,000 sq. ft. facility, we have been meeting and exceeding our customer's ever increasing expectations and requirements. From providing short standard lead times to very low premiums on quick turns we strive to provide the best total value in high technology rapid turn-around PCBs in the industry. Learn more at eagle-elec.com.
---
Suggested Items
12/06/2023 | Keysight Technologies, Inc.
Keysight Technologies, Inc. has received an $18.5 million U.S. Air Force contract to integrate and deliver two Electronic Warfare Threat Simulator (EWTS) systems, with sustainment support consisting of software patch management, field engineer support, non-critical spare parts, critical spare parts, and storage.
12/06/2023 | Happy Holden -- Column: Happy's Tech Talk
Registration is one of the most important features for any PCB fabricator, but the capability for multilayers is a lot of work on the fabricator's part. CAM settings, multilayer lamination, X-ray analysis, AOI measurements, imaging capability, and drill accuracy all play an important part in this capability. Software and panel parametric coupons are important because they aid in registration performance.
12/05/2023 | Amkor Technology
Amkor Technology, Inc., a leading provider of semiconductor packaging and test services, has announced its plan to build an advanced packaging and test facility in Peoria, Arizona.
12/04/2023 | BUSINESS WIRE
Sierra Space, a leading pureplay commercial space company building the first end-to-end business and technology platform in space, announced the commencement of a comprehensive testing campaign for the Shooting Star™ cargo module at NASA's Neil Armstrong Test Facility in Sandusky, Ohio.
12/01/2023 | GÖPEL electronic
Having been responsibly committed to a clean environment for many years, GÖPEL electronic GmbH has taken an important step towards greater climate protection by obtaining its initial certification in accordance with DIN EN ISO 14001:2015.