Thin Film NiP Embedded Resistors in Heater Applications
June 27, 2017 | Manuel Herrera, Ohmega Technologies, Inc.
Estimated reading time: 1 minute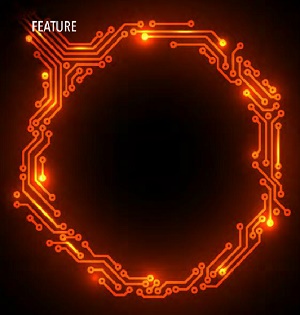 Summary
There has been a growing adoption of NiP thin film resistors as heater elements from a diverse group of users including those in the aerospace, defense, high-end computing and the volume consumer electronics market. This has included interest and use from those responsible for validation and reliability testing. A novel application has now grown from the validation and reliability testing perspective. Using embedded resistors as heaters to do high-temperature or burn-in testing eliminates the need for thermal chambers.
Introduction
The idea of using embedded resistors as heaters in PCBs is not new. In the past embedded resistors as heaters have been used to raise the temperature of critical components on PCBs to optimum operating levels. A couple of examples include the semi-active laser (SAL) board in guided munitions and an X-ray spectrometer board in the ESA Mars Beagle II Lander. Another recent space application required the melting of plastic fasteners. The plastic fasteners were used to secure folded solar panels during launch then deploy when the unit was in orbit. An embedded heater solution was designed to conform to the physical space, power and reliability metrics specified and selected based on its performance.
To read the full version of the article which appeared in the June 2017 issue of The PCB Magazine, click here.
---
Suggested Items
11/29/2023 | TT Electronics
TT Electronics, a global provider of custom power solutions and engineered technologies, has announced that its Power and Control business has officially opened its new state-of-the-art research, development and manufacturing facility.
11/27/2023 | HyRel
HyRel Technologies, a global provider of quick turn semiconductor modification solutions, announces the achievement of International Traffic in Arms Regulations (ITAR) registration.
11/20/2023 | MIT
MIT's Department of Aeronautics and Astronautics (AeroAstro) recently hosted the 2023 Future Leaders in Aerospace Symposium, inviting women and underrepresented minorities in aerospace fields to campus for a two-day program.
11/14/2023 | NEO Tech
NEOTech, a leading provider of electronic manufacturing services (EMS), design engineering, and supply chain solutions in the high-tech industrial, medical device, and aerospace/defense markets, is thrilled to welcome James Doyle to the team as Chief Executive Officer of NEOTech's Aerospace & Defense division, effective immediately.
11/06/2023 | PRNewswire
Vuzix Corporation, a leading supplier of smart glasses and Augmented Reality (AR) technology and products, announced it has completed delivery against a follow-on order from a Tier-1 aerospace and defense contractors with which it has been working with.