Weiner's World—August 2017
September 4, 2017 | Gene Weiner, Weiner International Inc.
Estimated reading time: 5 minutes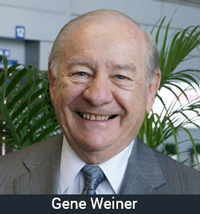 Editor's note: This blog was originally published in August 2017 at Weiner International Associates and is being reprinted here with special permission from the author.  
IPC is planning to hold a special meeting on automotive electronics for senior executives during IPC APEX EXPO 2019. The meeting will be planned and produced by the IPC Ambassador Council. Its presentations will feature senior members of the entire automotive electronics supply chain. Executives from suppliers of materials, specialty chemicals, fabrication, assembly and test equipment, substrate fabricators, and EMS operations that are involved in the generation of electronic packages for automotive use will be invited. I have been named chairman of the event and I am now seeking volunteers to serve on the event's committee.
Independent industry certifications: Do these create a dilemma? Many of the fabricators that produce HDI and other advanced substrates have had their own engineers develop, at great expense, proprietary processes, intellectual property, and in some cases equipment and modified chemistries to provide higher yields and lower costs. They would not want to share these with the "outside world" (certification team or competitor). This is their stock in trade! It is their added value! They would share the results (finished parts). How would (or should) an "independent" certifying agency handle this? I wrote a full column, "The limits of Certification," that was published by UP Media's on-line Printed Circuit Design & Fab[1]. Some responses to the column are on our Comments and Discussion page.
Boeing will set up an avionics group to make aircraft controls and electronics that compete with its own suppliers such as Rockwell Collins, United Technologies, and Honeywell International. It has already started work and aims to bring systems for military, civil and space vehicles into service after 2020, capturing more of an avionics market worth hundreds of millions of dollars a year. Boeing said its systems would be lower-cost, provide higher-quality alternatives to existing products, and deliver more post sales services revenue to Boeing after a plane is sold. The aim is to "further drive cost down and value up for our customers," Boeing Chief Executive Officer Dennis Muilenburg said in an internal statement to employees.
We also just heard that United Technologies (UTC) is ready to close a more than $20 billion deal to buy Rockwell Collins. Meanwhile Boeing could begin absorbing smaller avionics and electronics companies. Honeywell would be a likely candidate. These moves are certain to reverberate throughout the aerospace supply chain causing major challenges to a number of suppliers of circuit boards, parts, sub-assemblies and EMS services.
Isola USA has hired Evercore Partners, an investment bank, to restructure its approximately $525 million debt load, as competition from Asia squeezes its profits, according to people familiar with the situation. Isola's earnings have faced sharp declines after stiff competition from bigger and more deep-pocketed rivals such as China's Copper-clad laminate maker Shenghyi Technology. These have made it harder to compete on price in a fragmented, low-margin market. Sources state that the company has seen its annual profit fall from $100 million three years ago to a projection of about $45 million for 2017.
Japan
Mitsui Metal Mining will increase the manufacturing capacity of electrically deposited copper foil by 20% in its Malaysia plant to meet growing demand for materials used by the flexible circuit industry.
Rivals Team up to Invest in American Manufacturing
Toyota and Mazda will form a JV to build a $1.6 billion assembly plant in the U.S. This will create several thousand jobs.
Asahi Denka, a plating company, has started the supply of ultra-thin double-sided copper clad polyimide films with 0.2-micron conductor layers for thin flexible circuits.
Hitachi Automotive Systems has agreed to form a joint venture with Honda Motors for the development and manufacture of electric motors for the electric vehicles.
Toppan Forms has established a 4-micron printing capability with silver ink for "see through" devices such as touch sensor panels. This follows a similar announcement by Tanaka Industries a year or so ago.
Arakawa Chemical has co-developed with AIST a new AD process (aerosol deposition). The new process enables ultra-thin coating of ceramic materials on plastic substrates.
China
The mood amongst the PCB industry merchant market fabricators is so-so. HDI facilities are buried with orders. Other shops can use more work.
NEPCON South China, the largest ever, opened in Shenzhen August 29. There were 15,700 attendees on the first day and more on the second day. Nothing really new was reported but there were more and more robots. Nearly 600 companies occupied more than 480,000 square feet. Held in conjunction with the Shenzhen Circuit Sourcing 2017 (CS Show) and Automotive World China (AWC), the event also had seminars and technology conferences in partnership with the Surface Mount Technology Association (SMTA) and the SMTA China South Chapter.
Page 1 of 2
---
Suggested Items
11/30/2023 | BUSINESS WIRE
Nordson Electronics Solutions, a global leader in electronics manufacturing technologies, is pleased to announce the release of the new ASYMTEK Select Coat® SL-1040 conformal coating system.
11/29/2023 | TT Electronics
TT Electronics, a global provider of custom power solutions and engineered technologies, has announced that its Power and Control business has officially opened its new state-of-the-art research, development and manufacturing facility.
11/27/2023 | IPC
IPC welcomes the actions outlined today by the U.S. Government "to strengthen supply chains critical to America's economic and national security."
11/27/2023 | GOEPEL Electronics
The US branch of GÖPEL electronic is proud to announce the addition of David Kalaidjian as the new National Sales Development Manager.
11/27/2023 | Wurth Elektronik
HyPerStripes project partners will create a technology platform including manufacturing techniques for roll-to-roll (R2R) processing as well as the integration of electronic components onto very long ("endless"), flexible and stretchable printed circuit boards.