Books

Featured Books

pcb007 Magazine

Latest Issues

Current Issue

The Registration Sweet Spot

Registration is underrated and underappreciated. The key is to ensure proper registration from layer to layer across the entire printed circuit board. It's a holistic process requiring anticipation, prediction, precise attention at each step, and detailed data tracking and monitoring.

High-reliability Fabrication

In this month's issue, our expert contributors discuss the latest in technologies, trends, complexities and resources regarding high-reliability fabrication.

Finding Ultra

New demands on PCB fabrication, namely advanced packaging, ultra high density interconnect (UHDI), and new specialty materials, are converging, changing the landscape of our business. Is it time to start paying close attention to this convergence?

Columns

Latest Columns

||| MENU
HDI's Beneficial Influence on High-Frequency Signal Integrity
October 17, 2017 | Happy Holden, I-Connect007
Estimated reading time: 1 minute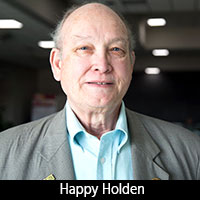 Introducing the Benefits of Microvias
The increasingly widespread use of finepitch ball-grid array (BGA), chip scale packaging (CSP), and other evolving technology form-factors means that new fabrication techniques must be used to create printed circuit boards (PCBs). In addition, extremely fast clock speeds and high signal bandwidths challenge systems designers to find better ways to overcome the negative effects of noise, radio frequency interference (RFI) and electro-magnetic interference (EMI) have on their product's performance. Finally, increasingly restrictive cost targets are compounding problems associated with today's smaller, denser, lighter, and faster systems.
Staying competitive and delivering the products people want means seeking out and embracing the best available technologies and design methodologies. The use of PCBs incorporating microvia circuit interconnects is currently one of the most viable solutions on the market (Figure 1). Adopting microvia technology means that products can use the newest, smallest, and fastest devices, meet stringent RFI/ EMI requirements, and keep pace with downward-spiraling cost targets.
What are Microvia Technologies?
Microvias are vias of 6-mils (150 microns) diameter or less. Their most typical use today is in blind and buried vias used to create interconnections through one dielectric layer within a PCB. Microvias are commonly used in blind via constructions where the outer layers of a multilayer PCB are connected to the next adjacent signal layer. Used in all forms of electronic products, they effectively allow for the cost effective fabrication of high-density assemblies.
The IPC has selected high-density interconnection structures (HDIS) as the term to refer to these various microvia technologies. This definition is by no means universal. The Japanese refer to any via drilled by lasers in a thin dielectric as a microvia.
To read the full version of this article which appeared in the October 2017 issue of The PCB Magazine, click here.
---
Suggested Items
11/30/2023 | PRNewswire
VPT, Inc., a HEICO company, VPT, Inc., a trusted provider of power conversion solutions for aerospace and defense, proudly announces its latest achievement of obtaining SAE AS9100 Revision D certification. SAE AS9100 Revision D enhances VPT's existing suite of certifications, including MIL-PRF-38534, MIL-STD-883, J-STD-001 (Space), IPC-A-610, and IPC-A-600, further cementing our commitment to excellence in quality and reliability.
11/29/2023 | TRI
Test Research, Inc. (TRI), the industry's leading provider of Test and Inspection systems for the electronics manufacturing industry, is pleased to announce the expansion of its Malaysian office, which opened in 2010.
11/29/2023 | Dana Korf -- Column: Dana on Data
November's issue of Design007 Magazine had an excellent theme that evolved around design simplification. There were exceptionally good articles about how to reduce over-constrained or needlessly complex designs. One significant time-consuming category is the creation of many design files and drawings which lead to lengthy creation and interpretation time along with the considerable time to resolve conflicting or erroneous information.
11/27/2023 | IPC
IPC welcomes the actions outlined today by the U.S. Government "to strengthen supply chains critical to America's economic and national security."
11/22/2023 | TTM Technologies, Inc.
TTM Technologies, Inc., a leading global manufacturer of technology solutions including mission systems, radio frequency (RF) components and RF microwave/microelectronic assemblies and printed circuit boards (PCBs) was honored with three awards at the IPC China Electronics Manufacturing Annual Conference held in Shanghai on October 27, 2023.