Books

Featured Books

pcb007 Magazine

Latest Issues

Current Issue

Finding Ultra

New demands on PCB fabrication, namely advanced packaging, ultra high density interconnect (UHDI), and new specialty materials, are converging, changing the landscape of our business. Is it time to start paying close attention to this convergence?

Developing a Strategy

A solid strategy is a critical part of success. This month, we asked some of the top industry leaders and business strategy "gurus" to share their thoughts on developing strategies.

Winning With TQM

In this issue, we explore how TQM has entered the DNA of continuous improvement disciplines, and the role leadership transformation plays in this. If you've ever competed against a TQM company, you understand their winning advantage.

Columns

Latest Columns

||| MENU
HDI's Beneficial Influence on High-Frequency Signal Integrity
October 17, 2017 | Happy Holden, I-Connect007
Estimated reading time: 1 minute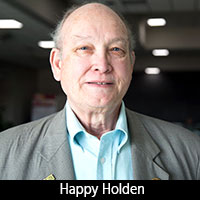 Introducing the Benefits of Microvias
The increasingly widespread use of finepitch ball-grid array (BGA), chip scale packaging (CSP), and other evolving technology form-factors means that new fabrication techniques must be used to create printed circuit boards (PCBs). In addition, extremely fast clock speeds and high signal bandwidths challenge systems designers to find better ways to overcome the negative effects of noise, radio frequency interference (RFI) and electro-magnetic interference (EMI) have on their product's performance. Finally, increasingly restrictive cost targets are compounding problems associated with today's smaller, denser, lighter, and faster systems.
Staying competitive and delivering the products people want means seeking out and embracing the best available technologies and design methodologies. The use of PCBs incorporating microvia circuit interconnects is currently one of the most viable solutions on the market (Figure 1). Adopting microvia technology means that products can use the newest, smallest, and fastest devices, meet stringent RFI/ EMI requirements, and keep pace with downward-spiraling cost targets.
What are Microvia Technologies?
Microvias are vias of 6-mils (150 microns) diameter or less. Their most typical use today is in blind and buried vias used to create interconnections through one dielectric layer within a PCB. Microvias are commonly used in blind via constructions where the outer layers of a multilayer PCB are connected to the next adjacent signal layer. Used in all forms of electronic products, they effectively allow for the cost effective fabrication of high-density assemblies.
The IPC has selected high-density interconnection structures (HDIS) as the term to refer to these various microvia technologies. This definition is by no means universal. The Japanese refer to any via drilled by lasers in a thin dielectric as a microvia.
To read the full version of this article which appeared in the October 2017 issue of The PCB Magazine, click here.
---
Suggested Items
10/02/2023 | KYZEN'
KYZEN, the global leader in innovative environmentally friendly cleaning chemistries, announced that Debbie Carboni, Global Product Line Manager - Electronics, will present as part of the Electric Vehicle (EV) panel during the IPC High Reliability Forum.
10/02/2023 | PRNewswire
The asset transfer acquisition will bring Bliley's equipment, people, and IP under the KYOCERA AVX umbrella and allow KYOCERA AVX to produce the same high-quality electronic components that made Bliley a global leader.
09/28/2023 | Nolan Johnson, I-Connect007
The practical question around CHIPS Act development and electronics assembly is, "Will this change how we do business?" Indium Corporation's Dr. Andy Mackie sat down with Nolan Johnson to share what he sees as emerging answers to that question from his perspective as an expert in electronics assembly and packaging, and as a participant in standards development through IPC, JEDEC, and SEMI.
09/28/2023 | IPC
IPC continues to collaborate with the electronics manufacturing industry to meet their current and future workforce training needs.
09/28/2023 | IPC
Though product demand weakened this month with Orders and Backlog Indexes slipping, overall electronics industry operations remain healthy per IPC's September 2023 Global Sentiment of the Electronics Supply Chain Report.