Less Is More to Produce Top-Notch 2D Materials
November 16, 2017 | A*STAR
Estimated reading time: 1 minute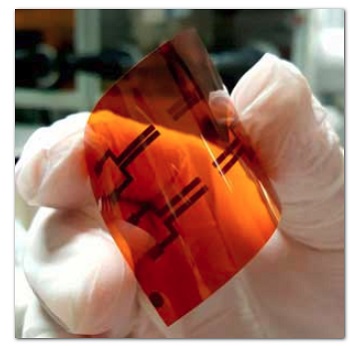 Molybdenum trioxide (MoO3) has potential as an important two-dimensional (2D) material, but its bulk manufacture has lagged behind that of others in its class. Now, researchers at A*STAR have developed a simple method for mass producing ultrathin, high-quality MoO3 nanosheets.
Following the discovery of graphene, other 2D materials such as transition metal di-chalcogenides, began to attract considerable attention. In particular, MoO3 emerged as an important 2D semiconducting material because of its remarkable electronic and optical properties that hold promise for a range of new applications in electronics, optoelectronics and electrochromics.
Liu Hongfei and colleagues from the A*STAR Institute of Materials Research and Engineering and Institute of High Performance Computing have sought to develop a simple technique for mass producing large, high-quality nanosheets of MoO3 that are flexible and transparent.
"Atomically thin nanosheets of molybdenum trioxide have novel properties that can be utilized in a range of electronic applications," says Liu. "But to produce good quality nanosheets, the parent crystal must be of very high purity."
By first using a technique called thermal vapor transport, the researchers evaporated MoO3 powder in a tube-furnace at 1,000°Celsius. Then, by reducing the number of nucleation sites, they could better match the thermodynamic crystallization of MoO3 to produce high-quality crystals at 600°Celsius without the need for a specific substrate.
"In general, crystal growth at elevated temperatures is affected by the substrate," explains Liu. "However, in the absence of an intentional substrate we could better control the crystal growth, allowing us to grow molybdenum trioxide crystals of high purity and quality."
After cooling the crystals to room temperature, the researchers used mechanical and aqueous exfoliation to produce submicron-thick belts of MoO3 crystals. Once they subjected the belts to sonication and centrifugation, they were able to produce large, high-quality MoO3 nanosheets.
The work has provided new insights into the interlayer electronic interactions of 2D MoO3 nanosheets. The crystal growth and exfoliation techniques developed by the team could also be helpful in manipulating the band gap — and therefore the optoelectronic properties — of 2D materials by forming 2D heterojunctions.
"We are now attempting to fabricate 2D MoO3 nanosheets with larger areas, as well as exploring their potential use in other devices, such as gas sensors," says Liu.
---
Suggested Items
09/29/2023 | DuPont
DuPont announced that Randal (Randy) King, PhD, Vice President of R&D, DuPont Electronics & Industrial, and Scott Collick, Vice President, Sustainability, will deliver presentations on sustainability and innovation in the semiconductor industry at the SEMI Strategic Materials Conference.
09/26/2023 | Kirk Thompson, Isola Group
Despite being a leader in R&D investment in semiconductors and packaging with greater than $50 billion per year, the U.S. has seen its market share decrease to less than 3% in areas like advanced packaging and advanced substrates. The cause for this market share erosion was a laser focus in Asian countries to attract semiconductors and advanced packaging investment through ecosystem development and incentives. If the U.S. is serious about changing the momentum to onshore advanced packaging and advanced substrates, an ecosystem approach to innovation and manufacturing incentives must be employed. It is not enough to have the most innovative technology if the supply chain and manufacturing economics do not deliver competitive commercial opportunities.
09/21/2023 | Dymax
Dymax, a leading manufacturer of light-curing materials and equipment, will exhibit in booth 1526 at SMTA International 2023 in Minneapolis, MN, from October 10-11.
09/20/2023 | I-Connect007 Editorial Team
Panasonic's Darren Hitchcock spoke with the I-Connect007 Editorial Team on the complexities of moving toward ultra HDI manufacturing. As we learn in this conversation, the number of shifting constraints relative to traditional PCB fabrication is quite large and can sometimes conflict with each other.
09/20/2023 | Andy Shaughnessy, Design007
Z-zero founder Bill Hargin has been studying stackup design techniques for years. He developed the company's PCB stackup planning software, and he wrote an I-Connect007 eBook, The Printed Circuit Designer's Guide to… Stackups: The Design within the Design. In this interview, Bill shares his thoughts on designing rigid-flex stackups, the challenges they bring, and what rigid board designers need to know about designing stackups in 3D. "Flexperts" Mark Finstad of Flexible Circuit Technologies and Nick Koop of TTM Technologies also offer insight into the many tradeoffs that rigid-flex designers face.