Flat Panel Demand to Grow 7% in 2018, Biggest Gain Since 2014
November 20, 2017 | IHS Markit
Estimated reading time: 2 minutes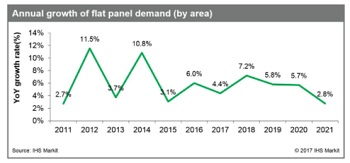 Global demand for flat panel displays by area is forecast to grow 7.2% to 210 million square meters in 2018 compared to 2017, according to IHS Markit. That will be the biggest annual growth since 2014.
"Growth in demand for flat panel displays next year will be mainly driven by migration to large displays, declining panel prices, and high expectations for a recovery in the global economy," said Ricky Park, director at IHS Markit.
The rise in demand area is largely attributed to a fall in retail prices of applications along with a drop in panel prices, which is expected to spur consumers' appetite for various display devices. The sharp fall in panel prices in the second half of 2017 should soon be reflected in the prices of consumer electronics goods in the upcoming peak shopping seasons later this year and in early 2018. The cheaper panel prices are also expected to bolster demand for larger display products. As Gen 10.5 fabs are due to start operation in the first half of 2018, supply of super large TV panels, including 65- and 75-inch products, is projected to grow, according to the Display Long-term Demand Forecast Tracker report by IHS Markit.
Increasing adoption of bezel-less flexible organic light-emitting diode (OLED) display in smartphones will lead to a growth in the size of overall smartphone displays next year. "Launches of new smartphones with large screens should stimulate consumers' demand to replace their old phones," Park said.
The flat panel TV market is also expected to see a significant rise in replacement demand, following the transition into digital broadcasting from analogue signal that started in late 2000s. TV sales in markets where the digital transition was completed in late 2000s grew at 10 to 21 percent in 2009 and 2010, much faster than the compound annual growth rate of 3% between 2004 and 2014. "A consumer's TV replacement cycle is usually about 10 years," Park said. "A hike in replacement demand for the next few years is expected."
The global flat panel market will also get a boost from higher demand for new and larger TVs ahead of the 2018 PyeongChang Winter Olympics scheduled in February and the 2018 FIFA World Cup in Russia in June. "Panel sales in even years when major world sports events were held had grown at a faster rate than in odd years," Park said.
In addition, the ongoing recovery in the global economy bodes well for the panel demand. Global gross domestic product (GDP) is forecast to grow 3.2% in 2018, following 3.1% in 2017 and 2.5% in 2016, according to IHS Markit. In particular, the economic recovery in North America and emerging markets, such as India, Brazil and Russia, is expected to be stronger than the previous year. A rise in non-ferrous metal prices, often a precursor to an economic recovery, is another positive sign.
Unlike the strong gain in demand by area, the growth in the global flat panel market in value is, however, projected to be restrained by the fall in the panel price in the second half of 2017. The panel demand by value is forecast to rise 1% to $126 billion in 2018 from 2017, according to IHS Markit.
About IHS Markit 
IHS Markit is a world leader in critical information, analytics and solutions for the major industries and markets that drive economies worldwide. The company delivers next-generation information, analytics and solutions to customers in business, finance and government, improving their operational efficiency and providing deep insights that lead to well-informed, confident decisions. IHS Markit has more than 50,000 key business and government customers, including 80% of the Fortune Global 500 and the world's leading financial institutions.  Headquartered in London, IHS Markit is committed to sustainable, profitable growth.
---
Suggested Items
09/26/2023 | TrendForce
The latest "Automotive Display Market Analysis" from TrendForce indicates that the overall demand for automotive display panels (automotive panels) is gradually stabilizing and shows an upward trend as the automotive market as a whole slowly recovers, and promotional activities related to smart cockpits continue to expand.
09/20/2023 | Murray Percival Company
The Murray Percival Company proudly unveils its latest promotion, spotlighting its range of depanelizers.
09/19/2023 | Andy Shaughnessy, Design007
Rigid-flex assembly brings its own set of issues, but designers can do quite a bit to make things easier on their downstream brethren. We asked IPC instructor Kris Moyer to give us the lowdown on DFA for rigid-flex circuitry.
08/16/2023 | Critical Manufacturing
Critical Manufacturing, a global leader in next-level automation and manufacturing execution systems (MES), has announced a stellar slate of speakers and panelists for its upcoming MES & Industry 4.0 (MESI) International Summit.
08/10/2023 | Mike Morando, PFC Flexible Circuits
One of the most recent topics in the flex world has been the evaluation of materials required to build a rigid-flex or flex circuit. Discussions around flex and materials include variations of polyimide and copper. Here I will discuss another material that plays a very important role in the world of flex circuits: stiffeners. These are critical components to a flex circuit because they broaden its scope and potential applications.