Blue Sky for Eagle Electronics
February 19, 2018 | Patty Goldman, I-Connect007
Estimated reading time: 9 minutes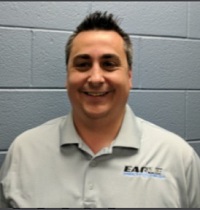 I recently had the opportunity to chat with the new director of sales and marketing at Eagle Electronics, Andy D'Agostino. I've visited Eagle before; they are endlessly busy, with good things going on, so I was happy when I learned that Brett McCoy was now COO and another fellow had taken over some of the sales and marketing activities. Andy comes with a wealth of experience and seems to have settled in nicely.
Patty Goldman: Hi, Andy. Nice to meet you. I believe you're fairly new to your position at Eagle Electronics. Perhaps you can give me a little bit of your background, and about yourself and your position, and what is happening at Eagle.
Andy D'Agostino: I've been with Eagle Electronics for a year now and have been in the industry for 17 years. I've known Eagle since 2005, they were one of my vendors at my previous job, as well as a customer, and Eagle had always done a really great job supporting us; it was a really good relationship. I've always been impressed with their relationships and how close they are with their customers, and the fact that they're a domestic manufacturer that is willing to invest in upgrading their capabilities on an annual basis. When I was looking and wanted to settle down in the Chicago area, it was a natural fit and it's been great.
Goldman: I believe you now report to Brett McCoy, who seemed to be wearing a lot of hats before you came along.
D'Agostino: Brett was previously the VP of sales and operations. He was pulled into the daily operational aspect of the business more often and it was limiting the time he had to visit our customers and sales team. Eagle has always had incredibly strong relationships with our customers and sales team.  The company has been growing the last five years and he wanted to make sure we had somebody out there to support customers and reps, an advocate to listen to their needs. He gave me a call asked if I'd be interested in joining. The fact that I knew them for so long and how good they've been to work with just made it a good fit. Brett is now the COO and able to focus on bringing Eagle to the next level in technology and quick-turn lead times.
Goldman: What's new here, technology-wise?
D'Agostino: As we look to grow the business, there are several different ways we're considering. One thing that attracted me to Eagle Electronics was the reinvestment back into manufacturing and in the business, itself. Earlier in the year we added two high-speed Lenze drill machines, one of which is auto-load. For double-sided product, we can load it up with multiple jobs and let it run, which has freed up a lot of drill capacity. We only had one Lenze drill machine prior to that; adding two more is allowing us to do a lot more multi-hit HDI-type product in much less time. We can mechanically drill down to a 4-mil hole. These drills are doing 20,000 hits per hour as opposed to 3,000−7,000 hits an hour.
Goldman: That's quite a capacity improvement.
D'Agostino: It's opened our drilling capacity immensely. We also invested in an ATG flying probe. Again, looking at capacity, looking at automation, we've added the ATG autoload flying probe tester. With the new probe tester, we can load up the jobs and let it go overnight. Now we can look toward moving up the technology band to provide HDI product faster and at much higher yields. Our goal is to get our lead time to under a week for multiple lam cycle boards.
Goldman: I take it a lot of your work is quick turn? What do they say, low-volume quick-turn? Do you have big volume jobs also?
D'Agostino: We're more high mix, low-to-medium volume. We are ITAR certified, so our domestic volumes are in the 100, 250, 500 piece range. We support that market base. Our average lead time for a quick turn right now is around four days. We do anything from 24-hour turns to 10-day prototype quick turns; it's all what the customer demand is. Our standard lead time is three weeks for production.
Goldman: Do you use all reps, or do you have direct salespeople?
D'Agostino: Brett was one of the first direct salespeople and I'm currently the only direct salesperson that works for Eagle. The idea with bringing me on board was higher-level sales, and we are looking at getting additional sales reps. We currently work with multiple reps across the country. We are looking to add reps in all regions to grow our customer base and to grow our business. We've been experiencing a healthy business growth over the last five or six years. We've been growing on average about 8–10% a year and in 2017 we grew 14%. It's been a healthy growth and with the additional capacity, we have the bandwidth to support more customers, more business.
We have been very successful with the rep model. We see our sales reps as an extension to our business. They are just as much part of our team as anyone working directly for Eagle Electronics. We have an open-door policy with them, they are welcome to come in anytime and sit with me, Brett, the president Mike, or even walk the manufacturing floor to see what's going. We know reps have been burning in this industry and we wanted to be sure to create a culture where they feel part of the family.
Goldman: It's good to be growing in a rather tight market. What do you attribute all that growth to?
D'Agostino: Adding new customers. We're adding an average of 20–25 new customers per year. We do a lot of new part numbers on a daily and weekly basis. It allows us to follow that prototype business to the pre-production phase before it goes offshore. We provide excellent service to our customers. We want to become an extension of their business. We want them to see us as a part of their business, not just a supplier.
Goldman: What sort of certifications do you have?
D'Agostino: We are ITAR-certified and as of December 2017 we are ISO 9001 to the 2015 standard. We can provide AS9102 and PPAP reports. We provide a production quality board on a quick turn, so some of the aerospace and automotive certifications are not as critical to our customers. Our process is to IPC Class 3 standards and our acceptance is to our customer's specified requirement with a minimum of Class 2. Of course, we are always listening to what our customers need, so if customers are asking us to support then with some of the industry certifications we will certainly explore that with them.
Goldman: How does your business break out industry-wise and market-wise?
D'Agostino: That's a good question and tough to answer, because 62% of our customer base are contract manufacturers with 38% OEM. When we get the file of the data from the contract manufacturers we don't always know what the end product is, and we're not paying attention to the names coming across; we're looking at building the product and getting the customer what they need, when they need it. Based on our OEMs, we're about 25% industrial, 21% communication, 20% military, 19% automotive, and the rest between medical and consumer.  It is a pretty even breakout but it's a good split.
Goldman: Are the contract manufacturers long-term customers also?
D'Agostino: That is one of the unique and exciting things about Eagle; 35–40% of our customer base have been customers for at least 15 years. We have a lot of long-standing customers.
Goldman: That's always good. And you're adding new ones every year, so you increase your customer base.
D'Agostino: Programs become obsolete, customers are acquired and adhere to new AVLs, and sadly some go out of business. Through attrition you're going to lose some of your business each year, but by the strong additions of new customers we sustain growth.
Page 1 of 2
---
Suggested Items
11/29/2023 | TT Electronics
TT Electronics, a global provider of custom power solutions and engineered technologies, has announced that its Power and Control business has officially opened its new state-of-the-art research, development and manufacturing facility.
11/27/2023 | HyRel
HyRel Technologies, a global provider of quick turn semiconductor modification solutions, announces the achievement of International Traffic in Arms Regulations (ITAR) registration.
11/20/2023 | MIT
MIT's Department of Aeronautics and Astronautics (AeroAstro) recently hosted the 2023 Future Leaders in Aerospace Symposium, inviting women and underrepresented minorities in aerospace fields to campus for a two-day program.
11/14/2023 | NEO Tech
NEOTech, a leading provider of electronic manufacturing services (EMS), design engineering, and supply chain solutions in the high-tech industrial, medical device, and aerospace/defense markets, is thrilled to welcome James Doyle to the team as Chief Executive Officer of NEOTech's Aerospace & Defense division, effective immediately.
11/06/2023 | PRNewswire
Vuzix Corporation, a leading supplier of smart glasses and Augmented Reality (AR) technology and products, announced it has completed delivery against a follow-on order from a Tier-1 aerospace and defense contractors with which it has been working with.