Organic and Printed Electronics Industry Expects 7% Increase in Sales Revenue in 2018
March 15, 2018 | OE-A
Estimated reading time: 2 minutes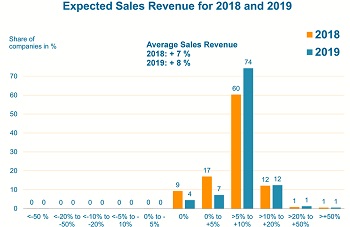 Positive outlook of OE-A members on the development of organic and printed electronics was announced at LOPEC 2018.
The signs are still set for growth in the organic and printed electronics industry. This is the clear message to result from the latest business climate survey conducted by the OE-A (Organic and Printed Electronics Association). 87% of the survey participants expect the industry to continue its positive development in the coming year. The results of the survey, carried out for the ninth time, were presented to the international press at LOPEC 2018 – the international trade fair and conference – in Munich, Germany by OE-A Chair Dr. Jeremy Burroughes.
The semi-annual OE-A Business Climate Survey sheds light on the anticipated growth of the Organic and Printed Electronics industry. During each survey, OE-A members – from material suppliers to end users – are asked to provide qualitative data on the state of the industry and their expected sales development.
OE-A expects 7% sales growth for 2018
With a projected sales revenue of 7%, 2018 will be a very successful year for OE-A members – even if the growth is 9%age points lower compared to the forecasts from autumn 2017. "The OE-A members expect strong, stable growth. It is however understandable that companies are careful in making predictions at the beginning of the year," states Dr. Jeremy Burroughes.
For 2019, a continuation of this positive trend within the organic and printed electronics industry is expected around the world. The companies expect further development and a growth in revenue of 8%.
Thin, lightweight and flexible – these are the characteristics of organic and printed electronics. These features enable applications in numerous areas. OE-A members target sectors such as packaging, lighting, energy, as well as the medical and pharmaceutical industries, and also place strong focus on the consumer electronics and automotive sectors. Especially in the latter, electronics are playing an increasingly important role. An independent market research firm has predicted that the value-added share of electronics in a car will reach 50% in 2030.
"In the meantime, however, the opposite can be seen as well, as we witness a clear market pull. With this technology, existing products are being optimized and new applications are being enabled," says Dr. Jeremy Burroughes. "This is also apparent at LOPEC 2018, where many end users from the wearables, automotive and consumer electronics sectors, among others, inform us about the latest trends at the trade fair and conference."
The positive forecasts for 2018 are also reflected in other areas. Survey respondents want to continue to invest in expanding production and R&D activities. Furthermore, there are good opportunities for employees within the organic and printed electronics industry.
---
Suggested Items
09/27/2023 | AT&S
AT&S is working on the EECONE (European ECOsystem for greeN Electronics) project to develop new technologies to make electronics production in Europe more sustainable.
09/27/2023 | iNEMI
Join iNEMI and ZESTRON in Shenzhen on October 13 for a full-day workshop on reliability requirements and challenges for automotive electronics and to share the latest information about standards development for this market segment.
09/26/2023 | SMTA
SMTA is pleased to announce Catherine Wong, Foothill College, has been selected as the recipient of the 2023 JoAnn Stromberg Student Leader Scholarship.
09/25/2023 | Purdue University
Purdue University continues building momentum as America's leading university in semiconductors, with a broad range of updates this fall semester.
09/25/2023 | Alison James
"Electronics systems are at the heart of almost all modern technology. The performance and functionality of these systems have increased at breathtaking speed, chiefly as a result of advancements in semiconductor technology. Semiconductors do not function in isolation," writes Alison James, IPC senior director of government relations, in a 2023 report for the European Commission's Directorate General for Internal Market, Industry, Entrepreneurship. "These electronics systems feature prominently in key sectors like defence, aerospace, space, automotive, medical, and high-performance computing, but electronics are vital to every industry and are central to a variety of EU priorities, including the twin digital and green transitions and Europe's technological sovereignty."