Can a Home WiFi Router Act as a Medical Sensing Device?
May 9, 2018 | TU Delft
Estimated reading time: 1 minute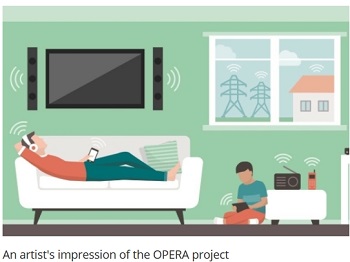 New research that could transform the future of healthcare will investigate whether it is possible to reuse WiFi radio waves as a medical radar system. The research, led by the University of Bristol, is part of a new £1.5 million grant awarded by the Engineering and Physical Sciences Research Council (EPSRC), Toshiba and Decawave to the OPERA project, a consortium including the universities of Bristol and Oxford; University College London and Coventry University.
The three-year project, starting in October 2018, will extend the current SPHERE (Sensor Platform for HEalthcare in a Residential Environment) project, which is developing sensors for use in the home to spot health and wellbeing problems, with both projects running until 2021.
Physical activity and behaviour patterns play a significant role in a range of long-term chronic health conditions such as diabetes, dementia, depression, chronic obstructive pulmonary disease (COPD), arthritis and asthma. The UK currently spends 70 per cent of its entire health and social care budget on these types of conditions.
Long-term physical activity and behaviour monitoring is best collected at home, where it is possible to install personalised sensor platforms and where people from higher risk groups tend to spend most of their time. The University of Bristol's SPHERE project is a world-leading exemplar of this approach.
The newly funded project will attempt to build a complementary sensing platform by reusing technologies that already exist in most households. The OPERA system will be built around passive sensing technology: a receiver-only radar network that detects the reflections of ambient radio-frequency signals from people. Such "llumination signals" are transmitted from common household WiFi access points, but also from other wireless enabled devices, which are becoming part of the Internet of Things (IoT) home ecosystem. It will also use the latest ideas in micro-Doppler radar signal processing, bio-mechanical modelling and machine/deep learning for automatic recognition of physical activities and provide indoor localisation capabilities.
---
Suggested Items
11/27/2023 | Cambridge University
The Cambridge Open Zettascale Lab is hosting Dawn, the UK's fastest artificial intelligence (AI) supercomputer, which has been built by the University of Cambridge Research Computing Services, Intel and Dell Technologies.
11/22/2023 | Emirates
In the UAE Year of Sustainability, and at the 3rd ICAO Conference on Aviation and Alternative Fuels (CAAF/3) was held in Dubai, eight founding entities announced the launch of the "Air-CRAFT" initiative - a UAE based research consortium focused on developing, producing, and scaling sustainable aviation fuel (SAF) technologies.
11/21/2023 | ACN Newswire
Researchers of RIKEN at Japan's state-of-the-art synchrotron radiation facility, SPring-8, and their collaborators, have developed a faster and simpler way to carry out segmentation analysis, a vital process in materials science.
11/20/2023 | Northwestern University
During even the most routine visits, physicians listen to sounds inside their patients' bodies — air moving in and out of the lungs, heart beats and even digested food progressing through the long gastrointestinal tract.
11/20/2023 | PRNewswire
Raytheon, an RTX business, has been awarded a four-year, $15 million contract from DARPA to increase the electronic capability of radio frequency sensors with high-power-density Gallium Nitride transistors. Raytheon is the world's leading manufacturer of military-grade Gallium Nitride, a cutting-edge semiconductor technology that, when used in radar systems, improves range and radar resource management handling. This new prototyping work is being performed under DARPA's Technologies for Heat Removal in Electronics at the Device Scale program, known as THREADS.