Flexible Fingerprint Sensors Promise Embedded Secure Access
May 18, 2018 | Holst Centre
Estimated reading time: 2 minutes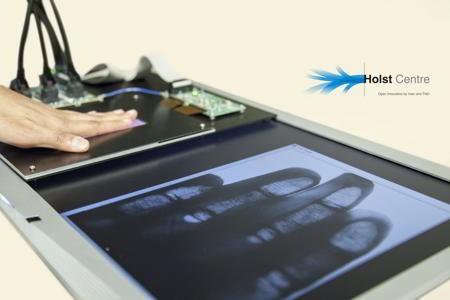 Researchers from Holst Centre have demonstrated a new class of flexible, large-area sensor technology for detecting finger- and palmprints. At less than 0.2 mm thick and with no bulky prisms or moving parts, the new sensors can be embedded into objects such as mobile phones and door handles to create "invisible" yet secure access control systems that can tell if the print is from a living person rather than a phantom or counterfeit.
The technology, which paves the way to low-cost sensors for large-area finger- and palmprint scanners, will be on show at the Innovation Zone at the Society for Information Display (SID) Display Week 2018 in Los Angeles, USA from 22 to 24 May, and the Imec Technology Forum (ITF) in Antwerp, Belgium from 23 to 24 May. Two demonstrators will showcase the technologies potential for high resolution and large active areas.
Measuring 6 x 8 cm, a 200-ppi demonstrator is large enough for 4-finger scanners that are currently used by border control authorities and delivers sufficient image quality for basic identification applications. Meanwhile, a slightly smaller 500-ppi demonstrator offer even higher image quality, compatible with FBI standards and enough for law enforcement agencies to visualize minutia and pores for more robust identification.
As with Holst Centre's earlier flexible X-ray detectors, the fingerprint sensors combine an organic photodiode frontplane, an oxide thin-film transistor (TFT) backplane (originally developed for flexible displays), and a thin-film barrier for protection against the environment. All three technological elements have been or are being transferred to industry for scale-up and commercialization.
The sensors read the finger- or palm print by detecting visible light (400 to 700 nm) reflected from the surface of the skin. However, they can also detect light that penetrates someway into the skin before being reflected. This allows them to sense a heartbeat from changes in the capillaries within the hand, and thus verify that the print comes from a live person.
Moreover, by using different photodiode materials, the sensors' capabilities can be extended to other wavelengths such as near infrared (NIR). This could enable new identification verification modes based on for example the pattern of veins in a hand, which is believed to be even more specific to an individual than a fingerprint. NIR sensors could also be used in other applications, such as blood oxygenation monitoring, or for night vision and 3D facial recognition.
"The flexible fingerprint sensor demonstrator shows the versatility and maturity of the flexible electronics technologies that Holst Centre is developing. With the underlying technology already in use in the flat-panel industry, there is a fast route to manufacturing and we are looking for industrial partners to take that step," says Hylke Akkerman, Program Manager at Holst Centre.
---
Suggested Items
11/28/2023 | Lockheed Martin
Lockheed Martin will soon launch a unique wideband Electronically Steerable Antenna (ESA) payload demonstrator to show the company's investment in advanced technology to perform missions faster once on orbit. The payload demonstrator, which will launch aboard Firefly Aerospace's Alpha rocket, extends Lockheed Martin's significant investment in scalable wideband ESA technology development to showcasing an actual on-orbit capability. This technology is critical to future remote sensing architectures.
11/27/2023 | Cambridge University
The Cambridge Open Zettascale Lab is hosting Dawn, the UK's fastest artificial intelligence (AI) supercomputer, which has been built by the University of Cambridge Research Computing Services, Intel and Dell Technologies.
11/27/2023 | HyRel
HyRel Technologies, a global provider of quick turn semiconductor modification solutions, announces the achievement of International Traffic in Arms Regulations (ITAR) registration.
11/24/2023 | PRNewswire
Every decade, a new telecom generation emerges, with 5G currently being commercialized, offering faster data rates, low latency, and enhanced reliability. 6G is characterized by Tbps data rates, microsecond latency, and extensive network dependability.
11/23/2023 | PRNewswire
MDA Ltd., a leading provider of advanced technology and services to the rapidly expanding global space industry, has revealed plans to more than double its UK workforce and operational footprint over the next 12 months.