Books

Featured Books

pcb007 Magazine

Latest Issues

Current Issue

Finding Ultra

New demands on PCB fabrication, namely advanced packaging, ultra high density interconnect (UHDI), and new specialty materials, are converging, changing the landscape of our business. Is it time to start paying close attention to this convergence?

Developing a Strategy

A solid strategy is a critical part of success. This month, we asked some of the top industry leaders and business strategy "gurus" to share their thoughts on developing strategies.

Winning With TQM

In this issue, we explore how TQM has entered the DNA of continuous improvement disciplines, and the role leadership transformation plays in this. If you've ever competed against a TQM company, you understand their winning advantage.

Columns

Latest Columns

||| MENU
EIPC 50th Anniversary Conference: Alun Morgan Announcement
July 16, 2018 | Barry Matties, I-Connect007
Estimated reading time: 5 minutes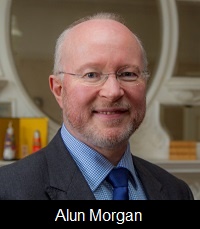 As the 2018 EIPC 50th Anniversary Conference came to a close in Dusseldorf, Germany, Barry Matties met with Chairman Alun Morgan to look back at how far the EIPC has come in the past 50 years and say goodbye to Michael Weinhold, longtime director and industry veteran, who announced his retirement at this year's event.
Barry Matties: We've just wrapped up the EIPC 50th Anniversary Conference. First, what are your thoughts, Alun?
Alun Morgan: It was great. We had over 135 delegates at this year's event, which is a recent record. We've had two conferences this year, both of which attracted well over 100 participants, which is fantastic. Very encouraging. We had great technical papers with excellent technical content. Here we are on Friday afternoon. Everyone's ready to go home but the room is still full. I think that gives a great impression. I'm really delighted.
Matties: The work that the EIPC is doing here in Europe is certainly important. It has an impact on the world, as we've seen. It's not just a European event. There are multinationals here.
Morgan: Yes, and that's an important point we've made throughout. We have people from all over the world here—Asia, North America, and of course, Europe. Many of the companies we see as members—including Unimicron, as we saw yesterday—have an arm in Asia and North America. We see this supply chain being a global thing. The European companies have their part to play, but they play their part now in concert with the rest of the manufacturing around the world. We know the manufacturing base and volume is not massive in Europe anymore, but we do have specializations. That's what we've heard a lot about today—where the point in specialization is how we can partner together with other specializations in other parts of the world to supply the whole global supply chain in electronics.
Matties: After listening to the presentations, it's not just specializations, but you have a lot of innovation coming out of this region as well.
Morgan: Right. I was delighted by the TNO presentation we just heard. I mean, you see so many things. Who knows how many of these actually become reality in the end, but there's a massive increase in electronic devices right now. In general, IoT is generating billions of new devices, all electronics and all of which are connected. We heard about medical devices again today, which is also a fascinating new area where we haven't traditionally been involved in pure electronics, or not on the scale that is to come. In terms of diagnostics, consider that we're going to have single-use, throwaway devices with a high electronic content—not just a few of them, but tens or hundreds of millions of billions of them. This is a very exciting prospect for us as an electronics business.
Matties: Back to the other presenters, Hans Friedrichkeit from PCB Network gave a great view of the future and Paul Waldner gave a great overview of the past 50 years, so there was really a nice timeline to look at here.
Morgan: It was great to give that nice history. We can sit here and talk about the history all day, but Paul distilled it beautifully to show where we come from. Actually, it's good for us to think back and see where we were and where we are now. That's really critical. Further, Hans always gives an interesting view. He's a great presenter and also very humorous, so we had a really good presentation. He talked about North America as well, which again, we don't want to belabor the point too much, but automotive really has its home in Europe. Automotive development and innovation is taking place in Europe on a grand scale. I think the scale of the Unimicron factory we visited shows the commitment that companies have that serve that market sector.
Matties: The automation there was quite impressive.
Morgan: Phenomenal, just phenomenal. It really was the most automated factory I've ever seen. This is a really wonderful place and we're so delighted that this could be built in Europe. It shows the commitment that the industry has to Europe for the future.
Matties: There's a lot of goodbyes going on as we come to the end of the program, but one in particular is the departure of Michael Weinhold.
Morgan: Yes, it's an emotional time, I have to say. Michael has been with us since the beginning—50 years. From my personal point of view, I came to the business in the early 1980s. I've known Michael my entire working life. Michael has been pivotal and a mentor to many of us in the industry. I gave my personal thank you yesterday and I'll give it again. I'm deeply indebted to Michael for mentoring me in the role as chairman of the EIPC by helping me in this role and getting into position.
We really appreciate what Michael has done. Nobody has done more than Michael for the industry and the EIPC, but we haven't seen the last of him. Michael will continue to come along, I'm sure. He's always welcome at our events and I'm sure he will come along, but as he pointed out, he's not getting any younger now. He has to do other things in his life as well and I wish him well for the future. We'll miss him for sure, but we hold him deep in our hearts.
Matties: As you said, he's mentored many and that leaves the technical program in good hands, so I'm sure we have plenty of good events to come.
Morgan: I'm sure we do.
Matties: Alun, thank you so much.
Morgan: Thank you, Barry. Thank you for coming, as well as sponsoring. We appreciate that, too.
Related Content:
---
Suggested Items
09/21/2023 | Matt Stevenson -- Column: Connect the Dots
PCB prototyping is a critical juncture during an electronic device's journey from concept to reality. Regardless of a project's complexity, the process of transforming a design into a working board is often enlightening in terms of how a design can be improved before a PCB is ready for full production.
09/20/2023 | I-Connect007 Editorial Team
Panasonic's Darren Hitchcock spoke with the I-Connect007 Editorial Team on the complexities of moving toward ultra HDI manufacturing. As we learn in this conversation, the number of shifting constraints relative to traditional PCB fabrication is quite large and can sometimes conflict with each other.
09/19/2023 | IDC
Asia/Pacific spending on Artificial Intelligence (AI) ), including software, services, and hardware for AI-centric systems will grow to $78.4 billion in 2027, according to International Data Corporation's latest Worldwide Artificial Intelligence Spending Guide.
09/13/2023 | Intel
Intel Corporation announced that it has agreed to sell an approximately 10% stake in the IMS Nanofabrication business to TSMC. TSMC's investment values IMS at approximately $4.3 billion, consistent with the valuation of the recent stake sale to Bain Capital Special Situations.
09/13/2023 | BAE Systems
The UK Ministry of Defence (MOD) has awarded BAE Systems a contract to develop its Striker II Helmet Mounted Display (HMD) for the Royal Air Force (RAF) Typhoon fleet. The contract, valued at £40m, will create and sustain more than 200 highly-skilled jobs at BAE Systems' sites in Kent and Lancashire working directly on the Striker II programme. In total, the Typhoon programme sustains more than 20,800 jobs across the UK.