SEMI Testifies Against U.S. Tariffs, Members Meet with Congressional Leaders Urging Trade Action
July 30, 2018 | SEMI
Estimated reading time: 2 minutes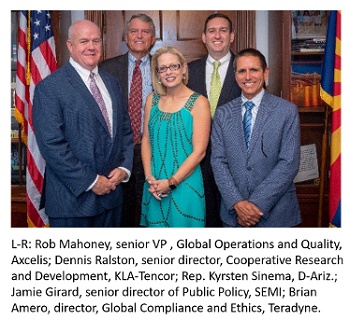 Two months after opposing $34 billion in U.S. trade tariffs on behalf of the U.S. semiconductor manufacturing industry, Jonathan Davis, global vice president of industry advocacy at SEMI, this week spoke out against an additional $16 billion in duties on Chinese goods. Testifying before the same U.S. interagency panel mulling the tariffs, Davis called for the removal of 29 tariff lines covering items critical to semiconductor manufacturing including machines and spare parts used to make, wafers, flat panel displays and masks.
In his testimony to the panel, Davis stressed that while SEMI supports stronger protections against the theft of valuable intellectual property (IP), tariffs do little to address U.S. concerns over IP loss. Over the past month, SEMI has also submitted written comments and opposed the tariffs in public testimony. The panel includes representatives from the U.S. Trade Representative (USTR), Departments of Treasury, Commerce, State and Defense, and the Council of Economic Advisers.
Tariffs group shot
Also testifying, Joe Pon, corporate vice president at Applied Materials, explained that the proposed tariffs will harm small and midsized companies and other U.S. business interests. Describing the tariffs as a tax on exports of high-value U.S. goods, Pon said the duties give non-U.S. firms an unfair competitive advantage.
In a parallel push to Davis's testimony, SEMI, with more than 10 representatives from six member companies, met with 16 congressional offices this week to underscore the damage the tariffs would wreak on the U.S. semiconductor industry. The fallout would include higher operating costs, fewer exports and slower innovation. The tariffs would also curb industry growth and put thousands of high-paying, high-skill jobs at risk. SEMI pressed congressional leaders to reject the tariffs and support a push for congress to re-assert itself on trade policy.
Tariffs to Cost U.S. SEMI Members More than $500 Million
SEMI estimates that the second list of proposed tariffs, covering about $16 billion in Chinese goods, will cost its 400 U.S. members more than $500 million annually in additional duties.
The tariffs on $34 billion in Chinese goods, which took effect July 6, impact products such as test and inspection equipment as well as spare parts that enter the U.S. from China. That round of tariffs will cost SEMI member companies and estimated tens of millions of dollars annually. 
SEMI Public Policy Team Asks Members to Review Tariff List
Looking ahead, SEMI encourages members to review the newly released $200 billion tariff list, determine any impact to their businesses and share their findings with SEMI's public policy team.
The U.S. Trade Representative (USTR) has published the exclusion process for products subject to the China 301 tariffs. If your company's products are subject to tariffs, you can request an exclusion.
Tariffs PQ
In evaluating product exclusion requests, the USTR will consider whether a product is available from a source outside of China, whether the additional duties would cause severe economic harm to the requestor or other U.S. interests, and whether the product is strategically important or related to Chinese industrial programs (such as "Made in China 2025").
The deadline for submitting product exclusion requests to USTR is October 9, 2018. Approved exclusions will be effective for one year upon approval and retroactive to July 6, 2018.
---
Suggested Items
11/28/2023 | IPC
Neil Shah, senior technical director at alliantgroup, a tax and business consultancy, will present a technical education workshop,
11/27/2023 | Dan Beaulieu -- Column: It's Only Common Sense
Being the best is never easy. When you study the life of elite athletes, for example, you will find a list of characteristics that typically puts plain old hard work at the top. These athletes work harder than anyone else. They're the first ones there in the morning and the last to leave at the end of the day. They literally live and breathe what they are doing. They don't allow themselves any breaks, excuses, or cop outs. They are, as we say, all in.
11/27/2023 | GOEPEL Electronics
The US branch of GÖPEL electronic is proud to announce the addition of David Kalaidjian as the new National Sales Development Manager.
11/27/2023 | Linköping University
Linköping university has been granted six million SEK from the Swedish Innovation Agency (Vinnova) for the research project Catena-D (Circular and resource-efficient value chain systemically enabled with AI and digital thread).
11/24/2023 | Messe München
Messe München's electronics network with the world's leading trade fairs electronica and productronica is expanding its partnership with SEMI, the global semiconductor industry association, in India.