Artificial Intelligence, Cloud Manufacturing, Internet Security, and Cyber Physical Systems Driving Industrial Innovations
August 2, 2018 | Frost & Sullivan
Estimated reading time: 2 minutes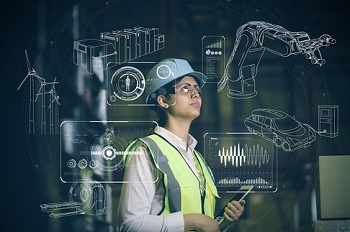 The growth of IoT has transformed the way end users interact with machines (automotive, home appliances, etc.). The manufacturing industry is expected to witness a digital revolution with advancement in hybrid sensors, predictive analytics, wearables, digital twins, mass customization, 3D printing, edge computing, robots, asset monitoring, smart grids, and natural processing language. With IoT solutions predominantly focused on consumer applications, various companies and manufacturers are looking to adopt IoT to take advantage of attractive growth opportunities.
"Frost & Sullivan analysis shows that proper implementation and adoption of IoT technologies in the manufacturing industry will enable an environmentally friendly and lean environment," said Kasthuri Jagadeesan. "The IoT market is growing, and the factory of the future is around the corner and expected to disrupt the manufacturing industry soon. While IoT technologies are expensive to implement, they are more cost-effective than deploying conventional manual machinery and labor for data tracking."
Join us to gain a more comprehensive understanding of the key trending technologies and their applications in the manufacturing industry, existing challenges in the implementation, future research focus areas and factors influencing adoption. The briefing will also provide an assessment of the impact of various IIoT technologies within the manufacturing industry, including smart sensors, wireless sensor network, cognitive computing, Big Data, artificial intelligence (AI), and cybersecurity.
Expert Insight You Don't Want to Miss:
Discover the ability of IIoT technologies to provide real-time data as well as perform monitoring and tracking functionalities that will complement growth, and the way IIoT establishes a strong connectivity platform between the operational and digital platforms.
Learn about Big Data: Big Data analytics will be increasingly implemented and embraced by industries in conjunction with IoT. Application of Big Data analytics to manufacturing process related data is collected, uploaded to the cloud using communication systems to perform analysis on the data collected. This is an example of end-to-end connectivity.
Identify the industry challenges like the lack of powerful cybersecurity systems to safeguard the data as well as the lack of standardization. Since the technology is still evolving, there are few standard platforms designed for manufacturing industries, which can restrain technology adoption among organizations.
About Frost & Sullivan 
Frost & Sullivan, the Growth Partnership Company, works in collaboration with clients to leverage visionary innovation that addresses the global challenges and related growth opportunities that will make or break today's market participants. For more than 50 years, we have been developing growth strategies for the global 1000, emerging businesses, the public sector and the investment community. Contact us: Start the discussion
---
Suggested Items
09/20/2023 | I-Connect007 Editorial Team
Panasonic's Darren Hitchcock spoke with the I-Connect007 Editorial Team on the complexities of moving toward ultra HDI manufacturing. As we learn in this conversation, the number of shifting constraints relative to traditional PCB fabrication is quite large and can sometimes conflict with each other.
09/19/2023 | Anaya Vardya -- Column: Standard of Excellence
In my last column, I discussed cutting-edge innovations in printed circuit board technology, focusing on innovative trends in ultra HDI, embedded passives and components, green PCBs, and advanced substrate materials. This month, I'm following up with the products these new PCB technologies are destined for. Why do we need all these new technologies?
09/18/2023 | ViTrox
ViTrox, which aims to be the world's most trusted technology company, is excited to announce that our trusted Sales Channel Partner (SCP) in Mexico, SMTo Engineering, S.A. de C.V., will be participating in SMTA Guadalajara Expo & Tech Forum. They will be exhibiting in Booth #911 from the 25th  to the 26th of October 2023,  at the Expo Guadalajara in Jalisco, Mexico.
09/18/2023 | Intel
Intel announced one of the industry's first glass substrates for next-generation advanced packaging, planned for the latter part of this decade.
09/18/2023 | Aidan Salvi -- Column: Facing the Future
I have been in and around circuit boards most of my life. I started 20 years ago in my family's PCB shop, leaving after a couple of years to start my own software company. About a year ago, I returned to the family business, and the first thing I noticed was that nothing had really changed. We were doing the same things in the same way as the day I left. After talking to several experts in the industry, I realized it was worse than that: The manufacturing of PCBs had not changed in 70 years.